A Professional Engineering Speaker
Anthony Fasano, PE, author of the bestselling book, Engineer Your Own Success (IEEE-Wiley Press), has spoken for many engineering companies, associations, and schools.
To request Fasano to speak at your event, please click here or scroll down to view some testimonials from those have hired Fasano to speak or attended one of his sessions.  If you are a private engineering company seeking corporate training, please visit this page.
Here are what some of our past clients/participants have said:
"Anthony presented to a group of high-potential junior professionals as part of a career development program. Feedback from participants was very positive, saying that he provided information that can be utilized immediately for career advancement. We have asked him to return for at least two more sessions and will be offering those companywide."
Mary Jane Riccardi, SPHR, EMBA, Sr. Learning & Development Manager, Kleinfelder
"Anthony's presentation to our Omaha engineering students was insightful and applicable.  In addition, students were able to relate to Anthony as he was able to speak from experience due to his background in engineering.  I would recommend his presentation to all engineering schools!"
Alma Ramirez-Rodgers, Assistant Director of College Relations & Student Programs, University of Nebraska-Lincoln, College of Engineering
"Anthony is a very dynamic and motivational presenter and touches upon a lot of good ideas for developing one's engineering career." – Clement Chung, Project Manager, the MRB Group
"Anthony's Engineer Your Own Success presentation is the single best career advancement workshop I've ever been to. The information and how it was displayed has helped me understand what I need to do to get started."
– Trey Coupland, Student
Anthony Fasano, PE, of the Engineering Management Institute (EMI), offers seminars for engineers on core skills, engineering management and leadership development, which make a perfect lunch-and-learn series for engineering companies of any size or keynote addresses for engineering conferences. They can also be delivered in webinar formats to service multiple office locations. Anthony, author of the bestselling book Engineer Your Own Success (IEEE-Wiley Press), is a nationally recognized engineering speaker and has spoken at over 100 conferences to thousands of engineering professionals. Below is a list of some of Anthony's more popular seminars.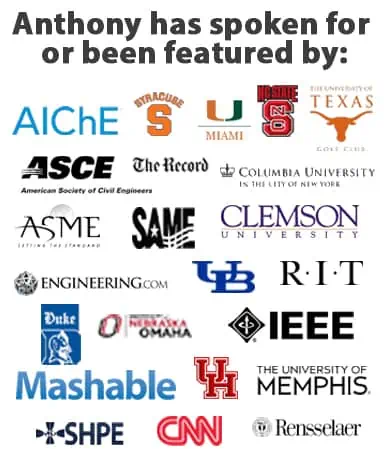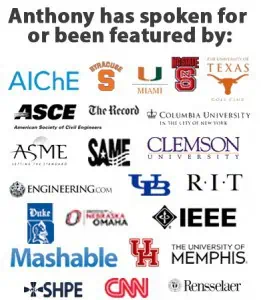 Engineer Your Own Success: 7 Key Elements to Creating an Extraordinary Engineering Career (1 PDH)
Engineers are often so technically focused that they neglect to develop their interpersonal or core skills.  In the economy today, engineers must be well rounded and capable of more than being just technically savvy. They must possess skills that will set them apart from other industry professionals.
This session offers proven professional development advice for engineering professionals, namely strategies for developing their core skills and ultimately moving from engineer to manager. This session will provide strategies every engineer should know based on Anthony Fasano's Amazon.com-bestselling book Engineer Your Own Success: 7 Key Elements to Creating an Extraordinary Career.  Topics discussed include…
Setting clear career goals,
Obtaining the right credentials,
Finding the right mentor,
Becoming an effective communicator,
Developing the ability to network, and
Leadership development.
This session is for all experience levels and will be customized for your organization.
Networking Your Way to Successful Relationships for Engineering Professionals (1 PDH)
It's doubtful that you'll ever see a class in an engineering school related to building strong relationships. However, one could make a case that an engineer's network along with their communication skills drive how successful an engineering manager can be and how much he or she can help their organization. Networking and building relationships is difficult for anyone to do let alone an engineering professional who spends most of their time on very technical topics. We understand that, and that is why we have crafted this session to walk engineers through easy to implement actions they can take on a daily basis to improve their networking skills and start to build relationships day in and day out.  
Developing Effective Communication Skills for Engineering Professionals (1 PDH)
If you ask anyone how to be a successful engineer or a top engineering manager, they would tell you that one needs good communication skills. However, they will rarely explain how to develop them. In this session, participants will learn practical strategies that can be used on a daily basis to incrementally improve their communication skills and subsequently their ability to communicate with others. Implementing these strategies will put engineering professionals on the inside track to becoming top managers because they will be in the small percentage of engineering professionals who can communicate effectively on a regular basis.
If engineering professionals follow the strategies provided in this session, this one session alone can have a massively positive impact them.
This session will provide…
Strategies for effective project/team communication,
A discussion on the importance of HOW to say things,
Recommendations for improving public speaking skills,
Tips on how listening can drastically improve the quality of conversations, and
Strategies for engineers to be responsive to clients even if they don't have the answer right away.
Developing the Engineering Leader Inside of You by Engaging the People You Lead (1 PDH)
Engineering professionals are rarely taught management and leadership skills in school.  They have to learn these skills on the job or suffer the consequences. One of the key components of leadership is PEOPLE.  Great leaders know how to engage and inspire people.
In this session, participants will learn how to implement specific strategies that can help maximize their relationships with the people they work with including the power of positivity, the importance of open communication with staff, understanding their roles as leaders, and effective delegation. This session will also cover the theory of high output management, which was covered in detail in a book by Andrew S. Grove, the founder of Intel Corporation. Once again, the topic of leverage will be covered and participants will learn how to use leverage to maximum advantage.  The instructor Anthony Fasano, PE has interviewed over 200 engineering leaders for his engineering podcasts and will reveal all of the top strategies in this session. 
Click here to review more of  Fasano's speaking testimonials from past events.

Whether you're looking for an engineering keynote speaker or a series of educational and motivational training courses for engineers, Anthony Fasano, PE, will provide you with a high-value, customized product for your event!
Please complete the form below and we will be in touch within one business day.