Introducing the Seller-Doer Jumpstart
Market & Sell Your Services • Grow Your Business • Take Command of Your Career
The Seller-Doer Jumpstart
from The Seller-Doer Academy
If you'd like to start, restart, or boost your performance as a seller-doer, or if you're a leader who needs to get more "seller" from your seller-doers, read on! The Seller-Doer Jumpstart will be a terrific investment that will help you and your firm outperform your competitors.
To move forward as a seller-doer, you must do four things
First: Envision how you will help generate revenue for your firm, whether by speaking at conferences, networking, participating in or leading business development calls, writing winning proposals, or all of the above. 
Second: Take stock of your skills and knowledge. Given where you are today, do you have all the skills you need to achieve your success as a seller-doer?  
Third: Create a personal marketing plan that codifies how you will grow your business. Because a dream without a plan is just a wish.  
Fourth: Create a Seller-Doer Skills Development Plan that maps out how you will acquire -- or improve -- the skills you need in your role in your company's marketing, business development, and sales efforts. 
This process has worked for dozens of firms and hundreds of AEC professionals. 
Imagine being on your way to becoming a successful, or more successful, seller-doer … in less than 2 weeks!
In working with thousands of engineers and other AEC professionals, one thing is clear: high performing professionals want to work on the most interesting projects for the best clients, to take command of their careers, to earn a healthy income, to win the respect of their colleagues, to be formidable competitors, and to become indispensable. And they know that success in marketing and sales is an essential part of the equation. . . 
That's where The Seller-Doer Jumpstart can help.
We'll help you figure out a rock solid, actionable plan that will set you on your way to mastering AEC sales and marketing. And it takes just 2 weeks. The next Jumpstart program begins on Tuesday, September 25, 2018. Can't make the kickoff webinar? Don't worry, the live session will be recorded and available to you on demand immediately after the broadcast. Because you get individual coaching throughout the jumpstart program, you can watch later. But you must enroll prior to September 24th to be accepted in this session. 
Who is the program for? Jumpstart participants include these sorts of AEC professionals:
Soon-to-be project managers
~ who want to get a head start as seller-doers...
Newly minted project managers
~ who can envision their career beyond the next project deadline ...
Managers with 10, 15, 20 or more years of experience
~ who are ready to make more rain...
The best time for you to take command of your career destiny is NOW!
Here's How It Works:
When you enroll in the Seller-Doer Jumpstart program, you get…
A tailored Seller-Doer Training Needs Assessment report (see example below) that will point you in the right direction to begin developing ... or sharpening ... your seller-doer skills.
Personal attention from your Seller-Doer Academy coach, who will help you think through your Personal Marketing Plan. Your plan will describe how you will go about marketing and selling your firm's services in a way that can achieve immediate results. Right away you'll discover, develop, and win new business within a months. Execute your plans and, within 12 months, double or triple your sales . . . at least!
A menu of over 100 suggestions for how AEC professionals can best develop their seller-doer skills. Our recommendations for how to develop your skills, based on hundreds of hours of research, years of experience, and interviews with 3 dozen top executives at high performing engineering firms.
Personalized input on your Seller-Doer Skills Development Plan, to make sure it's the right fit for you, which will keep you from spinning your wheels if you're focused on the wrong things.
Periodic reminders to help you take action on your plans, to remind you to refine your strategies, and to help motivate you to achieve seller-doer success.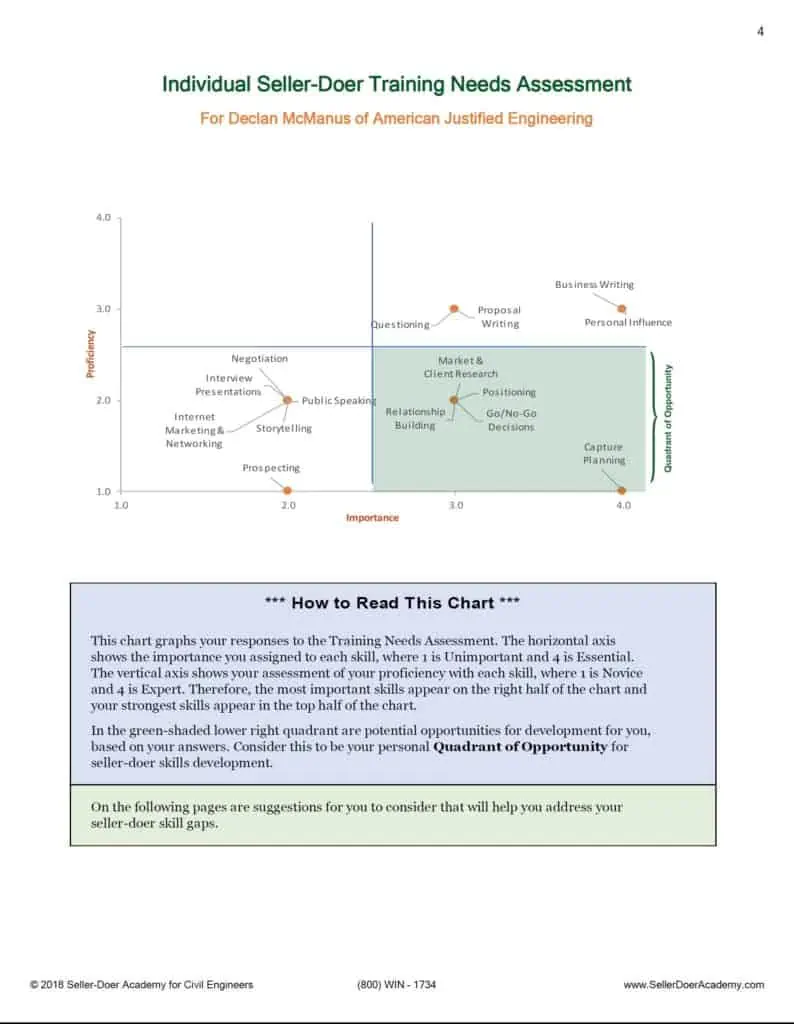 The above is an example of a real Seller-Doer Training Needs report (name changed, of course, to protect our client). This is one of the primary tools you will use to create your jumpstart plans.
✔ Assess where you are today and create a plan for success as a seller-doer

✔ Take the first stride toward mastering your role as a seller-doer or rainmaker

✔ Become more respected by your manager, your peers, your competitors and your clients

✔ If the Jumpstart helps you generate $30,000 in new revenue for your firm, it will have paid for itself 20 times over
You'll get suggestions from our own experiences and study, but also from top executives in AEC firms such as these:
| | |
| --- | --- |
| Aguirre & Fields | Hill International |
| Alpha Engineering | HMFH Architects |
| Atkins (SNC-Lavalin) | Jacobs |
| BGE | Kimley-Horn |
| Capital Engineering | Kleinschmidt |
| CBCL, Ltd. | Langan |
| CE Solutions | Mott MacDonald |
| CH2M | Nitsch Consulting |
| Chen Moore and Associates | PBS |
| Cordoba | Pennoni |
| David Evans and Associates | RS&H |
| Forte & Tablada | S&ME Inc. |
| Garver | SME |
| Gresham Smith | Wallace Engineering |
| HDR | Walter P Moore |
Our Iron-Clad Guarantee . . .
If upon completion of the Seller-Doer Jumpstart, if you cannot foresee how it will pay for itself 10 times over, we'll refund your money.
Your Membership includes:
Access to 10 Monthly Webinars with PDHs ( in most US States )
Handouts with easy to implement skill building actions with each webinar
Access to short bi-weekly Engineering Manager's Minute videos giving pointed managerial advice
Access to Private Forum
30 Day Money Back Guarantee
Cancel Anytime
JOIN NOW
$337$247 Yearly
(over 25% Discount)
Call (800) 920-4007 ext. 800 with questions.