Podcast: Play in new window | Download | Embed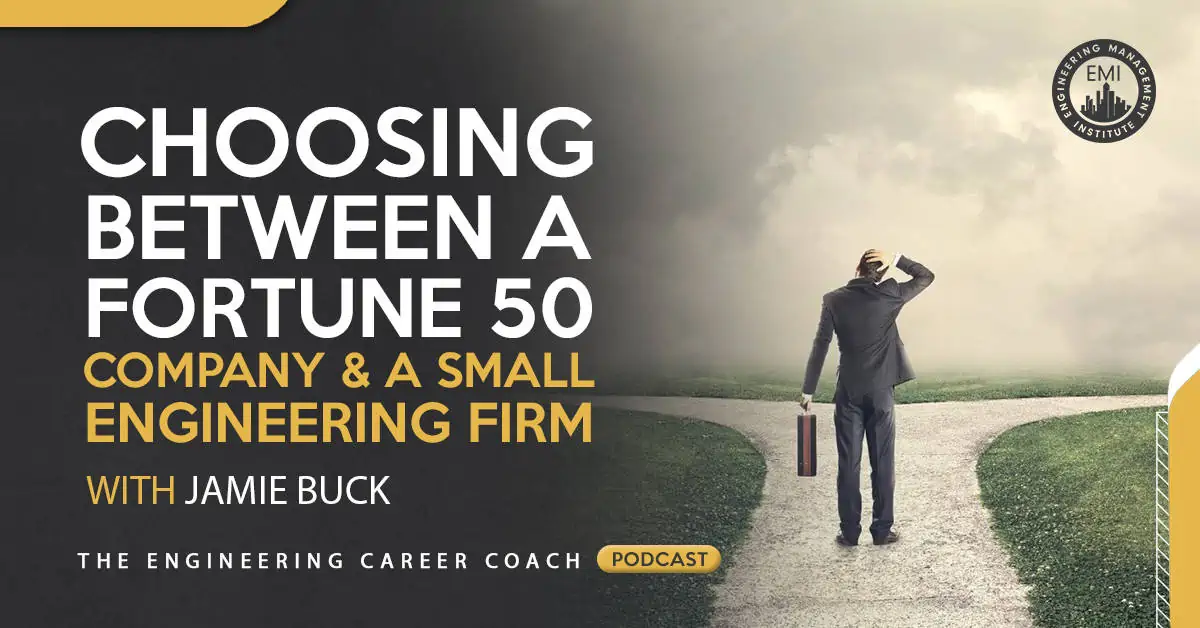 In this episode, I talk with a listener whose question I previously answered in Episode 131. We talk about the factors that influenced his decision in choosing between a Fortune 50 Company and a Small Engineering Firm, and what he learned from the decision he made.
Engineering Quotes:


Here are the key points discussed in this episode:
It's better to increase your knowledge in your engineering career, than to plateau in a position you might get elsewhere.
All the answers for your engineering career are pretty much within your own grasp, you just need to gain clarity around them, maybe with the help of a coach.
It is important to think about the knowledge you will obtain, in the engineering company that is going to support you, when choosing between jobs.
Don't just work at a company because it is a top engineering company, work at a company because they have experts in your field,  so you can learn from them and progress in your career.
Gather a lot of information from different sources to help you clarify your career goals, which will make it easier to make decisions.
There's not a right or wrong answer when choosing between companies, it's a case by case basis based on the individual deciding.
Pick a niche within your field and develop an expertise in that niche.
More in this episode…
In the Take Action Today segment of the show, I will elaborate on what you need to do in order to become successful in your engineering career.
About Jamie Buck
Jamie Buck graduated from the University of Leeds in 2016 with a 1st class master's degree in mechanical engineering. He has one-year work experience spent in the process industry (industrial placement) and is currently working for an independent consultancy company, serving on the design simulation team for the last 4 months.
Our life is the sum total of all the decisions we make every day, and those decisions are determined by our priorities.  – Myles Munroe
Resources and links mentioned in this session include:
Engineering Career TV
Engineering Management Institute Ask Us
TECC 131: Questions and Answers on Engineering Career Challenges and Critical Decisions
This episode is brought to you by PPI, the leader of FE, PE, or SE exam preparations. Use promo code COACH for 20% discount at PPI2Pass.com/coach.
How do I Choose Between a Fortune 50 Company and a Small Engineering Firm?
We would love to hear any questions you might have or stories you might share on choosing between a Fortune 50 Company and a Small Engineering Firm.
Please leave your comments, feedback or questions in the section below.
To your success,
Anthony Fasano, PE, LEED AP
Engineering Management Institute
Author of Engineer Your Own Success