Podcast: Play in new window | Download | Embed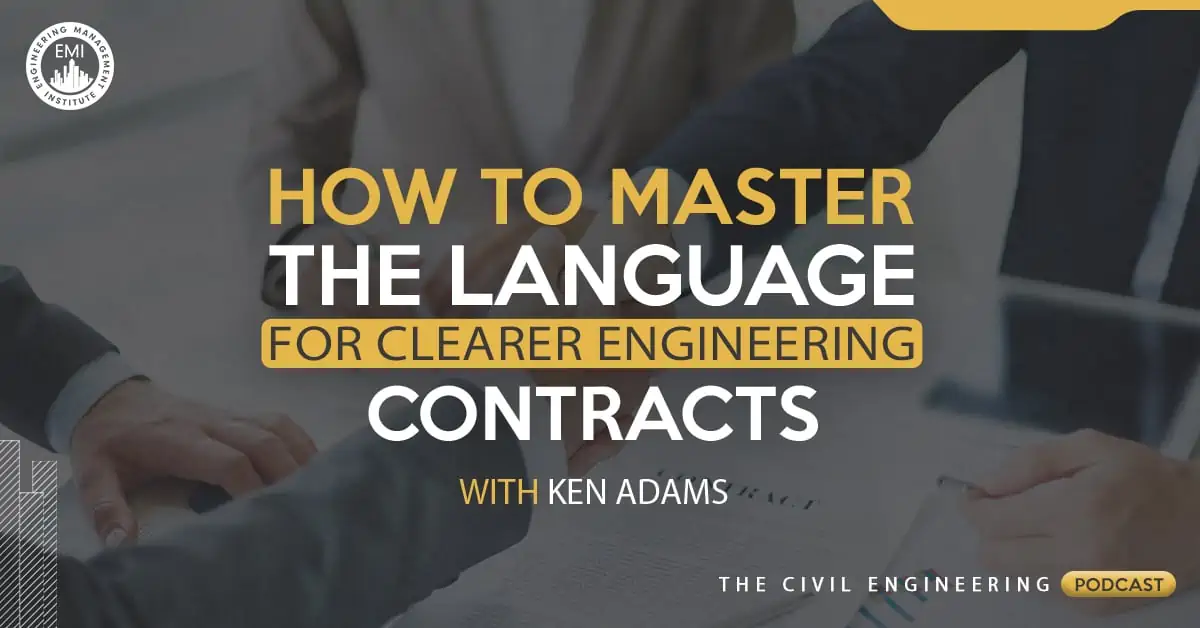 In episode 054 of The Civil Engineering Podcast, Chris Knutson interviews Ken Adams, an expert in the world of contract drafting on how to master the language to create clearer engineering contracts.
Here are some of the questions Chris asked Ken:
What do you consider is the essence of a contract?
How do you suggest that civil engineers should approach reviewing engineering contracts?
What are some challenges you see with traditional contract drafting?
The National Society of Professional Engineers (NSPE) has also produced a series of standard contract documents for engineering design and construction projects, how do these rate with regards to language and clarity?
What is your opinion of general trade organization contracts?
With regards to schedule provisions in contracts, how standardized do these tend to be?
What does an engineer or contractor need to be aware of with regards to imposed contract requirements?
What are indemnification clauses and what do engineers need to know or be aware of with regards to them?
Engineering Quotes:




Here are some key points discussed in this episode on Engineering Contracts:
A contract gives the parties an opportunity to determine and state as explicitly as necessary what each expects from the other.
The problem with traditional contract language is that it results in delay and confusion at every stage in the contract process. It also creates confusion that can lead to fights.
Contract language is limited and stylized. It's best if you leave it to experts.
Copy and pasting or inserting information to a contract is probably not the best route to go with standardized contracts. It is advisable to get legal counsel to take a look at the language of the contract and to make sure that it is relevant and applicable to the situation that you are truly in.
Schedules tend to be different from project to project, but is still part of the contract. If something doesn't make sense in the contract it won't make sense in the schedules.
Hold harmless is a mystery phrase with no settled meaning. Do not use the phrase indemnify and hold harmless, which is utterly standard.  Instead, just use indemnify and say what the deal is.
It's best to be an informed and skeptical consumer of contract language. Accept that in terms of the prose, most contracts are a mess. Learn to distinguish between what's clear and effective, what's not so clear but you can live with, and what's confusing and could cause a problem and so needs to be fixed.
More details in this episode…
[Read more…] about TCEP 054: How to Master the Language for Clearer Engineering Contracts