This is a guest blog by Mike Burns, PE, PgMP, DBIA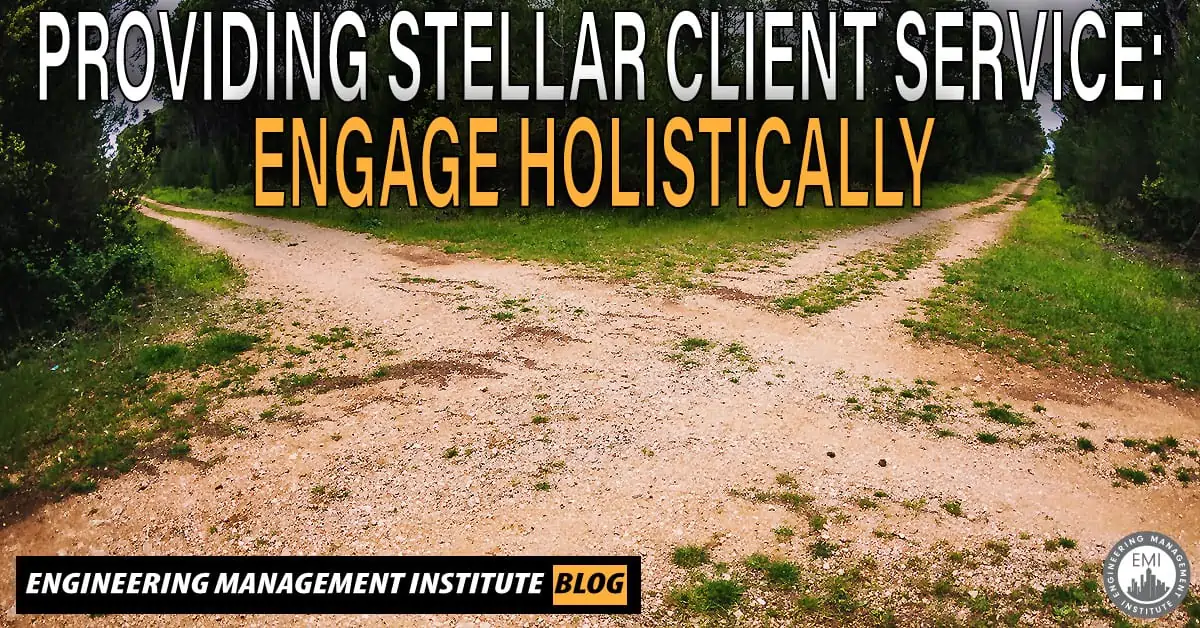 As we commence a discussion about client service, I find myself reflecting on my first Engineering Management Institute (EMI) blog, "Think Big, Be Mindful." Serving our clients and growing market share should create synergies with our individual goals and personal lives. Again, allowing us to evolve our vision as intentions, setting direction — not prescribing a destination. In this instance, we are going to set intentions by broadening our client perspective. This broader perspective allows us to avoid boundaries that might erode our individual and collective paths to success.
I thoroughly enjoy considering and discussing the complex programs and projects that AEC professionals serve. Like many of you, this enjoyment has allowed me to grow from technical roles into leadership positions with increasing business development (BD) responsibilities, realizing along the way that I am not a natural salesperson. Yet, I benefit from and continue to enjoy working with exceptional marketing, BD, and operations colleagues, who help me to refine my approach to winning work and providing stellar client services. Along the way, one of these wonderful colleagues introduced me to Heidi Gardner's book.
Mrs. Gardner's extended title necessitates a deeper read: "Smart Collaboration: How Professionals and Their Firms Succeed by Breaking Down Silos." I would not suggest taking on silos as a path toward exceptional client services. However, I wholeheartedly support her guidance, which promotes zippered relationships, allowing us to avoid cross-selling gaps as we orchestrate collaborative selling objectives. Silos emerge for reasons that we need to understand, especially where Wall Street-driven performance metrics and commercialization of our products create onerous metrics for hit rates, profit, loss, and utilization. We must explore ways to incrementally feed these metrics, concurrently exposing colleagues whose breadth of knowledge and desire to grow create mutually beneficial opportunities — opportunities where our collective experiences provide a premium experience for our clients.
Like any dynamic problem, the complexities associated with artfully incentivizing internal and external clients necessitate an elegant approach. I believe that sustained stellar client services starts with a people-centric program management approach, marrying a comprehensive stakeholder assessment with dynamic communication loops throughout the project delivery lifecycle.
Step 1: Understanding and supporting your internal and external clients
[Read more…] about Providing Stellar Client Service: Engage Holistically