Podcast: Play in new window | Download | Embed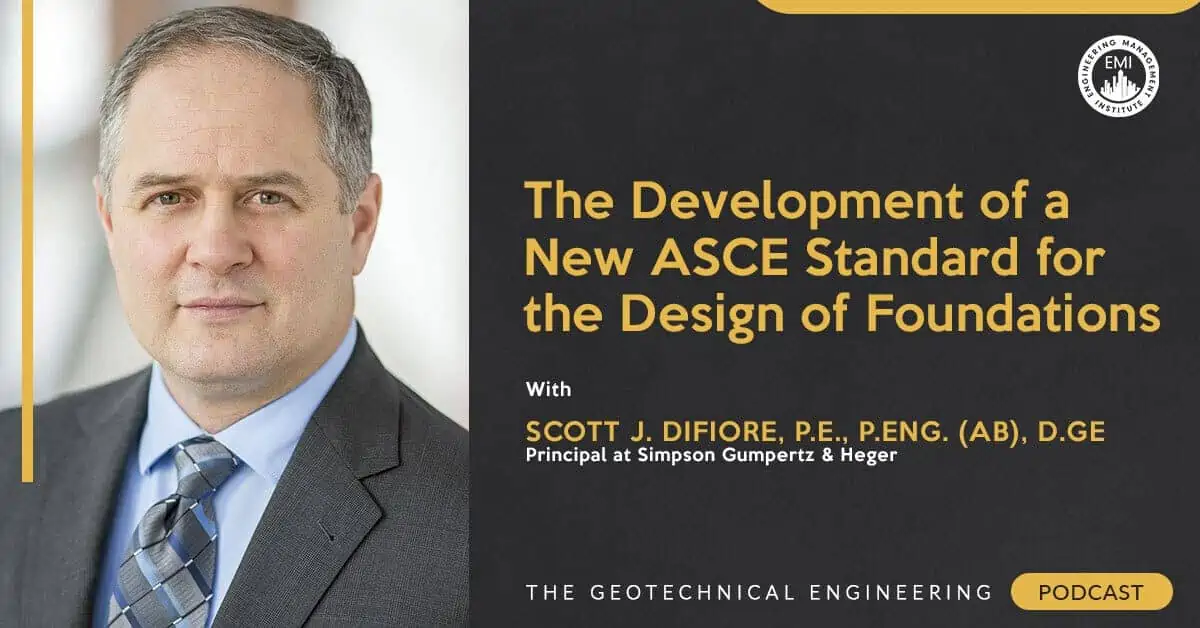 In this episode, we talk to Scott J. DiFiore, P.E., P.Eng. (AB), D.GE, Principal at Simpson Gumpertz & Heger Inc., about the development of the new ASCE Standard for the design of foundations for buildings and other structures.
Engineering Quotes:


Here Are Some of the Questions We Ask Scott:
Can you please tell our listeners a bit more about yourself, and what you do daily at Simpson Gumpertz & Heger Inc.?
You chair the committee for essentially all things geotech, from shallow/deep foundations and ground improvement to seismic and special inspection considerations, just to name a few. How does your involvement with these committees benefit your engineering career?
How do you make sure you are getting all the right people to the table for this new standard?
Do you know what the milestones are going to be and is there an anticipated release date?
What prompted the decision to make a new standard for the design of foundations?
Compared to ASCE7, is making the new standard a bigger job?
How often do the 60 committee members meet?
What is the range of experience needed for people who want to join in on making the new standard?
Do you see other benefits of this project in terms of other civil disciplines working together in the future?
What final advice would you like to give to geotechnical engineers out there?
Here Are Some of the Key Points Discussed About the Development of a New ASCE Standard for the Design of Foundations:
[Read more…] about TGEP 61: The Development of a New ASCE Standard for the Design of Foundations