Podcast: Play in new window | Download | Embed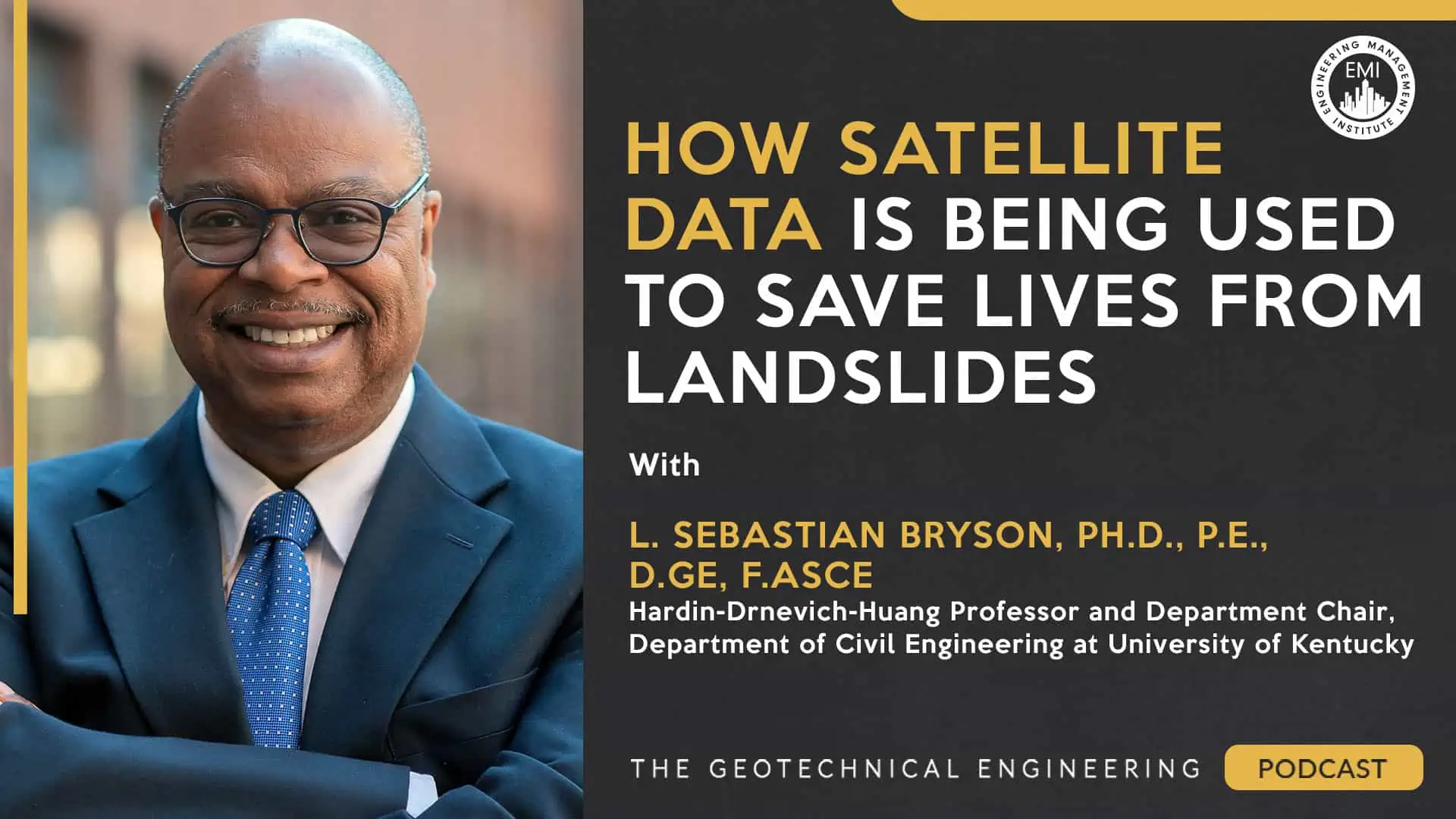 In this episode, we talk to L. Sebastian Bryson, Ph.D., P.E., D. GE, F.ASCE, the Hardin-Drnevich-Huang Professor of Civil Engineering in the Department of Civil Engineering with a joint appointment in the Department of Earth and Environmental Sciences at the University of Kentucky, as well as the current Department Chair for the Department of Civil Engineering. Dr. Bryson shares insights on utilizing satellite data to assess and predict landslides and also discusses some of the challenges and limitations encountered when utilizing satellite data for landslide assessment and prediction.
***You can view the video version of this episode here.***
Engineering Quotes:


Here Are Some of the Questions We Ask Sebastian:
Could you explain geo-hazard assessments and their relation to your current research on landslides?
How are satellite data and remote sensing techniques utilized for assessing and predicting landslides, and could you provide examples and the types of data collected and analyzed in this field?
How do you analyze satellite data to identify specific regions or communities?
What are the primary benefits of utilizing satellite data in landslide assessment as opposed to conventional methods?
Could you provide an overview of your current research projects focused on landslide geohazard assessment and prediction, highlighting their key objectives and potential implications?
Can you please explain the deformation-based design methodology in geotechnical engineering and discuss its significance in the field?
What challenges and limitations have you faced in utilizing satellite data for landslide assessments and prediction, and how do you plan to tackle them in your research?
What are some other geotechnical or geohazard applications for satellite data, besides landslides, such as monitoring cars and surface depressions, and are there any other potential uses for this technology?
How have your recognitions as a fellow of the American Society of Civil Engineers (ASCE) and as a certified Diplomate Geotechnical Engineer (DE) by the Academy of Geo Professionals enhanced your work and research in geotechnical engineering?
What advice would you offer to students or aspiring researchers interested in pursuing a career in geotechnical engineering, specifically in utilizing satellite data for specialized Geo hazard assessment?
Could you provide any additional resources or references for listeners interested in learning more about utilizing satellite data for land-side assessments and predictions?
Here Are Some of the Key Points Discussed About How Satellite Data Is Being Used to Save Lives From Landslides
[Read more…] about TGEP 077: How Satellite Data Is Being Used to Save Lives From Landslides