Podcast: Play in new window | Download | Embed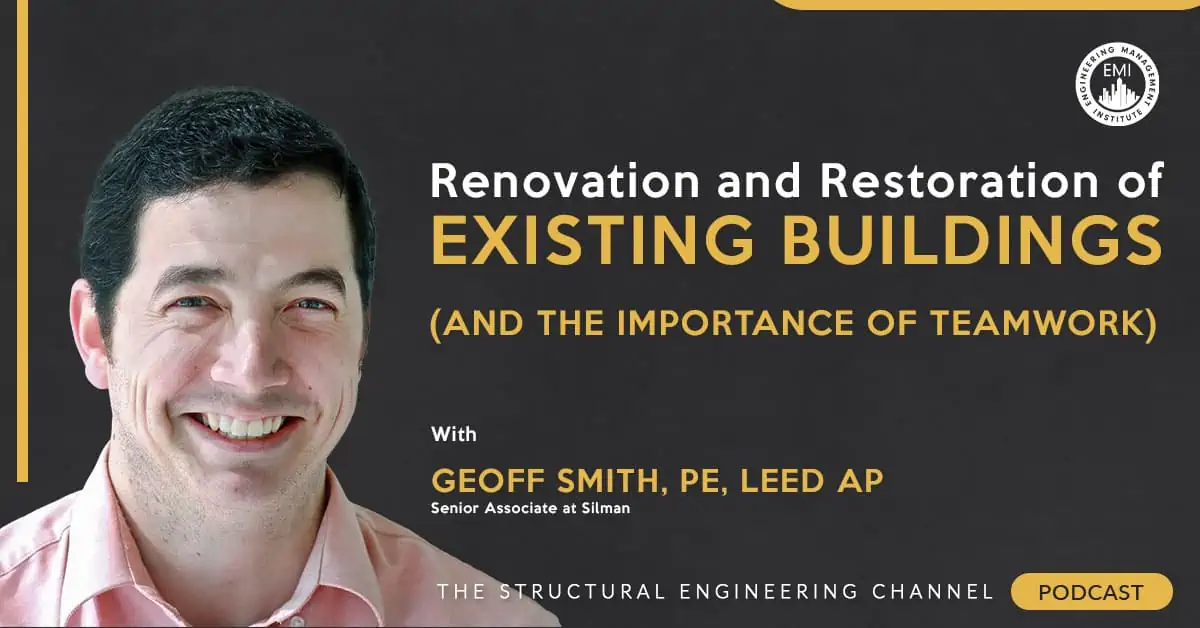 In this episode, we talk to Geoff Smith, PE, LEED AP, a Senior Associate at Silman, about the process of existing buildings renovations, and how teamwork plays a major role in these types of projects.
Engineering Quotes:


Here Are Some of the Questions We Ask Geoff:
What is meant by the words "existing building" and how can an existing building be sustainable?
Retrofitting an existing building can oftentimes be more cost-effective than building a new facility. How do you determine if the investment is worthwhile?
What is a probe campaign and how does it affect the renovation process?
Why are reviews of existing documents important when retrofitting a building?
What about the existing building history? Do you also have to review that?
What were some of the pros and cons of working with government agencies?
What makes a good collaborative team and how does it affect the projects they work on?
When working on renovations over a long time, how do you manage and improve team dynamics?
Do you have any career advice for structural engineers when working on building projects?
Here Are Some of the Key Points Discussed About Renovation and Restoration of Existing Buildings:
[Read more…] about TSEC 91: Renovation and Restoration of Existing Buildings (And the Importance of Teamwork)