Podcast: Play in new window | Download | Embed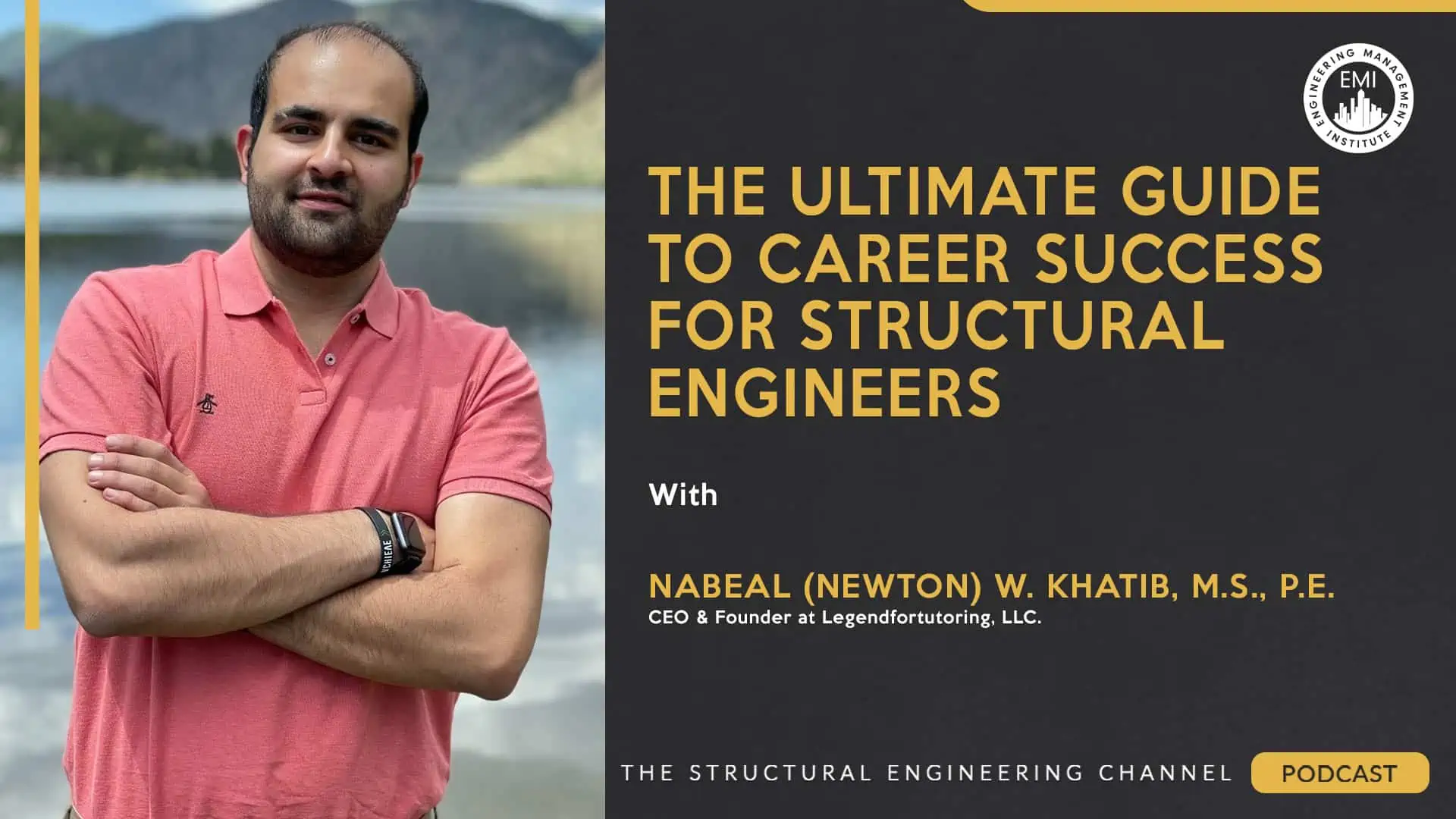 In this episode, I discuss strategies for achieving career success for structural engineers with Nabeal (Newton) W. Khatib, M.S., P.E., founder & CEO of Legendfortutoring, LLC. We also explore the process of curating a comprehensive library specifically designed to cater to the requirements of the structural depth Professional Engineer (P.E.) exam.
***The video version of this episode can be viewed here.***
Engineering Quotes:


Here Are Some of the Questions We Ask Nabeal:
What skills do you believe current or aspiring structural engineers should possess, and do you have any advice for enhancing or expediting their career advancement?
What's the optimal way to provide training and address knowledge gaps without demoralizing individuals by implying they should have learned certain things in school?
Is transitioning straight from management training to supervising engineers effective, or is it better to consider that engineers also need training and mentoring from the supervisor?
Can you briefly summarize the templates you mentioned or worked with that caught your interest?
Could you provide insights into preparing for the CBTPE and SC exams, including effective tips and strategies for engineers planning to study for them?
Could you explain how the shift from paper and pencil exams, like the P.E. and SEC, to the CBT format impacts individuals who are used to physical books and references, especially in terms of adjusting to a digital environment and navigating this change effectively?
Could you provide insights or advice on creating a library and preparing effectively for the structural depth P.E. exam, particularly for individuals attempting it for the first time?
With your preparation for the SE exam's transition to computer-based testing, could you share insights on its implications, both positive and negative?
Is there a handbook for the transition to computer-based testing that summarizes equations, which might be useful even if you're unfamiliar with it?
Did you use extra help like guides, practice exams, or mentorship, like what Legend for Tutoring offers, and if yes, how can people reach out for these services?
Do you have any last advice for those already in their careers or striving to maximize their professional life, or perhaps some broader life wisdom?
Here Are Some of the Key Points Discussed About the Ultimate Guide to Career Success for Structural Engineers:

[Read more…] about TSEC 111: The Ultimate Guide to Career Success for Structural Engineers