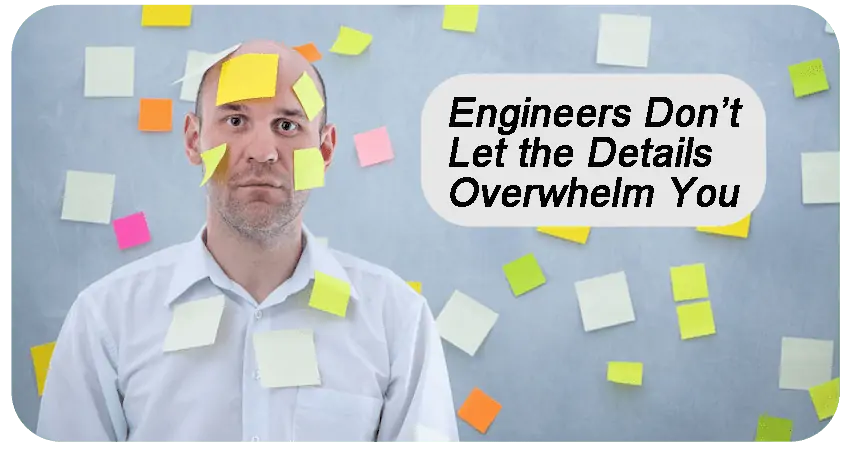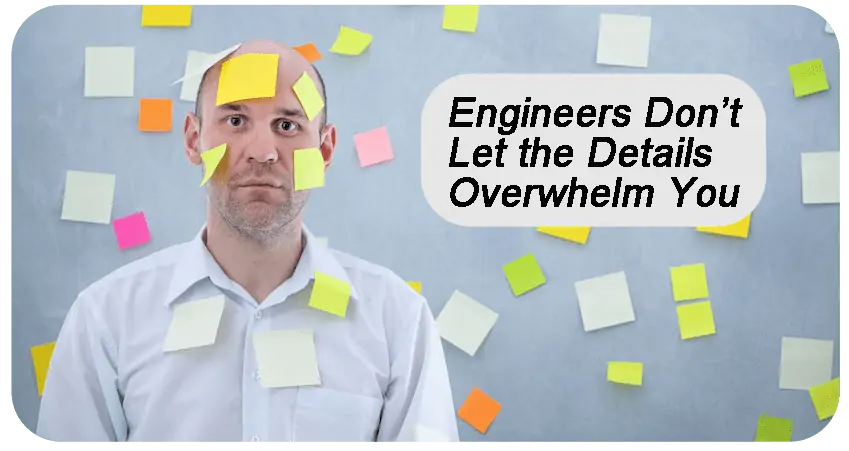 Here's a HUGE challenge engineers face in their career development: they get caught up in the details of day-to-day tasks and forget to look at the big picture and how all of their actions affect it.
This is totally understandable. Our job as engineers, from a technical standpoint, is to make sure that all of the details are addressed. Not doing so could potentially result in catastrophic failures. The challenge becomes avoiding that mindset in our career- and personal-development efforts when it will hurt us.
Examples of Thinking Small
Here are a few examples to try to make this point more clear.
Let's say you are studying for the PE exam. Based on your exam type, there will be five environmental questions and twenty structural engineering questions. Yet, being the good engineer that you are, you spend weeks trying to perfect the environmental part of your study manual, doing the questions over and over. What you don't realize is that by doing so, you are wasting valuable time that you could be using to perfect the structural engineering portion of the manual, which would have a much bigger impact on the outcome of the exam. Think big picture.
What if you are working on a proposal and presentation to a prospective client for a streetscape project? You focus all of your efforts on laying out the neat engineering features of the redevelopment, right down to the colors and curb radii. However, you neglect to incorporate into your proposal and presentation the benefits that citizens and business owners will receive from the design, which in reality will be a huge deciding factor of who gets the job. Think big picture.
It's Time to Think Bigger
I challenge you to step back in your engineering career and look at the big picture. Think about where you want to be in five years, and make sure you are doing the BIG things that are going to get you there, such as getting your PE license instead of being too busy with trivial things to study. Make sure that you are developing game-changing skills that you can utilize to achieve your goals.
I want to be clear that I am not saying that details aren't important, because they are, especially in engineering. However, they are not important in every aspect of engineering, and if you can determine when they are important and when they aren't—you will be way ahead in your career-development efforts.
Think big. Take risks, and start focusing on the 20% of tasks that will get you 80% of your desired results in your career and life.
To your success,
Anthony Fasano, PE, LEED AP
Engineering Management Institute
Author of Engineer Your Own Success