How to be More Effective with your LinkedIn Connections is a guest post by Nader Mowlaee.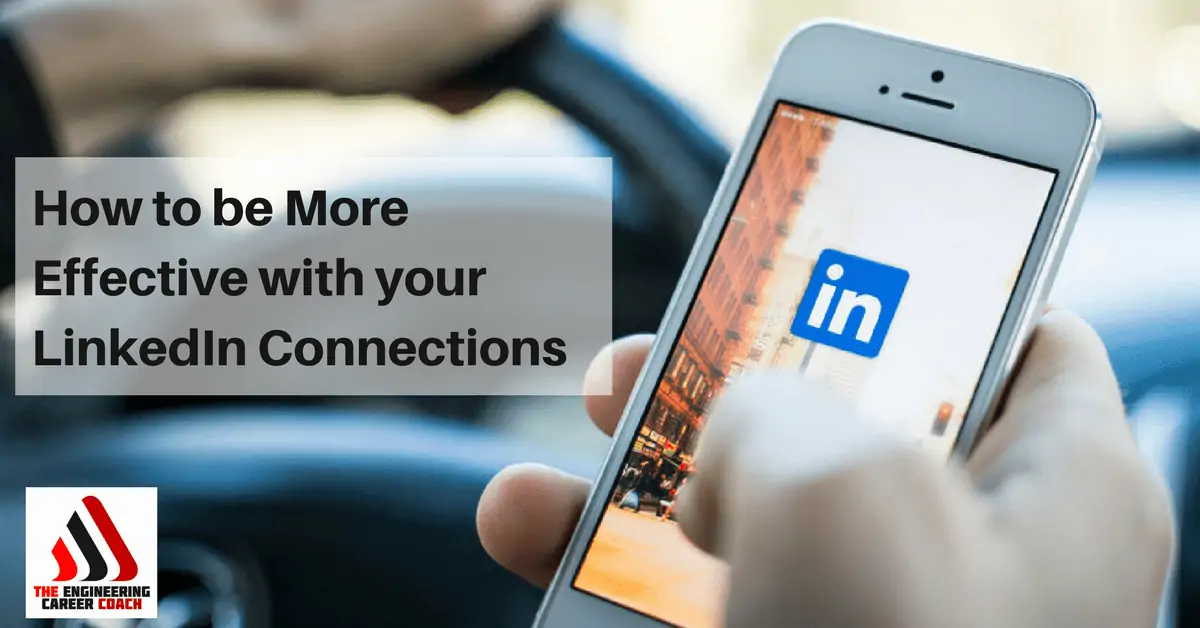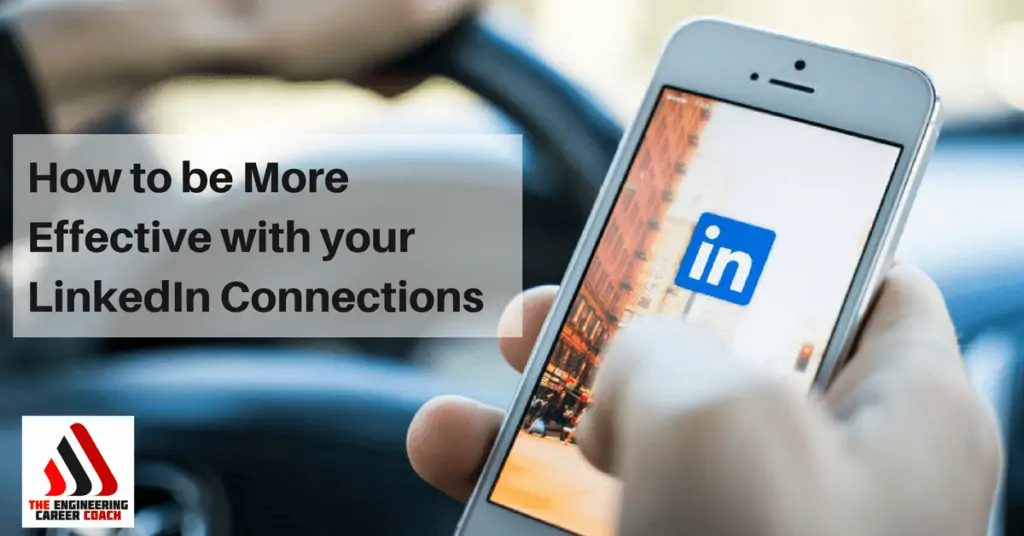 Whether you're actively seeking a new job, recently graduated and just want any job, or are proactively seeking the right career growth opportunity, growing your LinkedIn connections and knowing how to use LinkedIn is necessary. We know having connections matter and that LinkedIn is the best tool for getting in front of decision makers and having more interviews, but yet, there's no place lonelier than a LinkedIn profile once it's cooled off and people stop writing back to you.
In this post, I want to show you how you can get the spark back into your LinkedIn connections and warm up some decent conversations. All you need to get started is to decide what you want, open your eyes, be present and positive, and listen to what I have to say in this article. Then, take action on what I'm going to share with you, and touch base with me if you need more help.
There happens to be particular differences between how big your LinkedIn network is and the caliber of your network connections. Even though the numbers do not lie, they can often be misleading, especially when the time comes to search for a job opportunity. Size does matter, but it's not everything!
Concentrating on enhancing the quality of your LinkedIn connections by as little as 5 percent can enhance your outcomes up to 95 percent. On top of that, you will invest 5 times less time on LinkedIn and social networking; the response rates will likely be greater, simply because you are messaging current contacts, and also the interactions will likely be significantly less nerve-racking; usually we can even ask a shared connection for an introduction.
Then why do 90 percent of people looking for work concentrate mainly on adding new connections to their LinkedIn network, with no distinct objective or comprehensive strategy?
Should you want your social network to get extra receptive and supportive, you need to flip your time and efforts to folks that you have more than simply a single point in common with. You have to legitimately provide them with reasons to 'want' to talk with you. You should be honestly enthusiastic about who they really are as well as what they do; this really is the only method to attract them to you the natural way. Talk with other individuals whom they know and like. That's what makes a new contact (person) on LinkedIn, a high-quality contact, at least that's how I would define that term.
In some cases, high-quality contacts have worked inside the exact same organization as you previously. It's possible they have attended the same college as you, or were living in the same town, or grew up in the same country, or have comparable capabilities or passions as you do. This is merely the tip of the Iceberg; you need to research to discover some other similarities or talking points. And not all of those 'reasons and commonalities' are found on Google. Not all research can be done online. Sometimes you need to seek in order to find.


In any case, if they're accustomed to your type, they tend to be more comfortable talking with you, simply because they understand what they can anticipate from you. At the very least, enough to get them to talk to you, discuss their ideas and suggestions with you, and maybe even recommend another person they know for an introduction. For you to encourage those behaviors, you must engage them and provoke their thoughts. You've got to go to work on them.
Your existing community and contacts can be worth much more for your bottom line. The more you invest in them, the greater the ROI. This is often referred to as warm networking, with people you already know.
Warm Networking is the action of continuous messaging and contacting your current connections around a prolonged time period. It is a kind of commitment that boosts the lifetime value of your online interactions and LinkedIn conversations, eventually enhancing your professional relationships and leadership abilities.
Just as you should sustain your relationships with family and friends, you need to grow your relationships with your professional online community, e.g., LinkedIn Connections.
While you may go out with other people you know for a drink, you'll be able to stay in touch with your online community connections on LinkedIn, via email, or through other fun social networks such as Instagram.
When you maintain that relationship, you can rely on these people to carry on supporting you with career growth tips or even more specifically with your job search activities, helping you to get more jobs interviews.
Advantages of Warm Networking
If you are capable of enhancing the caliber of your community, you can realize several benefits from your efforts, like:
Bigger Community:

You will create an online community of people who not only can assist you when it is time to make career changes, but who also cherish your friendship and value your success.

Job Referrals:

Dependable contacts in many cases are fast to give into the particular names of companies and hiring managers they are aware of. When you get a job interview through personal referrals, it's not necessary to spend too much time marketing yourself, simply because the one who referred you has already built a relationship with the person in charge of hiring.

Higher Income:

Of course, your network can influence your net worth. When you're among more experts who share the very same vision as you, you succeed more regularly, and you also earn more money. It is as basic as that.

Better Branding:

Lots of people promote who they've known, who they have met, who they are associated with on LinkedIn. It's actually a type of social proof (branding by association) that delivers a particular signal to other people that 'you are worth their attention.'

Feedback:

Remaining in touch with people who continue to talk with you frequently gives you the chance to ask for their feedback. Ask what they like about you and what you might be able to modify in order to improve as a professional. They can even reveal to you some great job opportunities based on what they think of you. But remember this, if you don't ask, you most likely won't get. So be humble and ask for feedback.

Health:

You will have significantly less tension and anxiety if you concentrate on sustaining current contacts' commitment and loyalty, rather than struggling to discover new individuals to connect with on LinkedIn.

Durability:

You'll be able to, with less effort, maintain your career when you're conscious that you have the help of those that are on the same mission as you.
I hope these recommendations help you understand why you need to concentrate more on your LinkedIn Network's quality rather than quantity, and help you to start doing it. This approach will result in your current contacts being much more engaged and thus more attentive to your messages, and that's the best way to leverage your LinkedIn Connections.
I eat my breakfast, lunch, and dinner on LinkedIn; and can't imagine my life without it. We've been together since 2010 and we've happier year after year. There's still so much more space for the lover of LinkedIn, so share this article and spread the word, helping others to grow their LinkedIn Connections and build the foundations of their careers.
If this has been a topic on your mind and you'd like to learn more specific tactics that can be implemented on a daily basis, connect with me on LinkedIn and I'll share with you some of my tested and proven methods which have made it easier for me to enhance loyalty and obtain more results throughout networking activities on LinkedIn.
The job search is tough, especially if you lack a strong network; but if you learn to love it more, it will be less painful. To learn how you can create a winning strategy to build a successful engineering career, listen to this podcast.
About Nader Mowlaee:
Nader is a career coach who believes you can get everything you want in life if you just help enough other people get what they want. He is inspired by motivating confidence in engineers and helping them take calculated actions to move forward towards their career and life goals. His mission is to enable engineers to break away from their fears and create the ideal lives and careers they desire. You can learn more about Nader through his LinkedIn account.
We would love to hear any questions you might have or stories you might share on growing your LinkedIn connections.
Please leave your comments, feedback or questions in the section below.
To your success,
Anthony Fasano, PE, LEED AP
Engineering Management Institute
Author of Engineer Your Own Success