This is a guest blog by Tiffani Teachey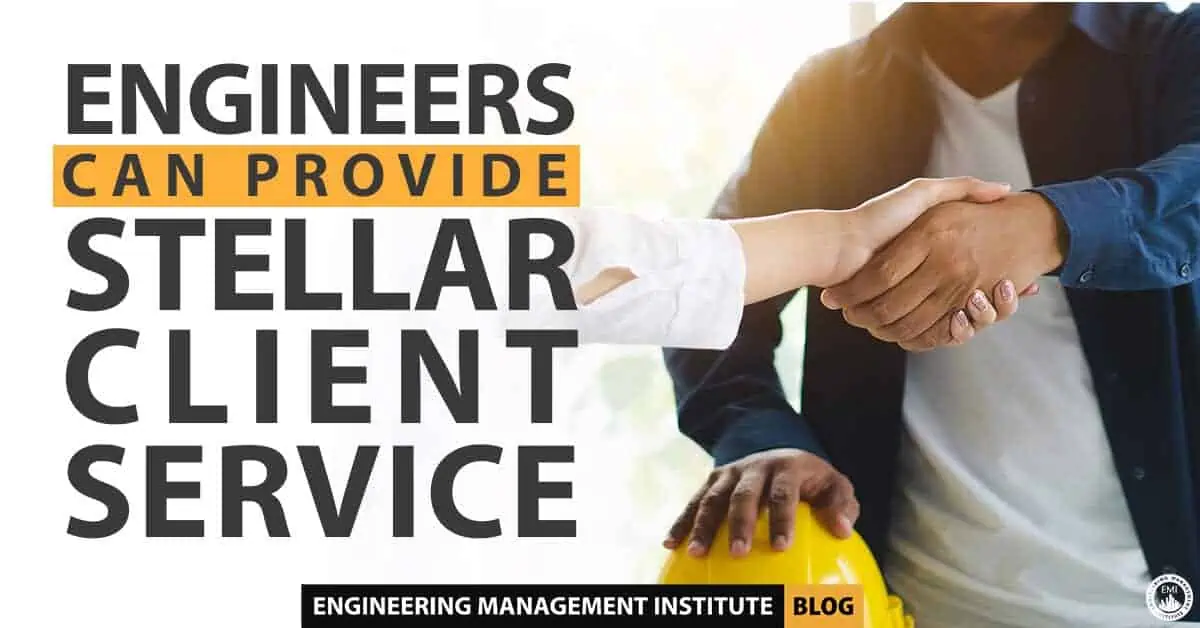 Stellar client service is the key to retaining clients. As an engineer, one might not think client service would be in an engineer's wheelhouse, but it's often one of the most effective ways to retain clients. Stellar client service is the key to your business and company's success. It is a way to provide a competitive edge in the industry and help grow one's company. The benefits of stellar client service outweigh the costs, as they will gain loyal customers who will come back for more! Below are three ways engineers can use their skill set and knowledge base to provide stellar client service:
Solving the Client's Problems and Providing Solutions
The engineering industry is a competitive field. It's important to have the right qualifications and certifications, but it's also important to provide solutions to clients' problems. It's always a good idea to have an engineer on hand for any problem that may arise. Engineers should become more proactive in their profession by offering solutions for the client's needs.


Engineers are problem-solvers. Every engagement is unique. As such, the engineer's approach in their project should align with the client's needs before diving headfirst into designing or producing any work for clients. This enables them to provide a successful outcome on every level — from design through implementation. Every project begins by getting ready: understanding what the clients need so they can successfully implement it; figuring out how to execute that plan effectively (designing/producing); and assessing if this was worth doing given its complexity.
Utilizing Technical, Math, and Science Knowledge
Engineers can use their knowledge of technology, math, and science to help clients with technical issues. Engineers have a wide variety of roles in industry, from design to manufacturing to research and development. To be successful, engineers must think critically about how their work affects people's lives or the environment on a global scale. We also need engineers for sustainability initiatives, which means they're going to be important in the future too!
Engineers share some traits with other Science, Technology, Engineering, Math (STEM) professionals: creativity, problem-solving skills, curiosity, and an ability to focus on details while seeing the big picture at the same time. They use their knowledge of science and math to help clients by solving just about any engineering challenge they might face, from building bridges or nuclear power plants all the way down to designing an app for your phone!
Utilizing Effective Listening Skills
The best engineers know how to listen and empathize with their clients. The first step for any engineer who wants to become an expert listener is understanding why listening skills matter. You should always strive for empathy and listen when meeting your customer's needs. Engineers should know that listening to their clients and empathizing with them is crucial to provide the best product or service possible. The best engineers will do whatever it takes to make sure they understand what their client needs before spending hours on a project. It's a skill that is invaluable when it comes to creating new products for the clients.
To be an effective listener, it's important not just to hear but also understand what the client is saying. This means asking questions and making sure everyone is on the same page with the client before coming up with solutions or moving forward with any part of the development process. Engineers should also take note of what the client is saying while they're talking. They can use empathy as a tool for innovation, and it will make them so successful at listening to the client.
In conclusion, as an engineer with a strong background in math, science, and problem-solving skills, you have the potential to provide stellar client service. Engineers are often uniquely qualified for this type of work because they can solve technical problems quickly and effectively. If you've been wondering how your engineering degree could be put to good use, look no further than providing excellent client service!
What ways have you provided stellar client service? Share your story below so we can hear from more engineers who want to share their successes!
About the Author

Tiffani Teachey is a Sr. Mechanical Engineer, STEM advocate, professional speaker, and international best-selling author of the children's book "What Can I Be? STEM Careers from A to Z" and two women empowerment books. She holds a Bachelor of Science degree in Mechanical Engineering, as well as a Master of Science degree in Engineering Management, both from the University of North Carolina at Charlotte. As an engineer with more than 16 years of experience, Tiffani has a passion for inspiring the next generation to engage in Science, Technology, Engineering, and Math (STEM) careers. She was born and raised in Winston-Salem, North Carolina, and enjoys traveling and being a youth mentor. For more about Tiffani, visit her website at www.TiffaniTeachey.com.
We would love to hear any questions you might have or stories you might share about how you provide stellar client service.
Please leave your comments, feedback or questions in the section below.
To your success,
Anthony Fasano, PE, LEED AP
Engineering Management Institute
Author of Engineer Your Own Success