This is a guest blog by John Beck, MBA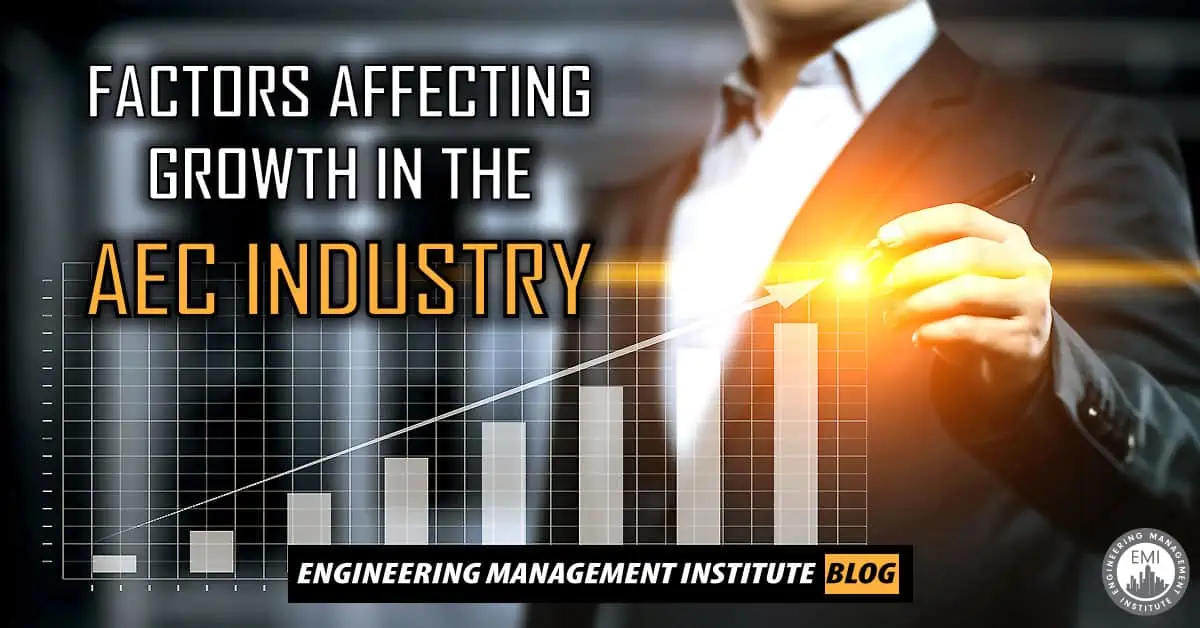 It's no secret that organic growth in any business follows a natural S-curve, with a period of infancy, followed by aggressive expansion, and ultimately maturity. Inherently, achieving exponential growth later in the business cycle is more challenging than achieving exponential growth at the outset.   
A vast majority of revenue at an established engineering firm often comes from existing clients, which makes scaling difficult and puts more pressure on relationship building and maintaining. There are a number of factors specific to the engineering industry that can affect growth. I'd like to highlight three factors that affects growth in the AEC Industry. 
Labor Availability 
Time and again we hear from engineering firms that the main obstacle in the way of growth is people — there simply aren't enough. Finding and retaining qualified staff remained a top financial challenge for engineering companies in 2019, while the turnover rate hovers around 15% annually. More and more, firms look to employee stock ownership plan (ESOP) models to draw and keep talent in their ranks. Cultivating and nurturing talent has become a critical component as many senior leaders look to transition into retirement. 
Acquisition / Expertise 
Tapping new sources is a great way to achieve exponential growth. A common tactic in the toolbelt of large architecture and engineering firms is strategic acquisition. According to AEC Advisors, there are four key factors driving acquisition in the AEC industry right now: 
Historically high enterprise values of publicly traded companies

 

Accentuated M&A valuation arbitrage, due in part to cost synergies

 

Reliance on M&A in larger firms to support big growth expectations when organic growth is slow

 

Increased interest from private equity and overseas investors

 
Simply put, strategic acquisition allows for instant penetration and expertise in untapped markets. This expedites increased market share, and, often, the acquisition of key personnel. Given the above factors, M&A activity will remain strong for the foreseeable future.   
Along the lines of expertise, one of the more common tactics we have observed is for a firm to grow organically along with the footprint of its customers. In some cases, firms will evaluate where their clients are growing, and open corresponding offices to grow alongside them.    
Compliance Requirements 
Growth is change, and change can be painful. This is especially true when expanding into new geographies. Firms often wonder what the ownership requirements are in a new state. Does this state require a certificate of authorization? And once established, how does a firm stay compliant going forward to allow focus on more growth efforts?   
The process of trial and error to get registered can delay projects for months and create downstream effects, including discipline and fines. A common outcome is a state of confusion, which leads to inertia, and inertia can thwart growth. With informed software, managed services, and corporate entity services, Harbor Compliance can be your solution to compliance confusion. 
About John Beck, MBA
John Beck, MBA, is the Director of Market Strategy at Harbor Compliance, a leading provider of compliance solutions. John brings 15 years of corporate legal industry experience to his role, including business development and executive leadership positions. He has serviced companies ranging from global Fortune 500 enterprises to small businesses. John is focused on marketing, partnership development, and business development strategy. He is available to answer your questions or brainstorm ideas at 717-431-9134 or [email protected]. 
© 2019 Harbor Compliance. All rights reserved. 
Harbor Compliance does not provide tax, financial, or legal advice. Use of our services does not create an attorney-client relationship. Harbor Compliance is not acting as your attorney and does not review information you provide to us for legal accuracy or sufficiency.
We would love to hear any questions you might have or stories you might share about factors that affects growth in the AEC Industry.
Please leave your comments, feedback or questions in the section below.
To your success,
Anthony Fasano, PE, LEED AP
Engineering Management Institute
Author of Engineer Your Own Success