This is a guest post by Jacob Valentien, PE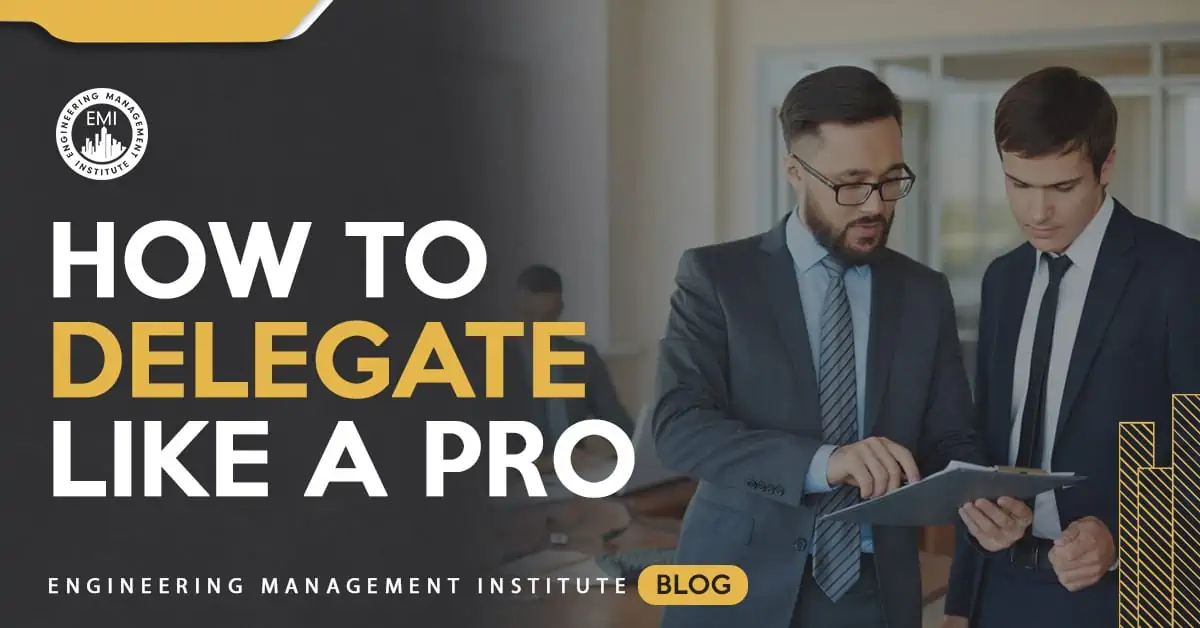 Look — delegating is hard. Let's just be honest. As you start your career, usually everything you do is self-performed, driven by you, and you can rely on yourself to complete tasks to the quality level needed. As your career progresses, there will begin to be more work than you can complete on your own, and it will lead to utilizing other team members to get things done.
This has a fancy term called delegation. Delegation is a skill. Some people are inherently better at it, but nobody is born a master of delegation. Mastery of delegation allows you to continue to move up and progress in your career. If you don't master it, then delegation can be like a curse. There are different levels of delegation. I am going to cover what I believe to be the three levels of delegation that young engineers need to learn how to master if they are going to move from a technical engineer to any form of management or leadership.
All forms of delegation require some level of planning and follow up on your part. Depending upon the level of delegation, the level of planning and following up varies.
Level 1: Delegating Down
When I say "delegating down," I am referring to delegating to a team member who may have less experience and may not have completed the task before. This usually means that for the delegated task to be completed successfully, it will require you to provide adequate instruction and processes so that your team member has a chance at successfully executing the task. To provide adequate instruction requires that you know all of the steps necessary and can walk the team member through the completion of the task.
In general, delegating down requires the most planning and the most follow-up to better achieve success.
Level 2: Delegating to Peers
At times, you will need assistance from peers to accomplish tasks. It is important to remember that they are likely to be just as busy as you are, so make sure that their assistance is valuable and make the goal and strategy clear. If possible, see if there is something that you can assist them with to possibly trade tasks in the event that you and they have varying skill sets.
In general, delegating to peers does not require a large amount of planning, but following up on a regular basis can be critical to ensure they were able to make enough time to work on the task.
Level 3: Delegating Up
Lastly, when I say "delegating up," I am referring to assigning tasks or asking for help from your supervisor or a team member who might be higher on the corporate ladder that yourself. I have found it valuable and critical when delegating up to ensure that my strategy and vision for the task is detailed and thorough. This approach showcases your thought process and can be great from a visibility perspective. It should come with the understanding that delegating up likely means the recipient of the task has a full workload, so be clear about your expectations for delivery in schedule and scope.
In general, delegating up requires a lot of planning but in a more strategic and visionary mindset, and the follow-ups should be very structured and outlined.
Tactical Strategies for Delegating
Depending upon the recipient of the task, I will often alter how I delegate the task.
I find that for delegating down, scheduling a meeting with the recipient to discuss the task and assistance needed is best combined with a detailed email (written before the meeting) that prescribes all of the necessary steps and actions to be taken. This approach forces you to think it through in order to write it all out, and provides a written resource for the recipient to look back on after the meeting to refresh themselves without having to come back and ask questions throughout the process.
For delegating upward, I like to make sure I have mapped out the necessary actions and thought through the reason that I need assistance from them and the value it will be to have them assist me with completing the task. Once I have that figured out, it is critical to ask and verify that they have the time and capacity to assist. Everyone is busy, and clarifying this all beforehand leads to better set expectations on both sides of the task.
Regardless of the level, make sure to explicitly make the scope of the task clear, along with the expected completion date. If you expect to review progress at certain intervals, make that clear, and take the initiative to schedule them on both parties' calendars. Make yourself available for questions and often check in just to make sure and see if you can spark any questions/comments to ensure everyone is on the right track.
If you have common or repeating tasks, try to make sure to delegate to the same person so that efficiencies in production can be established and skills developed for others.
Summary
Delegating is hard, and it can be scary to take the hands of the steering wheel and let someone else drive for a moment. However, understand that mastery of this skill can open the door to more production and opportunities for you to work on other responsibilities. Remember that even if the person that you delegate the task to only gets the task 80% correct, that is at minimum 20% of time that you get back to work on other things. The more guidance and instruction that you can provide and your availability for questions/comments will improve that 80% and decrease the time that the task might take.
Master delegation and multiply your production.
About the Author
Jacob W. Valentien, PE
Jacob is a Senior Project Manager with Pacheco Koch Consulting Engineers, Inc. and has over 9 years of engineering experience in municipal infrastructure with a focus on water & wastewater treatment design and construction. He received a Bachelor of Science degree in Civil Engineering from the University of Texas and is a licensed Professional Engineer in the State of Texas. He has designed projects and managed teams on local and state public & private sector projects. Jacob is responsible for project management and delivery, business development in the public works sector in Central Texas, and client success. He previously completed the 2019-2020 Emerging Leaders program through ACEC Houston, has presented on topics such as pre-chlorinated pipe bursting to the Association of Water Board Directors, and has co-authored a technical article on Wastewater Treatment Plant Design. He also has developed curriculum, organized programming, and led project management and professional development training courses for his teams.  
I hope you enjoyed this week's post by guest author Jacob W. Valentien, PE.  If you're interested in your firm possibly joining the Civil Engineering Collective, please contact us here or call us at 800-920-4007.
I hope you'll join us.
Anthony Fasano, P.E.
Engineering Management Institute
Author of Engineer Your Own Success