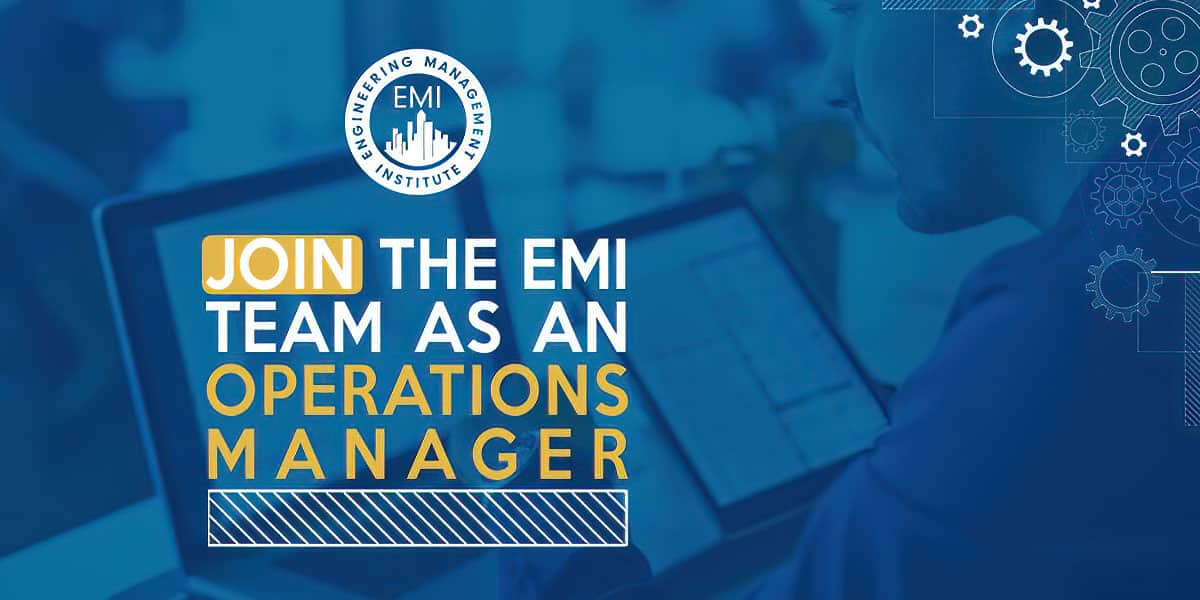 What Makes the Engineering Management Institute a Great Place to Work…
Every professional wants to work for a company with an exciting mission and purpose, and also be rewarded for that work. However, most organizations are simply looking to get the most out of their staff, for the highest return on their investment.
At the Engineering Management Institute (EMI), we help engineering professionals lead people and projects better through the creation of great content (both digital content and corporate training programs).  However we do so, by focusing greatly on helping our team members achieve their personal and professional goals.  We do this by following our guiding principles (give, guide and grow).  We ask all EMI team members to give their all, guide each other, and grow together.  We also employ a quarterly profit sharing program, so that as EMI grows, all team members are rewarded monetarily for their contributions to EMI's growth.
If you are interested in joining a dynamic team, and working on exciting growth-oriented projects, please complete the form below.  Joining the EMI team may be an avenue to fast-track the achievement of your personal and professional goals.
Operations Manager Job Description
At EMI, we owe our success to the efficiency of our organizational processes. To help maintain and grow this standard, we're seeking an Operations Manager to join our leadership team, oversee daily activities, and develop and implement operational policies and procedures. As an ideal candidate, you'll have a sharp analytical mind and willingness to oversee the operations of multiple business units/projects toward maximum productivity.
However, we're looking for productivity without burnout.  You'll be highly skilled in analytical thinking, problem solving and efficient and effective procedures. Additionally, you'll display a proven ability to develop and maintain an environment of trust, diversity, and inclusion within your team. Your ultimate responsibility is to increase our operational efficiency at the Engineering Management Institute
While we might ask our Operations Manager to visit our corporate headquarters in northern New Jersey periodically, this will be a mostly remote position, and can be done from anywhere.  It is preferred that this role begins as a part-time role and expands into full-time over 6 months, or it could potentially be a full-time position immediately.
Grow the efficiency of existing organizational processes and procedures to enhance and sustain the organization's internal capacity.
Cultivate an environment of productivity which implores concepts of deep work, where communication is structured and allows for individual time in addition to collaboration.
Maintain constant communication with management, staff, and clients to ensure proper operations of the organization.
Develop, implement, and maintain quality assurance protocols.
Identify problems and come up with practical solutions quickly.
Actively pursue strategic and operational objectives.
Ensure operational activities remain on time and within a defined budget.
Track staffing requirements, hiring new employees as needed.
Monitor changing market conditions and adjusting strategies accordingly.
Ensure all legal and regulatory documents are filed and monitor compliance with laws and regulations
Daily and Monthly Responsibilities
Create long-term plans, initiatives, and routines to accomplish company goals efficiently (without burnout). For example, this might include creating guidelines for how and when people communicate to avoid people constantly being interrupted by instant messaging.
Ensure projects are completed on time and within budget.
Communicate with clients as needed to build and maintain client relationships.
Coordinate with other teams to implement strategies and cross-training efforts.
Setup and implementation of career development plans for all direct reports and problem resolution.
Conduct interviews with prospective candidates, training them, and supervising staff.
​​Provide productivity training for team members.
Work with other leaders to determine values and mission, and specific plans to accomplish short and long-term goals.
Identify and address problems and opportunities for the company.
Build alliances and partnerships with other organizations.
Conduct team Meetings and 1-on-1s.
Hold the team accountable for deliverables.
Utilize our project management software (Asana) regularly and update tasks/project timelines as needed.
Follow up on things that are pending and making sure high priority stuff doesn't get stuck waiting on someone. For example, if we are onboarding a new team member, you are checking every day that they are not waiting on us for anything.
Create and update our SOPs so that every mistake becomes a future process that prevents that mistake.
Oversee and optimize onboarding of new clients.
Plan team retreats and similar events.
Optimize communication schedule and structure. How many meetings should we have? with whom? when? How should we use Slack?
Skills and Qualifications
Bachelor's degree in engineering or operations management.
2+ years' proven experience in an operations management position (not required if you practiced engineering).
Strong project management and productivity skills.
Excellent ability to delegate responsibilities while maintaining organizational control of branch operations and customer service.
Analytical, problem-solving, decision-making skills.
Knowledge of general business software and aptitude to learn new applications; proficiency in Microsoft Office (Word, Excel, Outlook).
Experience with No Code tools such as Airtable, Zapier, etc. (optional)
What do we expect from an Operations Manager?
We expect our Operations Manager to always be looking for ways to engage employees and make the workplace more effective and efficient, without stress and burnout happening. Excellent leadership skills, social skills, and active listening are all necessary for this role. Other vital qualities of an efficient Operations Manager are understanding finances, team productivity, workflow, and staffing.
Schedule for Interviewing Process
May 15 - June 15 - Applications Accepted
June 15 - June 30 - Applicants Notified if They Will Receive an Interview
July 1 - August 15 - Interviews Conducted
August 15 - August 31 - Candidate Selected
Range: $65,000 to $90,000. There are options for this role to start as part-time and progress or start immediately full-time.  Compensation will be discussed in detail  during the interview process based on the workweek responsibilities.
Apply Today by Completing this Form