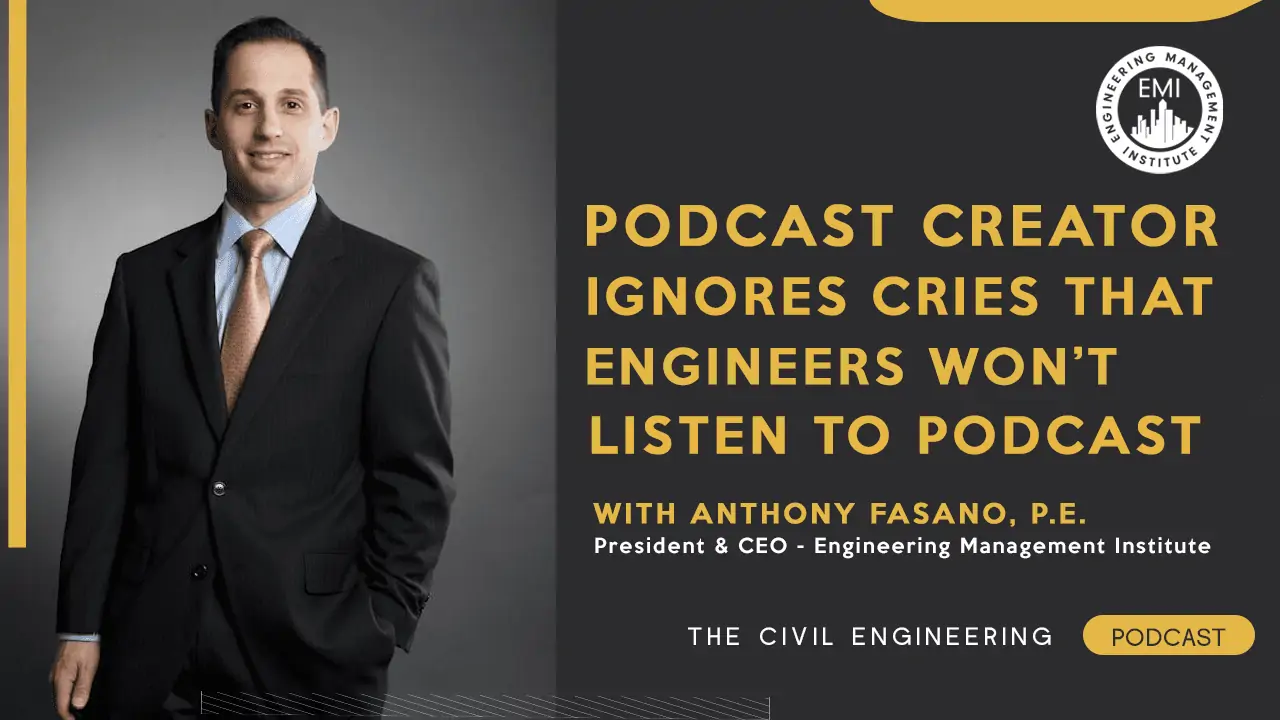 Podcast Creator Ignores Cries that Engineers Won't Listen to Podcast Making Forbes Citation Even More Validating

Easily Accessible Podcast for Engineers Thrives in the Face of Naysayers
RIDGEWOOD, New Jersey – December 30, 2017 – Forbes recently recognized The Engineering Career Coach Podcast as one of the 15 most inspiring podcasts for professionals.  For the podcast host and creator, Anthony Fasano, PE, this was a major validation, after building this podcast for the last four years in the face doubt.
"When I launched this podcast focused on helping engineers and technical professionals develop both professionally and personally, many people told me that engineers wouldn't listen to a career focused podcast, "said Anthony Fasano, PE, President of Engineering Management Institute and author of Engineer Your Own Success. "I knew though, as an engineer myself, that engineers needed both career guidance and inspiration and was determined to deliver it to them in a format that they could easily digest on the go."
Since the first episode published in late 2011, the podcast has been downloaded over 1.5 million times in over 150 countries worldwide.  "The success of the podcast should be a lesson to all professionals that you can accomplish whatever you set out to do, regardless of what people tell you," said Fasano.
After four years of publication, there are no plans to slow the podcast down, in fact, the plan is to ramp it up.  Starting in February 2017, the podcast will publish episodes following a set of monthly themes focused around helping engineers become effective managers, something many engineers aspire to accomplish.  Some of the themes will include building confidence, delivering stellar client service, decision making, and improving productivity and focus.
The Engineering Career Coach Podcast is free and readily available on iTunes and Google Play, and on Engineering Management Institute website.  Engineers and other technical professionals can listen on their commute, while working out in the gym, or anywhere else, allowing them to take advantage of downtime to develop their managerial skills.
About Engineering Management Institute, Inc. – Engineering Management Institute, Inc. is a coaching and training company based in Ridgewood, New Jersey.  Founded in 2009, Engineering Management Institute has inspired thousands of engineers through its various content channels which include written articles, podcasts and videos.  The company and its founder has been cited on many major media outlets including CNN, Mashable, and mostly recently Forbes.
| | | |
| --- | --- | --- |
| Anthony Fasano, PE | | |
| 1-800-920-4007 ext 800. | | |