This is a guest blog by Patrick Sweet, P.Eng., MBA, PMP, CSEP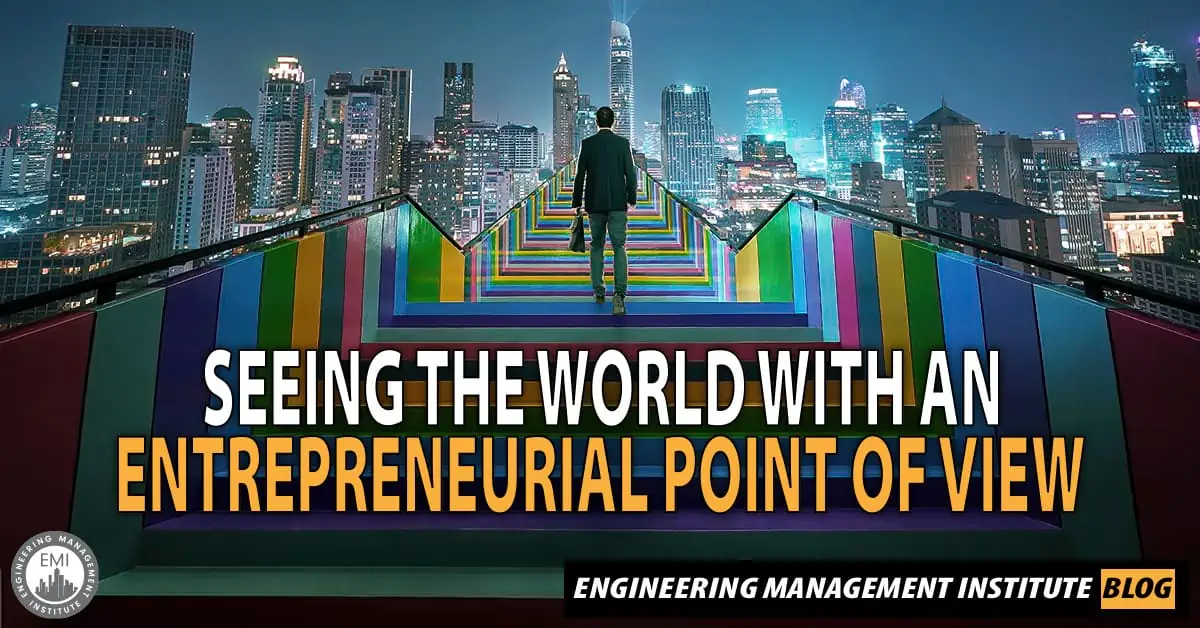 When I was an undergraduate engineering student, my favorite professor was a brilliant man named Dr. Peter Gregson. While I would never call him eccentric, he definitely stood out from the rest of the faculty. He was one of the few professors in the department who actually made things. He had developed products and built companies to sell those products throughout his career. This gave him, in my mind at least, a lot of credibility as an engineer and as an educator. Unsurprisingly, one of Dr. Gregson's mantras was on the importance of having an entrepreneurial mindset. Whether you work for yourself or for someone else, seeing the world with an entrepreneurial point of view can have a profound impact on your career as an engineer. Ultimately, engineers who learn to think like entrepreneurs are better innovators, solve bigger problems, and are more productive than their colleagues.
Focusing on the Problem
As engineers, most of us are trained to master "solution space." In school, we're handed assignments and asked to solve for x. The problems that need to be solved are literally packaged up and delivered to us.
In the working world, however, things don't work like that. The problem to solve isn't always clear. I've seen it happen countless times in my career, where teams of brilliant engineers have poured themselves into solving problems that didn't really need to be solved or optimizing systems that already met their requirements. This is a waste of time, money, and energy.
Entrepreneurs learn to identify the problems, pains, and fears that really need to be solved — they start in "problem space." In fact, the best entrepreneurs obsess over the problem a lot more than they do the specific solution. They understand that when you have a deep understanding of the issue at hand, developing a solution becomes much easier.

Most good engineers are already familiar with the tools and technology available to build interesting solutions. By being able to see real problems that need to be solved, either in their companies or in the market, they are perfectly positioned to match solutions to problems, which is an extremely valuable skill to have.
Comfort With Risk
Most of us have probably spent time designing something based on previous work. We update, revise, revisit old designs, and work from templates. We rarely start anything from a blank sheet. We do this for the same reason movie producers like to make sequels to blockbuster hits — they've proven the underlying concept works. Why waste time and money on an untested idea? That's risky, and risk is bad, right?
Here's the thing: Risk isn't inherently bad. Risk is only bad if it's too much to recover from if things go poorly and if the commensurate opportunity doesn't make sense. Think about it in terms of investing. Investing in stocks is inherently riskier than investing in government bonds; however, there's significantly greater potential gain in stocks than in bonds. Otherwise, nobody would bother investing in the stock market.

Entrepreneurs develop a comfort with risk. They understand that not every idea will work and that there's a chance their next big idea might blow up in their face. They're OK with that, because they have confidence that eventually they will put the pieces together and make things work. As Winston Churchill once said, "Success is not final, failure is not fatal: It is the courage to continue that counts."
Engineers who risk trying something new and starting from a blank sheet invite the opportunity to build something amazing. When you start your work by building onto something that exists, you tie yourself to the limitations of that underlying foundation. By getting comfortable with risk, you open yourself up to a world of new opportunity.
Getting Things Done
Entrepreneurs are particularly gifted at making things happen. Like the rest of us, entrepreneurs run in to roadblocks and issues on their way to building whatever it is they've set out to build. What really differentiates entrepreneurs from the rest of us is that they are very good at clearly identifying what's holding them back and finding ways to deal with those challenges. In other words, they have grit.
Engineers can learn from entrepreneurs on this front. No matter how good you are technically, or how great your organization is at supporting you, there will invariably be roadblocks, issues, and problems. That's a fact of our professional lives. In moments like this, it's all too easy to throw our hands in the air and accept defeat. It's in moments like this where grit is critical — the ability to put your head down and work through these problems. Believing in yourself and your abilities is crucial to success in any pursuit, and entrepreneurs are the gold standard.
Next Steps
Whether you have any interest in starting your own company one day or not, engineers can learn a lot from entrepreneurs. Engineers and entrepreneurs are builders and problem-solvers by nature. By adopting an entrepreneur's mindset, engineers can build on their technical skills and learn to ensure they're solving the right problems, innovate, get things done, and become truly excellent in their fields.
About Patrick Sweet
Patrick Sweet, P.Eng., MBA, PMP, CSEP, is a recognized expert in engineering management, productivity, and leadership. He is also the host of the popular Engineering & Leadership Podcast, a show dedicated to helping engineering leaders thrive. Download his free Engineering Leadership e-book, Engineering Leadership 101 – Practical Insights for Becoming an Engineering Leader at Any Stage, to grow your leadership skills today.
Please leave your comments, feedback or questions in the section below on seeing the world with an entrepreneurial point of view.
To your success,
Anthony Fasano, PE, LEED AP
Engineering Management Institute
Author of Engineer Your Own Success