How to Sell Yourself in a Job Interview to Guarantee a Job Offer is a guest post by Nader Mowlaee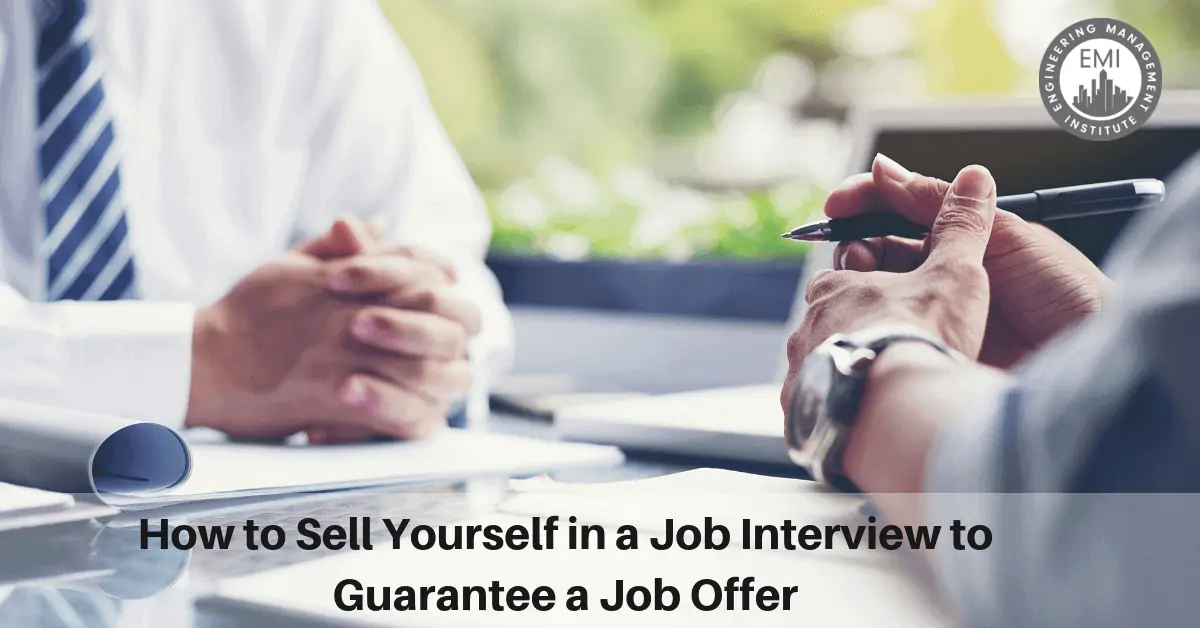 You've sent out your resume and cover letter and gotten that job interview you wanted. Are you ready? Because now it's time to concentrate and do whatever it takes to get the job you've always wanted. Begin by learning everything there is about the company you're interviewing at, the person you're be meeting, and the position you'll be interviewing for.
Go to LinkedIn and search for other people with the same job title, who work at the same company. Go to all their profiles and see what information and data you can gather about their work and projects. Write everything down and take it to the interview with you; and feel free to ask questions based on what you found.
From your first attempt to contact a person and throughout the entire interview process, keep the 7-38-55 Rule Of Communication in mind. This is a communication model by Albert Mehrabian, a professor of psychology at UCLA, which suggests that the word we speak and say out loud is only 7% of what is read and understood by the recipient of our full message. 38% of our message comes from the intonation (pitch) and changes in the volume and speed of our voice, while a whopping 55% is from totally non-verbal cues such as body language, facial impressions, and posture.
Make sure that your body language and tone of voice demonstrate your level of enthusiasm for the job you're interviewing for. Sit up straight, shoulders back, arms in front of you, not crossed, while keeping eye contact in order to show your confidence with your body in addition to your verbal cues.
Follow these tips to ace every stage of your upcoming interviews and get more job offers than ever before.
1st Job Interview: Ask Questions and Identify Problems
Consider the first interview an exploratory session for you and your potential employer. It's like a first date, and almost always a blind date. You have some time to find out if you think the company would be a good fit for you and vice versa. This is the time for you to ask questions to learn more about the company's challenges which caused them to need to hire someone in the role you're interviewing for. Your job during the first interview is to find technical problems or business process-oriented challenges there that your employment could solve.
Don't over-promise or overextend yourself in the first job interview. There's almost no chance for either party to fully evaluate if the opportunity in hand will be a mutual fit. So be honest with yourself and don't tell them that you can do the job during the first meeting. Don't say you can do the job if you're not genuinely certain how you can solve the problems presented. It's okay if you don't have solutions for all of the problems on the spot, just offer to look more into an issue to present a solution in a later interview or via e-mail.

It is 10 times more important to handle that situation well and give a promise while sounding confident about your decision, rather than looking scared due to not knowing. There will certainly be many occasions while working where you come across unknowns, where it's important to know how to find an answer rather than knowing the answer on the spot.
Make sure to send a follow-up email to thank your potential employer for meeting with you. Use this opportunity to give a brief break-down of the notes you took in the interview, problems discussed and questions raised. Focus on elaborating on and further defining the problem. Eliminate non-valid option/solutions and help guide the employers attention to 'the way you solve problems'. This is a good time to start working on your 30-60-90 Day Plan.
2nd Job Interview: Solve Problems
It's time for the second job interview; you must have had the chance to research further into any problems and come up with parts of a solution or a whole one. This is your chance to sell yourself by showing your real potential benefit to the company and to do that you must show them how you can solve their problems. This isn't about what you physically do, rather how you communicate and explain the work you will do that counts. "If you can't explain it simply, you don't understand it well enough." – Albert Einstein
This is where the 30-60-90 Day Plan becomes a major contributor to guaranteeing a job offer. Before the second interview begins, write down all the questions you have about the problems and challenges discussed in job interview #1 and be prepared to present yourself, using the PSI framework.
PSI does not stand for "pounds per square inch" when inflating bike tires, not in this case, rather it's a process in which you present and discuss a Problem in detail, then introduce a Solution and explain how it will solve the problem the employer is facing, and then elaborate on the potential Impact your work can have for the company, if they decide to hire you.
3rd Job Interview & Beyond: Close the Deal
Now is the time to show your power, passion and enthusiasm for the position through every cell in your body and every word that's coming out of your mouth. Focus on projecting confidence. Do whatever is necessary to give the hiring managers or the decision-making team the certainty and piece of mind they need to make the decision to hire you.
They must be made ready to hire you, and the number one thing holding them back from entering the state of readiness is their lack of certainty that you'll be a great addition to their team. No one want to make a good hire; they want to make a Great hire. You can't be half happy, can you?
Go All In. You can even be so bold as to ask for the job. Look them right into their eyes and tell them that you are a great fit for their team, and again, highlight the solutions you could bring to the company and the impact it could have. Confirm they want and need to solve the problems at hand and the sense of urgency. Close the deal with eagerness and confidence, and you'll be sitting at your new desk in no time.
About Nader Mowlaee:
Nader is a career coach who believes you can get everything you want in life if you just help enough other people get what they want. He is inspired by motivating confidence in engineers and helping them take calculated actions to move forward towards their career and life goals. His mission is to enable engineers to break away from their fears and create the ideal lives and careers they desire. You can learn more about Nader through his LinkedIn account.
We would love to hear any questions you might have or stories you might share on how to sell yourself in a job interview.
Please leave your comments, feedback or questions in the section below.
To your success,
Anthony Fasano, PE, LEED AP
Engineering Management Institute
Author of Engineer Your Own Success