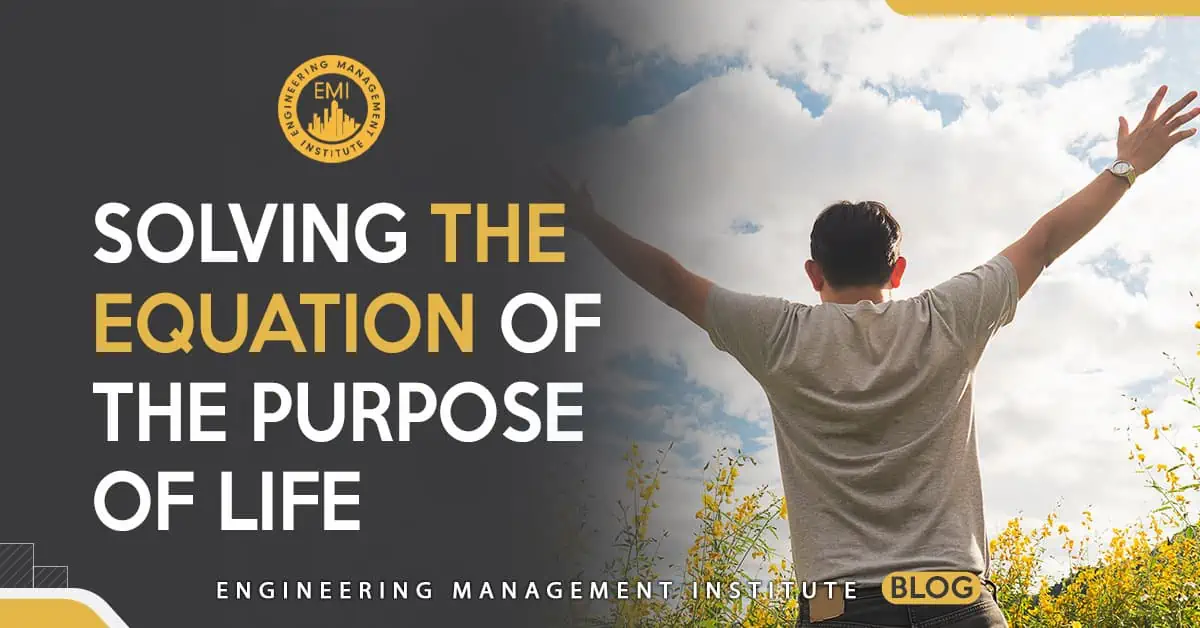 I know what you're thinking. The title of this article is one of those "click-bait" titles, intended to get potential readers to click on the article, which never actually delivers on the teaser title. Well, I promise you that isn't the case. What I'm going to describe to you in this post is what I have found to be the equation for living a fulfilling and happy life — and one of purpose.
If you're wondering how a 42-year-old engineer turned executive coach could all of a sudden solve the equation that many people spend a lifetime trying to figure out, I will explain that too. Honestly, I really figured it out through reading many books and observing many happy people — not necessarily successful (depending on one's definition of success), but happy people.
Some of the many books I have read that have helped me to discover the purpose of life include: "The Monk Who Sold His Ferrari" by Robin Sharma, "Thrive: Finding Happiness the Blue Zones Way" by Dan Buettner, "The Alchemist" AND "Manuscript Found in Accra" by Paulo Coehlo, "The Art of Happiness: A Handbook for Living" by Dr. Howard Cutler along with the Dali Lama, "The Miracle Morning" by Hal Elrod, and "Doing Good Better" by William MacAskill. I've also been influenced by Sam Harris, creator of the Waking Up App, which has helped me to develop a meditation habit and has turned me on to many other influential people.
The Purpose of Life
The question of the purpose of life has been pondered forever, and if you Google the question, you'll find many different answers, but I'd like to offer you my belief on it. I truly believe that the purpose of life is to be happy or cultivate happiness in oneself and maintain it. This does not mean you can't be sad from time to time or express other emotions, but the idea is that you want to be a happy person, most of the time.

Now, I do realize that this answer may bring up thoughts or other questions, most notably:
What does happiness mean?
How does one achieve happiness?
How does one maintain happiness?
So, let's tackle these questions, and the answers will lead us to the equation that I promised you.
What Does Happiness Mean?
The answer to this question will most likely depend on who you ask. However, if we look to a good old-fashioned dictionary, we find that happy, an adjective, is defined as feeling or showing pleasure or contentment. So to be happy, you would want to enjoy your life (and career) on a regular basis and be generally content with where you stand, both at work and at home. This does not mean content to the point of not being motivated to do better, but generally happy with where you stand.
Now, we could dig into what makes one happy in both their personal lives and careers, but I will leave that for another time. However, happiness could certainly be influenced by your relationships at home, the type of work you do (more on that later), and your relationships (with your manager and others).
Lastly on this point, I do want to emphasize that while a person's home and work situation may dictate whether or not they are happy, they may not be the deciding factors. For example, a homeless person living in a cardboard box could be happier, or more content, than a person who is married and has a great job that pays a hefty salary.
How does one achieve happiness?
The answer to this question is what I believe to be a key component to the equation of the purpose of life. Through all of my reading, observing, and my own experiences, there seems to be one common thread of truly happy people. Happy people serve other people in some way, shape or form. Whether it be through volunteering or their paid jobs, or both, they help others.
Some of the ways someone might help other might include:
Volunteering to help feed those in need, either by donating or cooking food
Working in a profession that is focused on helping others (e.g., a civil engineering professional focused on improving water quality)
Managing people in your job in a compassionate way and focused on their development
Volunteering within your profession, which could be as simple as mentoring a less experienced professional or joining a nonprofit group like Engineers Without Borders
Donating a portion of your salary to efforts aimed at helping others or generating income through charitable activities that can be donated
These actions listed above are all pretty formal, but here are some more simplistic examples of serving others:
Call or visit an elderly relative regularly (possible bringing them a cooked meal)
Offer to be a guest speaker for your child's school career day
Care for a pet (or teach a child how to do so)
Ask your staff about their career goals and how you can support them
Volunteer to do some yard work for an elderly neighbor
Coach a youth sports team (whether your child is on the team or not)
These are just some ideas, but you can see there are countless ways to help or serve others.
How does one maintain happiness?
The answer to this question is easy. Just ensure that you serve people continuously throughout life, both at home and at work. This is not easy. If it was, everyone would be happy, but as you can see from the actions listed above, it can be simple. In my own experience, I have found that giving and serving are addictive, and once you engage in these activities, you will want to do more of them.
The Equation for the Purpose of Life
So to wrap my engineering brain around this question for the ages on the purpose of life, here's the equation I promised:
Purpose of Life = Seek Happiness = Serve Others
Maybe it's not really an equation at all and doesn't require solving, but more of an experience. However, for an engineer like me, I prefer equations 🙂
It really can be a simple equation to follow, so why not start today?
This article was originally posted on LinkedIn here.
Please leave your comments, feedback or questions in the section below on how you think we can solve the equation of the purpose of life.
Anthony Fasano, PE, LEED AP
Engineering Management Institute
Author of Engineer Your Own Success