Podcast: Play in new window | Download | Embed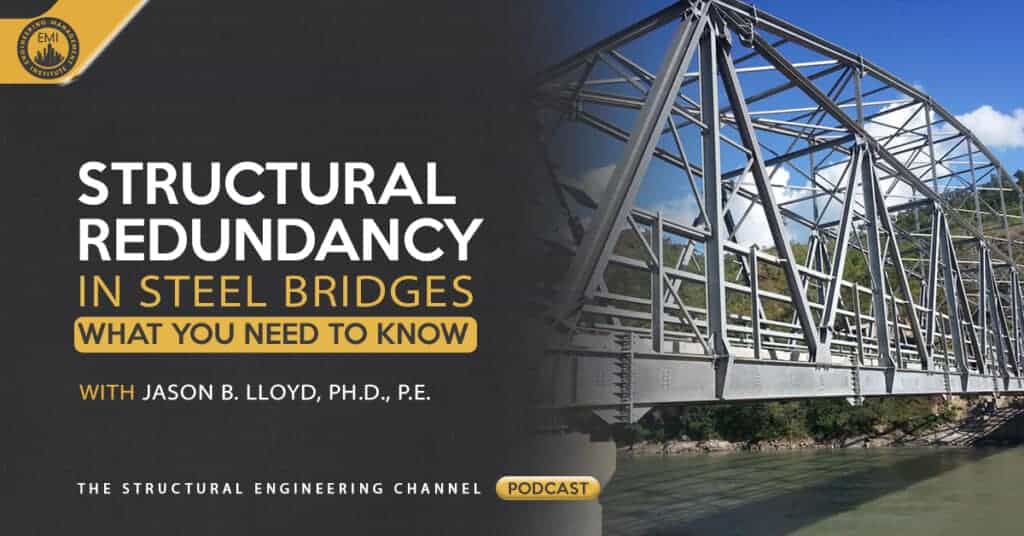 In this episode, we talk with Jason B. Lloyd, Ph.D., P.E., a Bridge Steel Specialist at NSBA. We found Jason through an article he wrote in the AISC magazine on redundancy in steel and, in this episode, we talk to him about redundancy in steel bridges, steel, and failure critical members.
Engineering Quotes:


Here Are Some of the Questions We Ask Jason B. Lloyd, Ph.D., P.E. in This Episode:
Tell us about your time spent at the Navy Civil Engineering Corps.

Talk a bit about what full-scale testing looks like.

Do you have anything to do with sourcing funding?

From the time you were doing research, can you give an example of a finding that you found to be interesting?

Talk to us about your opinion on historical consideration of redundancy in steel bridges, and why you think engineers should think of other modes of redundancy in steel bridges.

In your second article, Load Carrying Potential, there is a guide that you mentioned on how engineers can use finite information analysis to classify a redundant structure. Can you talk a bit about this?

Can you go over some of the lessons learned or some of the best advice you can give to new or active engineers?
Here Are Some of the Key Points Discussed About Redundancy in Steel Bridges:
[Read more…] about TSEC 32: Structural Redundancy in Steel Bridges: What You Need to Know