Podcast: Play in new window | Download | Embed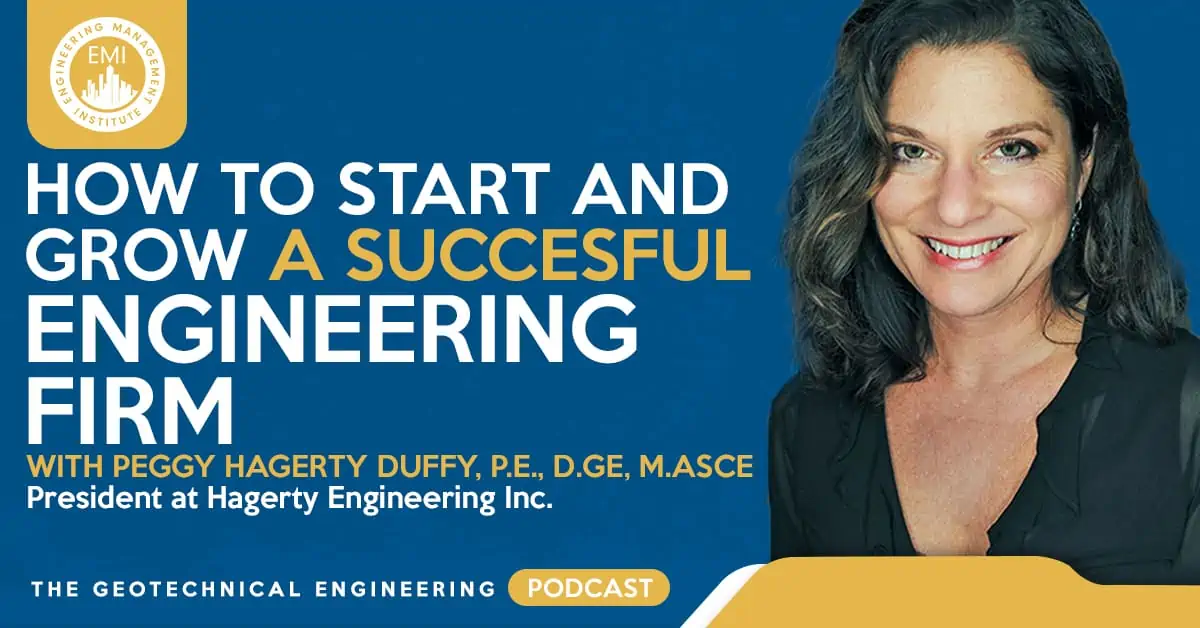 In this episode of The Geotechnical Engineering Podcast, I talk to Peggy Hagerty Duffy, P.E., D.GE, M.ASCE, president at Hagerty Engineering, Inc., about starting a successful engineering firm. Peggy shares some of the valuable lessons she learned when starting her firm and how she overcame obstacles in her path.
Engineering Quotes:


Here Are Some of the Questions We Ask Peggy Hagerty Duffy, P.E., D.GE, M.ASCE, in This Episode:
Can you tell us what it is like to be the President of Hagerty Engineering?
What made you decide to take the geotechnical engineering path?
Do you have to love math to be an engineer?
Why did you start your blog and what experiences have you had because of it?
Can you tell us about the deep foundation video that you were in and what your role was in it?
What made you decide to start your own firm?
Did you have any fears when you started your firm and how did you overcome them?
If you had to look back, did you make the right decision to start a firm?
Is there anything that you can think of doing differently in your firm?
What is your advice for geotechnical engineers who are thinking about starting their firm?
With your firm's involvement with ADSC, how do you find time to do everything, and how does it align with your responsibilities and professional career?
At what point do you think in someone's career should they start looking at getting engaged with professional organizations?
Here Are Some of the Key Points Discussed About How to Start and Grow a Successful Engineering Firm:
Peggy started her geotechnical engineering career by conducting basic geotechnical investigations, and still does this from time to time. She has kept her company small because she does not want to go to a level of just management – she still wants to be active in the field. The company is in an area where there are many sinkholes, and it excites her to work on projects that involve working with sinkholes.
Peggy started studying in the medical field, however, she had helped her dad with research projects and discovered that she enjoyed doing that kind of work, and so decided to pursue a geotechnical engineering career.
You do not need to love math to be an engineer, but you do need to be able to do it.
There are not many women in the geotechnical engineering field, and the few that are there feel like they cannot talk about having rough days at a site. This is because they are mostly scared someone is going to pull them off of the project and replace them with a man. Peggy's blog serves as an outlet for women, and they are encouraged to join in and share their experiences.
Peggy was 30 years old when she decided to start her firm. She decided to do this because she did not agree with the philosophy of many of the places she worked at. Many firms put the business decisions before the engineering decisions, but Peggy wanted to do this the other way around: engineering decisions and ethics first.
When starting her firm, Peggy was more nervous about the business side of things than the engineering side. She thought in a way where she felt responsible for the mortgages of all the people who worked in her firm. She has a spontaneous personality and when she decided to start her firm, she said she was doing it and not looking back.
Hagerty Engineering Inc., does a lot of outreach and support of community construction projects.
If you get involved with all of your employees' personal problems, then you are not being a good manager, and this takes a while to learn.
The ADSC is Hagerty Engineering's biggest client, and they service their technical director. They oversee all of ADSC's technical committee work and all the research that is done with the association. They are also the liaison with federal estate agencies and represent members in technical issues.
You should start engaging with professional organizations as soon as you can. This will help you early in your career to get help with problems from people who have done it before.
More Details in This Episode…
About Peggy Hagerty Duffy, P.E., D.GE, M.ASCE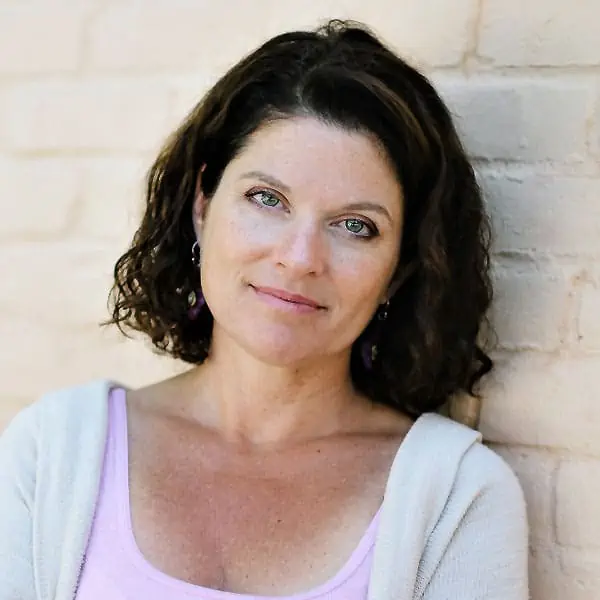 Peggy Hagerty Duffy, P.E., D.GE, M.ASCE, graduated from the University of Louisville in Louisville, Kentucky, with a Bachelor of Science in Civil Engineering in 1989 and a Master of Engineering in Civil Engineering degree with a concentration in geotechnical engineering in 1990. She worked for several consulting firms before starting Hagerty Engineering in 1997 in Jeffersonville, Indiana, in the metro Louisville, Kentucky, area.
Peggy has experience with both deep and shallow foundations for a wide variety of structures, including municipal facilities, wastewater treatment and water treatment plants, multifamily and single-family housing, industrial complexes, and many others. She also has experience with tunnel and dam design and with dam remediation, as well as slope stability analysis. She has extensive experience in karst terrain and has worked on hundreds of projects involving sinkhole treatment and design and construction of structures over sinkholes.
Sources/References:
Hagerty Engineering
ADSC
Connect with Peggy Hagerty Duffy, P.E., D.GE, M.ASCE, on LinkedIn
Underpinnings Blog
Video: What is the geotechnical field?
Send Peggy an email
TWiCE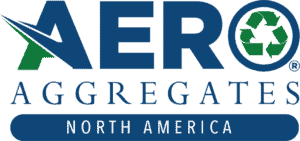 This episode was brought to you by Aero Aggregates. Aero Aggregates is the first vertically integrated manufacturer of ultra-lightweight foamed glass aggregate in North America made from 100% recycled glass. This sustainable aggregate has bulk densities that are 80% to 90% lower than traditional fill, is free-draining and non-reactive, and has a high friction angle. If your project site is challenged by resiliency concerns, raising grades over soft soils, sensitive utilities, or structures, or the need to reduce lateral loads, foamed glass aggregate can often accelerate construction, reduce project costs, and offer green credits for LEED and ENVISION programs. Please visit www.aeroaggregates.com.

This episode was also brought to you by Menard Group USA. Do you have projects where you are faced with building on soft or loose ground? Does it seem like all the good sites are taken and you are always building on poor soils that are a challenge for conventional foundation approaches? Menard may be able to help! As a specialty ground improvement contractor, Menard works nationally and internationally providing design-build ground improvement solutions at sites with problematic soils. Menard's techniques include Controlled Modulus Columns, wick drains, earthquake drains, vibro stone columns, dynamic compaction, rapid impact compaction, and soil mixing. Typical projects include warehouses, buildings, material storage piles, processing areas, embankments, roadways, port facilities, storage tanks, containment structures, and platforms. In many cases, ground improvement is less costly than traditional approaches such as removal and replacement or piling systems. Menard works closely with civil, structural, and geotechnical engineers to minimize foundation costs for wide ranges of soil conditions, structure types, and loading conditions. To learn more about Menard Group USA, or for help on your next project, please visit www.menardgroupusa.com
Please leave your comments or questions in the section below on starting your own successful engineering firm.
To your success,
Jared M. Green, P.E., D.GE
Host of The Geotechnical Engineering Podcast