Podcast: Play in new window | Download | Embed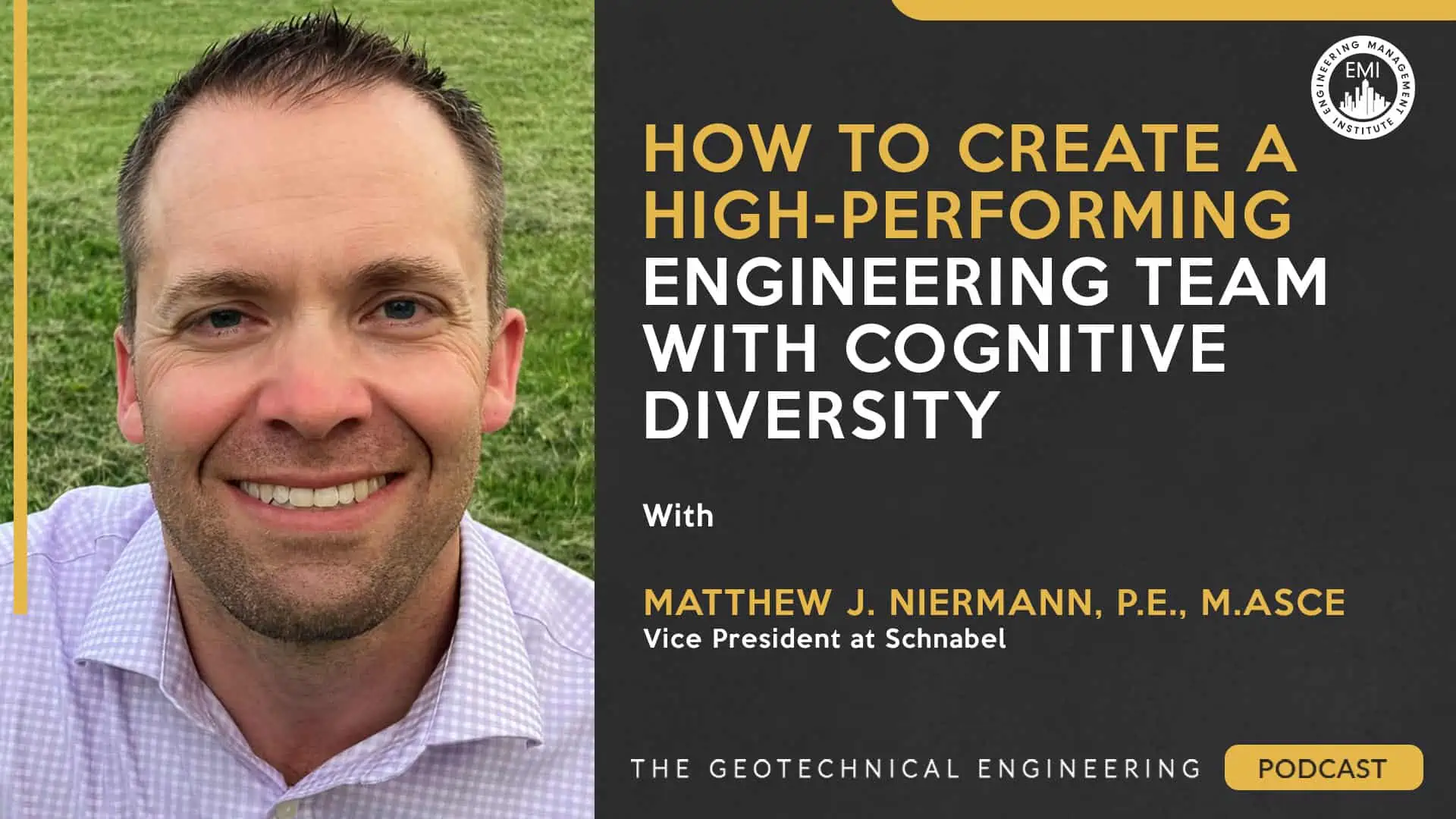 In this episode, we talk to Matthew J. Niermann, P.E., M.ASCE, Vice President at Schnabel, about the fascinating realm of cognitive diversity and its profound impact on teamwork within the engineering industry.
***The video version of this episode can be viewed here.***
Engineering Quotes:


Here Are Some of the Questions We Ask Matthew:
What is the relationship between cognitive diversity and team dynamics?
What experiences or insights sparked your interest in cognitive diversity and its impact on team performance?
Did you actively seek out and find information on cognitive diversity, ask for approval, and pursue it on your own, or did someone suggest exploring this area due to your existing interest in diversity?
Is there a measurable or descriptive way to assess cognitive diversity within a team?
Does cognitive diversity, specifically the aspects of cognitive resources, cognitive effect, and cognitive effect, remain constant over time, or is it subject to change and evolution throughout an individual's life?
How does cognitive diversity contribute to cultivating effective teamwork within engineering and construction projects?
What are the potential trade-offs or challenges that may arise while working with a cognitively diverse team, and how can these challenges be effectively addressed to ensure smooth collaboration?
How can teams optimize the benefits of cognitive diversity and mitigate conflicts or communication gaps through practical solutions and strategies?
What specific techniques and practices have been implemented within the organization to encourage cognitive diversity and promote enhanced teamwork?
Here Are Some of the Key Points Discussed About Creating a High-Performing Team with Cognitive Diversity:
[Read more…] about TGEP 081: How to Create a High-Performing Team with Cognitive Diversity