This is a guest post by Jacob Valentien, PE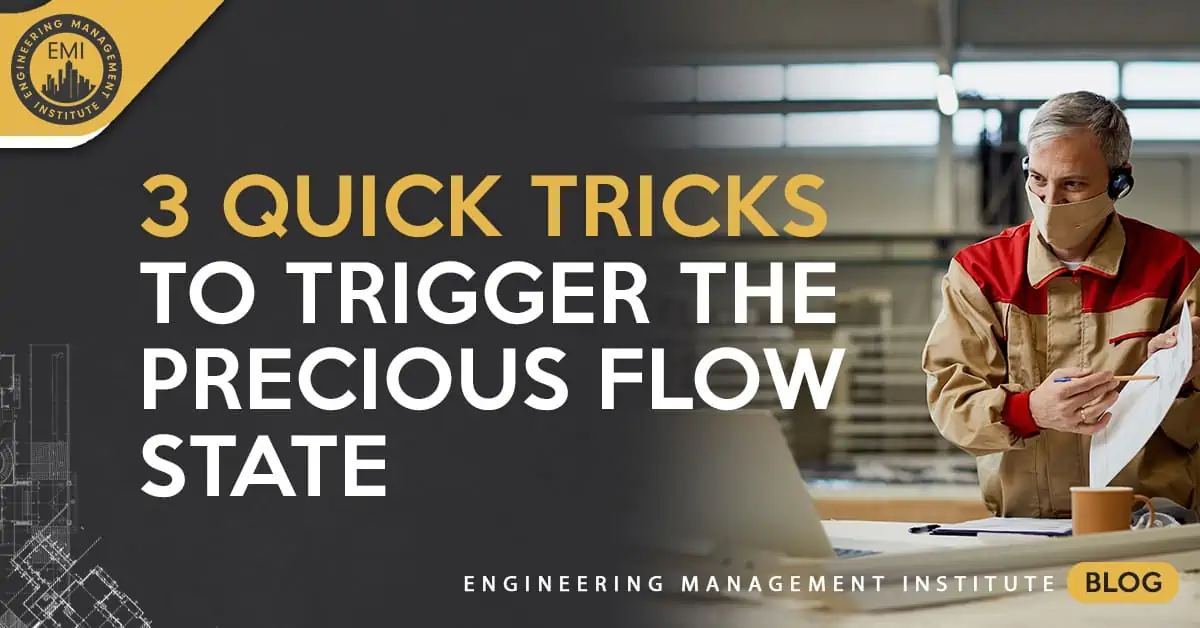 We all have moments or days where no matter how many cups of coffee are consumed, we just can't get into a productive state. Sometimes the to-do list just continues to get longer, and you just can't decide what needs to be done next. You have that one task that has been lingering for too long and you are in search of the required motivation to start and dedication to finish. As I sit down to write this article, I am going through this exact situation.
It is important to understand that motivation comes and goes like the tide. Discipline is the trait that carries you through the moments of fleeting motivation. As you press through those tough moments, sometimes you trigger the flow state where getting that work done becomes much easier. There are many sources of great insights on what this flow state is and how to unlock it.
I have stumbled upon a few tricks that can help facilitate entering into that flow state — where the work becomes easier, the creativity becomes unlocked, and the tasks on the to-do list become easier and easier to check off. Here are three unique ways to possibly trigger that precious flow state:
Momentum Snowball
Take a look at that ever-expanding to-do list and review it to see which tasks you can knock out quickly and with very little effort. Complete those tasks and continue to gain momentum by tackling tasks in increasing complexity and effort required. As you pick up momentum, the work will become easier and easier. This can ultimately lead you to the task you have been dreading but by that time, you are engaged and ready to tackle it.
Binaural Beats
Binaural beats use selective sound wave therapy that can help with increasing cognitive flexibility, focus, and attention to detail. According to research articles, there are five different brainwave states that have different effects: Delta, Theta, Alpha, Beta, and Gamma. While Delta and Theta are best for calming and meditation effects, Alpha, Beta, and Gamma can be utilized for focused attention, cognitive thinking, and peak awareness. Spotify has some playlists that make for great background noise as you start your work and try to build momentum and enter into that precious flow state. The playlists start utilizing Alpha frequencies and slowly increase frequencies through the Beta phase and into the higher frequency Gamma phase. In my experience, this background noise allows you to sink into a productivity mode and zero in on the task at hand.
Pomodoro Technique
This technique is more of a time management system that encourages both moments of work and moments of rest. Set a timer on your phone for a short period of time — I like to use 25 minutes, where I only focus on one task and turn off all notifications from email, text, social media, etc. When that timer goes off, I take a break and take a quick walk around the office or check my email for five minutes. Once that five-minute break is up, get right back to work. Doing this just a couple of times usually unlocks longer periods of focus, reaching the point where I don't want to take that next five-minute break but rather continue through until I finish the task at hand.
Summary
Next time you find yourself in a lull and need to trigger a productive state, give one of these methods a try or better yet, combine all three into a flow-triggering productive stack! Hopefully this helps you dwindle down that ever-growing to-do list.
About the Author
Jacob W. Valentien, PE
Jacob is a Senior Project Manager with Pacheco Koch Consulting Engineers, Inc. and has over 9 years of engineering experience in municipal infrastructure with a focus on water & wastewater treatment design and construction. He received a Bachelor of Science degree in Civil Engineering from the University of Texas and is a licensed Professional Engineer in the State of Texas. He has designed projects and managed teams on local and state public & private sector projects. Jacob is responsible for project management and delivery, business development in the public works sector in Central Texas, and client success. He previously completed the 2019-2020 Emerging Leaders program through ACEC Houston, has presented on topics such as pre-chlorinated pipe bursting to the Association of Water Board Directors, and has co-authored a technical article on Wastewater Treatment Plant Design. He also has developed curriculum, organized programming, and led project management and professional development training courses for his teams.  
I hope you enjoyed this week's post by guest author Jacob W. Valentien, PE.  If you're interested in your firm possibly joining the Civil Engineering Collective, please contact us here or call us at 800-920-4007.
I hope you'll join us.
Anthony Fasano, P.E.
Engineering Management Institute
Author of Engineer Your Own Success