Podcast: Play in new window | Download | Embed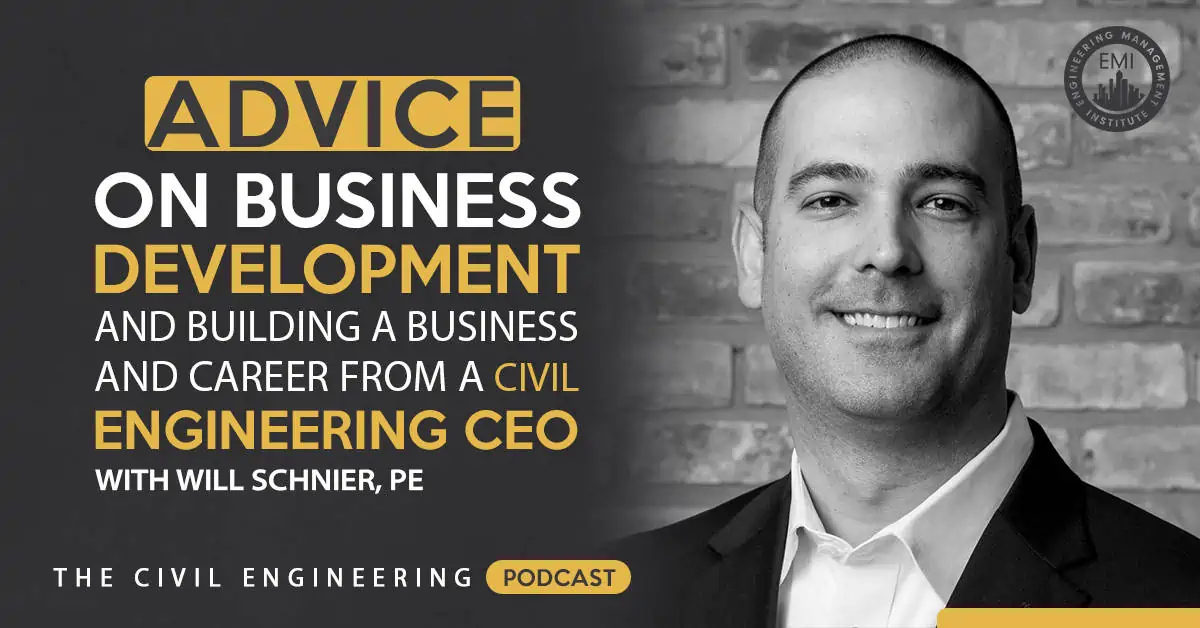 In episode 013 of The Civil Engineering Podcast, I interview Will Schnier, a licensed PE and the Chief Executive Officer of BIG RED DOG Engineering | Consulting who will share his expertise on business development and also talk about one of Big Red Dog's projects in lieu of our Civil Engineering Project of the Week segment. Here are some key points in this episode:
In business development, you should learn:

How to actually win work
How to get yourself in front of clients
How to position yourself and your firm as the most able provider

Client exposure early on is important – this allows you to see how the client thinks and helps you to anticipate their needs
You must have that yearning to learn
Constantly surround yourself with people smarter than you
To compete with other engineers, you must have the skill sets of business development and project management
Learn to write in order to communicate
Constantly set goals for yourself and your engineering company
How to develop your business development skills as an engineer:
Change your mindset with an objective to help other people win enough work
Build relationships and not just collect business cards
Give something of engineering value to a prospect to prove yourself (add value to the deal)
Do the business development yourself pro-actively, show results and ultimately you'll take that role
Do good work for your current clients
Make your clients look good, make them like you, and build relationships with them so they can refer you to other potential clients
Tweetables 
"The worst thing on your agenda for the day, do it first…" – Will Schnier on Ep 013 of #TCEPodcast
How the CEO of Big Red Dog Engineering became successful at a very young age – More on #TCEPodcast Ep 013.
Don't think you know it all, always be open to new things – Stay tuned for #TCEPodcast Ep 013.
Project Name:  Waller Creek
Project Description:
Big Red Dog is part of the team led by Michael Van Valkenburgh Associates (MVVA) and Thomas Phifer & Partners, and Studio DWG with Daniel Woodroffe. The goal of this project is to transform a dilapidated and lifeless creek into a vibrant urban waterway complemented by dynamic parks, bridges, open and interactive spaces that engage the public and will make it a world-class destination.
Books Mentioned in This Episode:
The Five Laws That Determine All of Life's Outcomes
Please leave your comments or questions in the section below on how you can provide value to your clients.
To your success,
Anthony Fasano, PE, LEED AP
Engineering Management Institute
Author of Engineer Your Own Success
Sources/References:

Big Red Dog Engineering | Consulting
Photo Courtesy of Will Schnier