Podcast: Play in new window | Download | Embed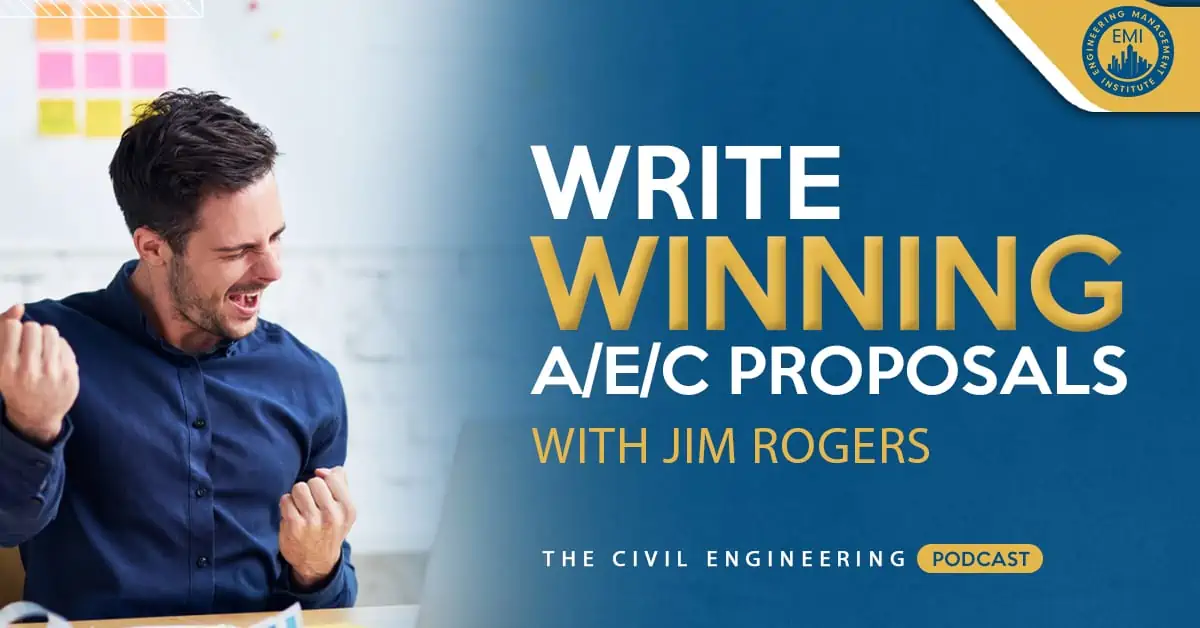 In episode 014 of The Civil Engineering Podcast, Chris Knutson interviews Jim Rogers who is the author of the American Council of Engineering Companies first ever book on the subject of proposal writing, "Win More Work: How to Writing Winning AEC Proposals." See books section at bottom of this post for discount code for 25% off the book. Rogers helps companies create superior AEC proposals; however, he doesn't stop there. He helps them transform their marketing and business development capabilities in order to gain a competitive advantage than can last for years.
Here Are Some Key Points in This Episode About Winning AEC Proposals:

Understand the foundation of writing a winning proposal.
If you have someone in the company that is a proofreader or copy editor, ask for his or her reasons for the suggested changes or edits.
Avoid the "betterness trap" (belief or assertion that you are superior to your competitors) and think of the strategies on how to win work instead.
Lay the groundwork on your understanding of what your prospective clients' needs are during the business development process.
Test your ideas on your prospective clients. Do not be afraid to ask smart questions, but once you've asked the questions, shut up and listen. Give people space to answer.
Ask people for a referral or recommendation; this will let them create an emotional commitment to you.
Remove barriers that will keep them from hiring you.
If you did not win the project, debrief your team and ask open-ended question to your prospective clients like 'what can we do differently next time to completely understand the prospective clients' needs?
Three elements of a winning proposal:
Substance: How to persuade prospective clients with the content that you have. Three questions to cover substance in your proposal:
Why now? – Ensures that you understand the ultimate goal or outcome of your prospective clients and this validates them.
What do they really know? – Aside from the technical aspect, these are the unstated needs that they have like their values.
Why you? – This is how you translate your strengths to the benefits of the prospective clients.
Structure: What order you present the argument. Put your best ideas early on in the proposal.
Style: How you unclutter your ideas. Make it easier for people to pick up your ideas. If you have image, put 2-3 sentences caption under it.
Tweetables 
"You don't have to be a used car salesman to be a good sales person, just be a good consultant as you are.." – Jim Rogers on Ep 014 of #TCEPodcast
Don't save your best ideas for last, instead insert them early on in the proposal. – More on #TCEPodcast Ep 014.
Don't think you know it all, always be open to new things – Stay tuned for #TCEPodcast Ep 014.
Books Mentioned in This Episode:
Win More Work use code: N5E3YVSS for 25% off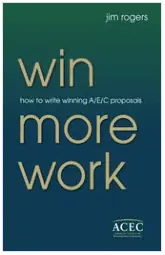 Stunk & White Elements of Style


Sources/References:
Jim Rogers' Website
Chris' Book notes on Win More Work (For more book notes, join The Engineering Career Community for a $1 -Trial)
Please tell us what you thought of the AEC proposals and leave your comments or questions in the section below on how you can apply the key points in this episode in writing you next winning proposal.
To your success,
Anthony Fasano, PE, LEED AP
Engineering Management Institute
Author of Engineer Your Own Success