Podcast: Play in new window | Download | Embed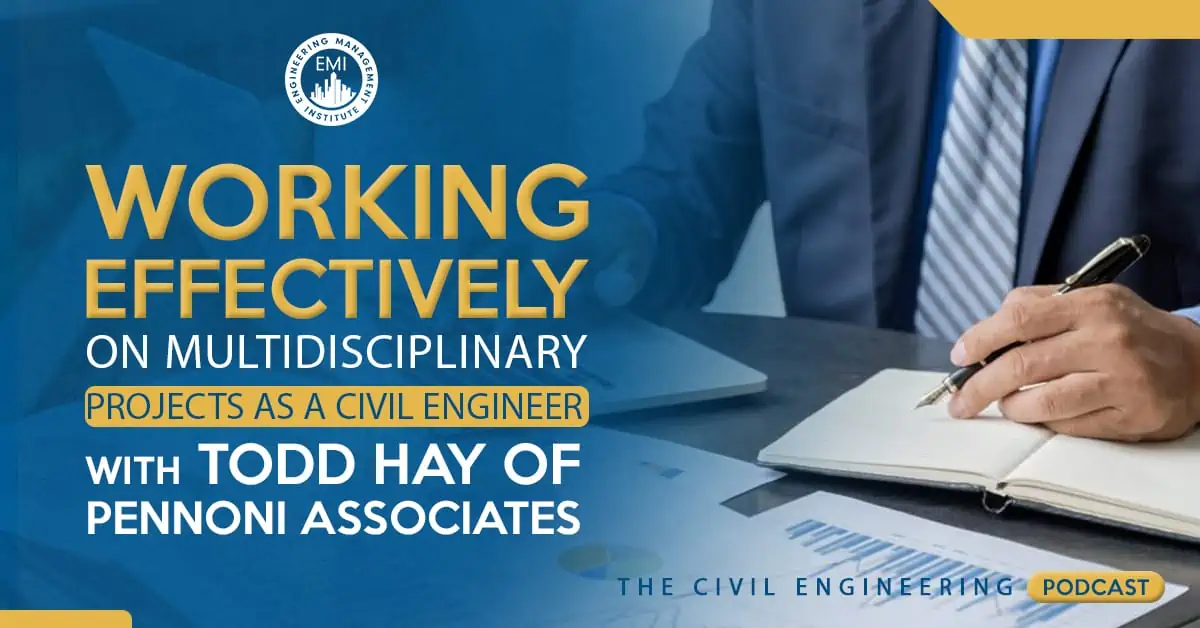 In episode 022 of The Civil Engineering Podcast, Todd Hay, who has 23 years as a civil engineer working on multidisciplinary firms, talks about cross marketing, communicating effectively, working on proposals for multidisciplinary projects, and more.
Here Are Some Key Points Discussed in This Episode About Working Effectively on Multidisciplinary Projects as a Civil Engineer:
Communication: understand how other disciplines works and when you need to get help. Understanding the key roles of other disciplines is critical to an engineer as he/she grows in his/her profession; get a better handle on what each discipline does.
Proposal: A proposal is a blueprint of what's need to be done on a project. Understand what the process is and the timeline, and identify what needs to be done. Todd provides a detailed example of a site plan/land development project dealing with surveyors, geotechnical engineers, site engineers, etc.
Point of Contact: Know who you need to talk to in a particular discipline/department. Know the organizational structure especially the person managing the work. Communicate with the lead and make sure that you're both adhering to the timeline and scope plan so that the workflow remains constant, and you can meet the client's schedule.
Cross marketing: Market other departments services and let them know about it. This is good for business and promotes good relationships between departments. Take ownership and complement other disciplines that do the work with you. Remember, when working in a company, you represent all the work that the firm does, not just your own.
About Todd Hay:

Todd Hay of Pennoni Associates, has been working with multi-disciplined engineering projects during his nearly 23-year career as civil engineer, project manager and principal. His work has included local/county transportation, utilities, traffic and recreation projects; K-12; college/universities; rooftop/ground mount solar projects, all within NJ; and a variety of private/public design and design-build projects within NJ, NY, CT, VT, NH, and NM.
Please leave your comments or questions in the section below on how you deal with multidisciplinary projects.
Sources/References:
Books mentioned in this episode:
Civil Engineering Reference Manual by Michael Lindenberg

This episode is brought to you by PPI, the leader of civil engineering FE or PE exam preparations. Use promo code CIVIL for 20% discount at PPI2Pass.com/coach.
To your success,
Anthony Fasano, PE, LEED AP
Engineering Management Institute
Author of Engineer Your Own Success