Podcast: Play in new window | Download | Embed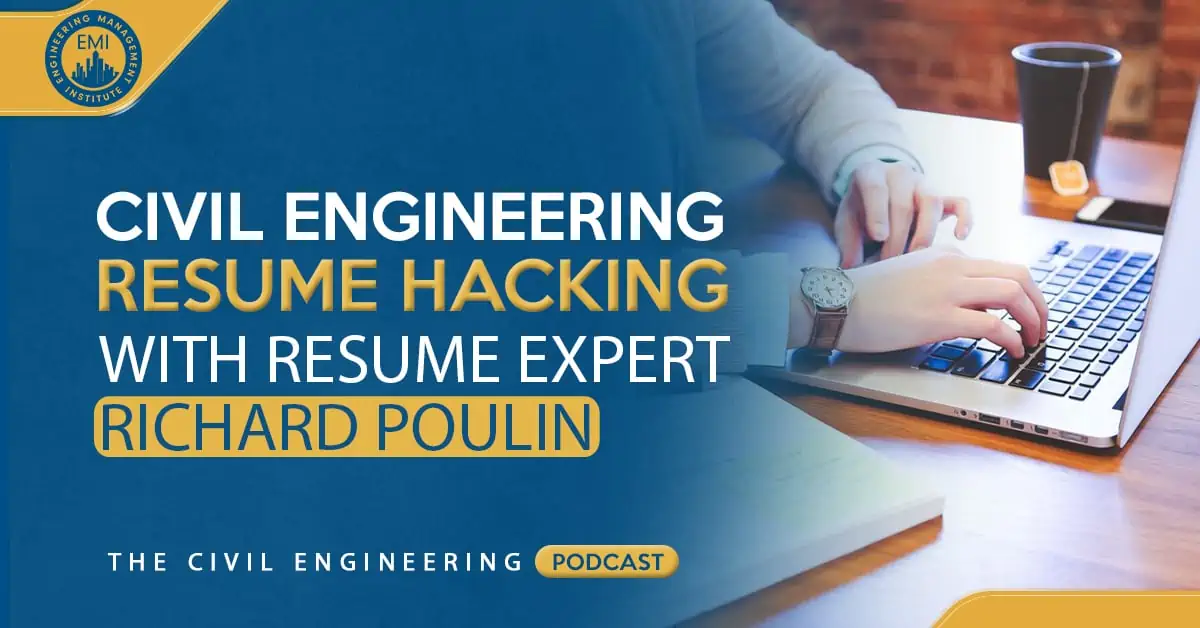 In episode 025 of The Civil Engineering Podcast, I interview the resume expert Richard Poulin, who has studied over hundreds of civil engineering resumes, and wrote the book Civil Engineer Resume Hacking. This episode is packed with insider tips on how you can make your civil engineering resume stand out and be successful in your interview.
Here are some of the questions I ask Richard:
Big picture of addressing the civil engineering job search
How to make a civil engineering resume stand out
How long does recruiters spend on a resume
How can I optimize my civil engineering resume to deal with automated screening
Is a cover letter necessary
How can I use LinkedIn while employed to network and build personal brand
Tips for successful job interviews
Quotes to think about:




Here are some key points discussed in this episode:
A properly planned civil engineering job hunt can help you shave two to four weeks off of the job hunt.
Have clear career goals before jumping in the job search process.
Understand how the job search process goes. Richard explains this in more detail.
Tailored resume is usually required to be one of the top 5.
3 laws of resume writing: Accomplishments! Accomplishments! Accomplishments!
Include numbers in your resume (i.e. managed X amount of teams, provided X cost savings for the company, etc.).
Elements an employer is looking for in your resume:

Leadership
Taking initiative
Solving problems
Optimizing processes
Financial value

Applicant tracking system (ATS) is mostly used to screen and do resume parsing. Richard also gives some rules used by ATS.
Write a short resume summary (5-6 bullets – put your credentials, demonstrate the breadth of your experience, and give a few key accomplishments).
Cover letters is a great place to explain things. Choose the right accomplishments for the job description you are applying for and replace them as necessary.
For recent civil engineering graduates, resume should only be about 1 page; open with a branding statement, then highlight your education and other relevant course works that can hit keywords in job description.
Send a thank you email to your recruiter and to the people that you've met during your job search process.
Informational interviews (let's grab a coffee) are a great way to build your network, get information, and to meet people.
6 out of 10 recruiters say LinkedIn is a critical component of their recruiting process.
Big 3 of the first impression: (1) picture, (2) headline, (3) your summary within your profile with strong credentials
Leverage LinkedIn and (1) find the bridge person – someone that can introduce you to a decision maker (2) message a lot of people through LinkedIn groups. Richard describes this process in detail.
Job boards are an effective way of getting interviews but it is better to apply for jobs in the career sites of the companies than on job boards.
Success in job interviews:

Power posing before going to the interview, use one of the power poses described by Amy Cuddy in her TED Talk.
Learn how much you might get paid through Glassdoor where users review their past jobs and input their salary.
About Richard Poulin:

Richard Poulin is a resume writer and marketing professional with 12 years of experience. He spent most of his career with PwC, the largest consulting firm in the world. His role there was to help accountants and business consultants stand out in the marketplace. That's where he learned everything about resumes. Today, he's working on a business of his own, Resume Hacking. He writes e-books to offer tailored resumes advice, by profession. He has a Bachelor's degree in communication, master's degree in political science.
Richard have also written a book just for civil engineers. All the examples in the book come from civil engineer resumes.
Connect with Richard Poulin in LinkedIn
Please leave your comments or questions for Richard in the section below on
To your success,
Anthony Fasano, PE, LEED AP
Engineering Management Institute
Author of Engineer Your Own Success
Resources/References:
TECC 100: Engineering Career and Life Lessons to Live By
Case Study: How One of Our Members Used LinkedIn to Network Effectively and How You Can Too (to access the webinar, join The Engineering Mastermind)
Amy Cuddy's TED Talk: Your body language shapes who you are
Glassdoor.com
Resumehacking.com
Beat The Job Boards (Infographic)
Books mentioned in this episode:
slide:ology: The Art and Science of Creating Great Presentations

This episode is brought to you by PPI, the leader of civil engineering FE or PE exam preparations. Use promo code CIVIL for 20% discount at PPI2Pass.com/coach.