The Civil Engineering Podcast visits Arizona for the SAME JETC conference…..
Podcast: Play in new window | Download | Embed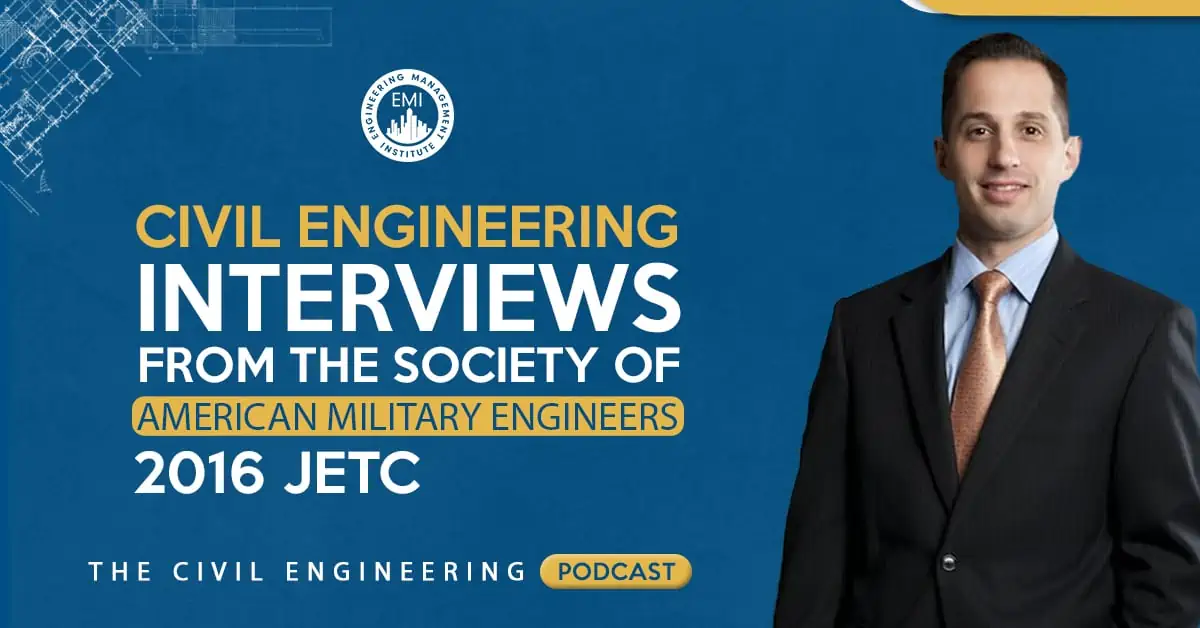 Episode 33 of The Civil Engineering Podcast was recorded in Phoenix, Arizona, where I interviewed successful individuals at the Society of American Military Engineers (aka SAME) Joint Engineer Training Conference & Expo (JETC).
Here are some of the key points I discussed with ask Adam Hughes during JETC:
Adam is a Civil Engineer in the United States Public Health Service that focuses on ensuring that Indian reservations/communities have clean water. He has been practicing in this industry for 12 years now.
His team consist out of 14 engineers, drafters, construction inspectors and civil engineering technicians. At the moment they are working with two tribes in southern Arizona.
For someone that is interested in management, he recommends to first develop your technical capability and to then develop your verbal and written communication skills. It is also important to find your own management style and gain awareness of your own limitations and preconceptions.
We don't all see a problem the same way and it is not that one way is right and the other way wrong, it is more of trying to understand each other so that we can effectively communicate and work with people.
It's not just about being able to crunch the numbers, you've got the take the next step if you want to make change as a civil engineer.

Here are some of the key points I discussed with Kris Prasad at JETC:
Kris Prasad,PE is the President of Kenall Consulting Engineers in Houston.
They have a small firm that they started in 2002.
Kris was a cab driver not long ago, but because he already had management skills, he decided to get out and involved with Engineering.  What an inspiring story to hear.
Keep doing what you are doing and keep pushing forward is the main advice Kris offered.



Here are some of the key points I discussed with Carrie Ann Williams and Mindy Hinsley at JETC:
Carrie Ann's is a principal at Andana Consulting, a firm that provides marketing, branding, strategy, public relations,and communications support on contract and project-by-project basis.
Mindy Hinsley divides her time between being a chief marketing officer for a woman owned Industrial Firm, Aria Environmental, Inc. and her own consulting business, Hinsley Collective, LLC, formed to help other firms that needs marketing assistance.
People have to do more, they have to embrace it and make smart decisions in understanding the market place.


To respond to proposals, you have to have some layers in place to help support all of that energy you put out in a proposal.

There is a need to create a culture in a firm, and business marketing is vital.
The approach in preparing a proposal should align with your business strategy so that you are not just throwing stuff out there because you can do the work.
Stop wasting effort on proposals that don't matter and put more energy into the one's that do matter.
Tell your story in a proposal about the projects you've worked on before and the successes you've had with them. That will enable the client to get a sense of who they will be working with and on how you will engage with them.
Leadership and ownership have to shift the culture a little bit.
Marketing and engineering can be extremely powerful when you put them together.
Here are some of the key points I discussed with Dan McNichol at JETC:
Dan McNichol is a number one best-selling author and an award-winning journalist. He has worked in the White House and on projects like the Big Dig. His published books, articles and thought-leadership work focuses on mega construction projects in the United States and around the world. McNichol's 33 state, 12,000 mile circumnavigation of the United States culminated in a successful statewide ballot initiative that now provides nearly 2 billion dollars of new funding for Texas's transportation projects as part of the Lone Star State's annual budget.
Infrastructure is about the quality of life and and easing up the burdens as we try to make a living and enjoy our lives. Without the right systems, we all suffer.
We depend on wealth for a better life. If we are to impact the world and be the police of a safer, cleaner and honest world, we are going to have to be a wealthy nation as the wealth will come from economic prosperity that always depends on good systems and good infrastructure.
"Your billable time is what earns your revenue for the year, but your non billable time is what poses you for growth in the future." – Harvard Engineering Professor  
More details in this episode…
About The Society of American Military Engineers:
The Society of American Military Engineers leads collaborative efforts to identify and resolve national security infrastructure-related challenges. Founded in 1920, SAME unites public and private sector individuals and organizations from across the architecture, engineering, construction, environmental and facility management, cyber security, project planning, contracting and acquisition, and related disciplines in support of national security.  This year the SAME JETC conference was held in Phoenix, Arizona.
Sources/References:
The Engineering Mastermind
TCEP 30: Dan McNichol's Journey Across the Nation Spotlights America's Old Infrastructure
Mindy Hinsley's Twitter
Carrie Ann Williams Website
Dan McNichol's Website
Kris Prasad's Business Website
Adam Hughes Linked In
This episode is brought to you by PPI, the leader of civil engineering FE or PE exam preparations. Use promo code CIVIL for 20% discount at PPI2Pass.com/coach.
Please leave your comments or questions in the section below on American Military Engineers.
To your success,
Anthony Fasano, PE, LEED AP
Engineering Management Institute
Author of Engineer Your Own Success