Podcast: Play in new window | Download | Embed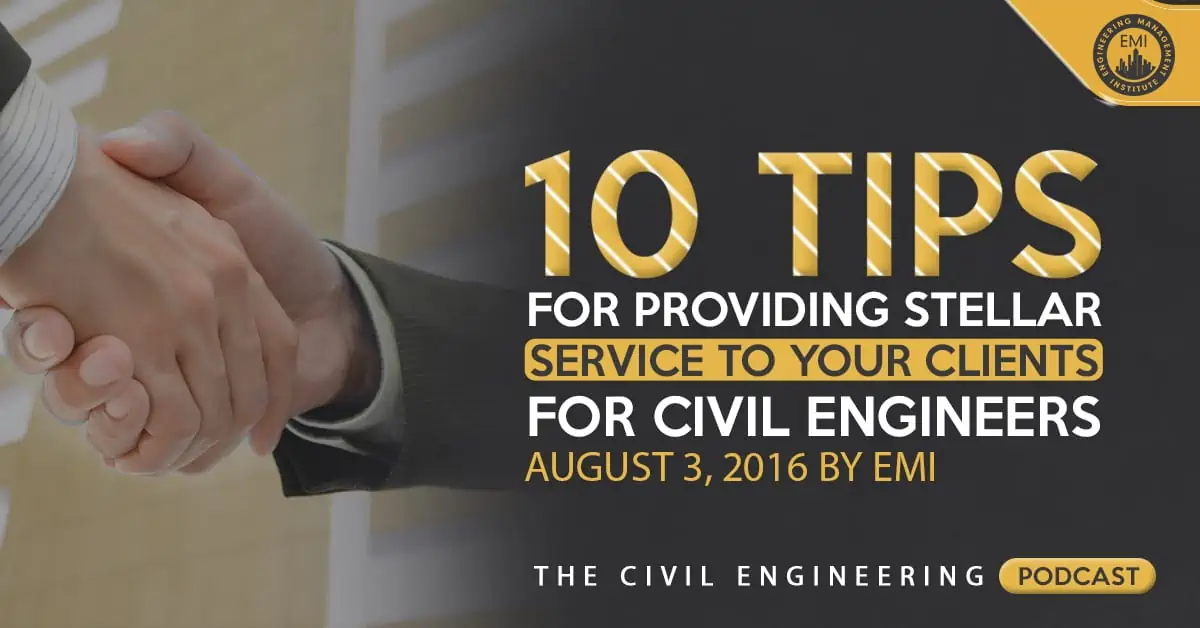 In episode 037 of The Civil Engineering Podcast, I am share 10 specific strategies for providing stellar service to your civil engineering clients. Ths strategies in this episode are brought to you directly from civil engineers who commented on a discussion on this topic that I posted on LinkedIn.
Quotes to think about:




Here are 10 effective ways to provide stellar service to your civil engineering clients:
Be yourself.  This is very important in a world where people are constantly trying to be someone that they are not. This comes down to being authentic.
Be responsive and honest.  Even if you don't have the information people need, make every effort to just let them know that you don't but you will attempt to get it for them as quickly as possible.  Not all civil engineering questions can be answered in seconds.
The only way to draw attention to good service, is when you try to address the problems by optimizing all your resources, specifically time.
If you want to service your civil engineering clients effectively, you need to be efficient. You have to look at every aspect of your project delivery system and make sure it is efficient, because the more efficient and the more optimized it is, the happier you will be and the happier your client will be.
Don't assume, clearly communicate, no surprises, keep supervisors informed and document information.  You need to communicate with your civil engineering clients and make sure that you understand what your clients expectations are, because if you don't, a lot of bad things can happen.
Be honest and always tell the truth.  You need to be honest with your clients no matter how good or bad the news is.  As a civil engineer, you may certainly have bad news for your clients at times, but it is their right to know the news.
Be the best at what you do and you'll never look for work. It will look for you.  Collect data points from your clients on how to become the best civil engineer in your field.
Separate project management from project finance.  The quality of your work as a civil engineer shouldn't depend on the budget of the project.
Listen first. Understand the need. Only respond with a solution or proposal AFTER you understand the requirements.  Sometimes we get on our horse and we start to go before we have gathered all of the data as civil engineers, but this causes its own set of problems.
Follow company procedures – or if there are none, create them.  If you are not sure if your company has procedures, ask your technical managers. If you don't like the ones they have, consider creating your own procedures.  This will help you stand out in your civil engineering company, but also help to improve customer service across your company.
Always forecast problems well in advance and inform related authorities and always take reference of Contract Agreements, as doing so will help you to gain confidence of clients.  Understand the contract you are working on. This is a super critical item in this episode as this can help to separate you in your field if you understand how to read contract agreements, unfortunately many civil engineers can't.
Sources/References:
You can see all of the civil engineers who contributed to this episode, here:
LinkedIn Tips for Servicing Your Civil Engineering Clients
This episode is brought to you by PPI, the leader of civil engineering FE or PE exam preparations. Use promo code CIVIL for 20% discount at PPI2Pass.com/coach.
Please leave your comments or questions in the section below on how to service your clients efficiently.
To your success,
Anthony Fasano, PE, LEED AP
Engineering Management Institute
Author of Engineer Your Own Success