Podcast: Play in new window | Download | Embed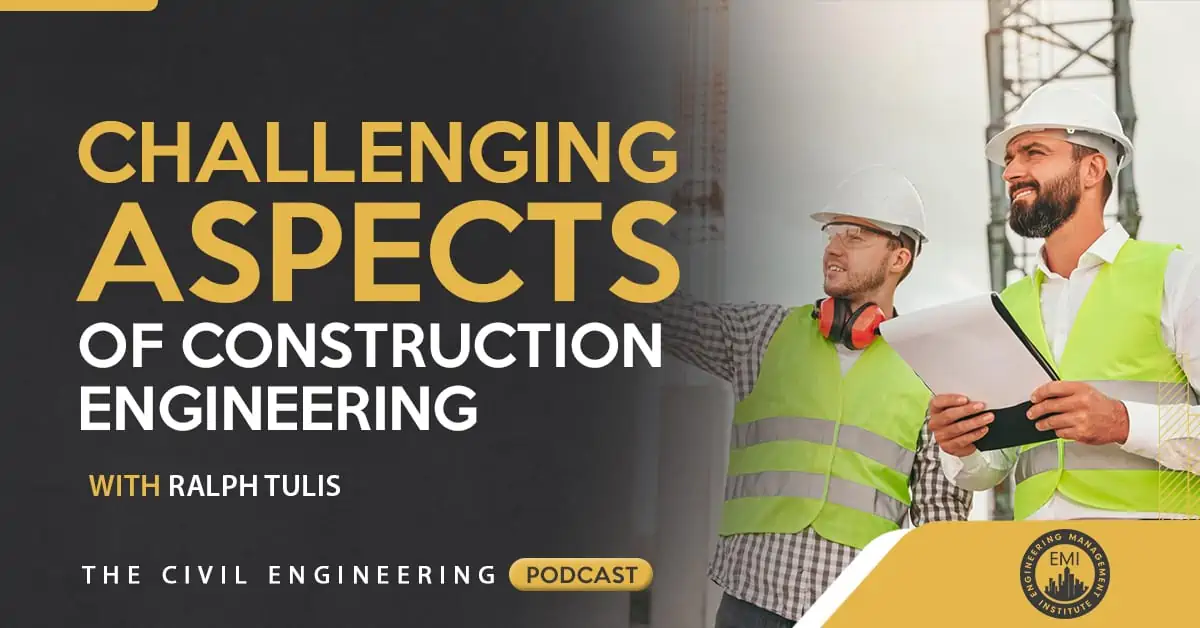 In episode 63 of The Civil Engineering Podcast, I talk with Ralph Tulis, a licensed professional engineer about the challenging aspects of construction engineering.
Here are some of the questions I ask Ralph on Construction Engineering:
What can engineers do to get a better handle on the construction side of things?
What does delegated design responsibility mean?
Do engineers ever really retire (jokingly)?
What do means & methods mean?
Engineering Quotes

Here are some key points discussed in this episode:
It's very difficult to get the respect of the person that is actually swinging the hammer, unless you get in the field and get dirty.  If you've gotten the respect of someone on the site, it is so much easier to get introduced to someone else, and they will also be a little bit more open to you. They just have to realize that you are not there so much to check up on them as you are to learn from them.
Take the approach of "We are on the same team", as opposed to, "I'm out to get you" for it creates a big shift in the way people communicate with you.
You can get a lot of good feedback on methodologies by asking questions, not in the context of pinning something on someone else, but more of what is easier. If you try to force a methodology and push it down to the field, you will encounter a lot of resistance and consequently, the project will be more costly.
Delegated design responsibility is when the engineer of record encounters a specialty product or a niche trade and does not have the background to do a thorough design on it. He then passes the responsibility for the design onto the Supplier's Engineers. That engineer then has to do the real design of the elements around it in most cases.
Be aware of the rules and responsibilities depending on your geographic location and your local guidelines and regulations.
Regardless of who you are working for. Getting field work is very valuable in your career because it gives you so much more perspective and understanding of the depths of the projects.
More details in this episode…
About Ralph Tulis:
Ralph is a Construction Engineering who helps contractors manage the challenge of how to construct. He completed his studies in Civil Engineering at night, while working full-time. He currently works at  Structures Consulting where their specialty is concrete structures, temporary structures, and shoring applications, but they will tackle any unique structure.
Sources/References:
This episode is brought to you by PPI, the leader of civil engineering FE or PE exam preparations. Use promo code PREP and enter the raffle here: www.ppi2pass.com/civilprep
This episode is also brought to you by SkiCiv, a new and powerful structural analysis software on the cloud that is changing the way engineers work. To receive your free 14-day trial, sign up here: www.skyciv.com/coach 
Books mentioned in this episode:
Please leave your comments or questions in the section below on the challenging aspects of construction engineering.
To your success,
Anthony Fasano, PE, LEED AP
Engineering Management Institute
Author of Engineer Your Own Success