Podcast: Play in new window | Download | Embed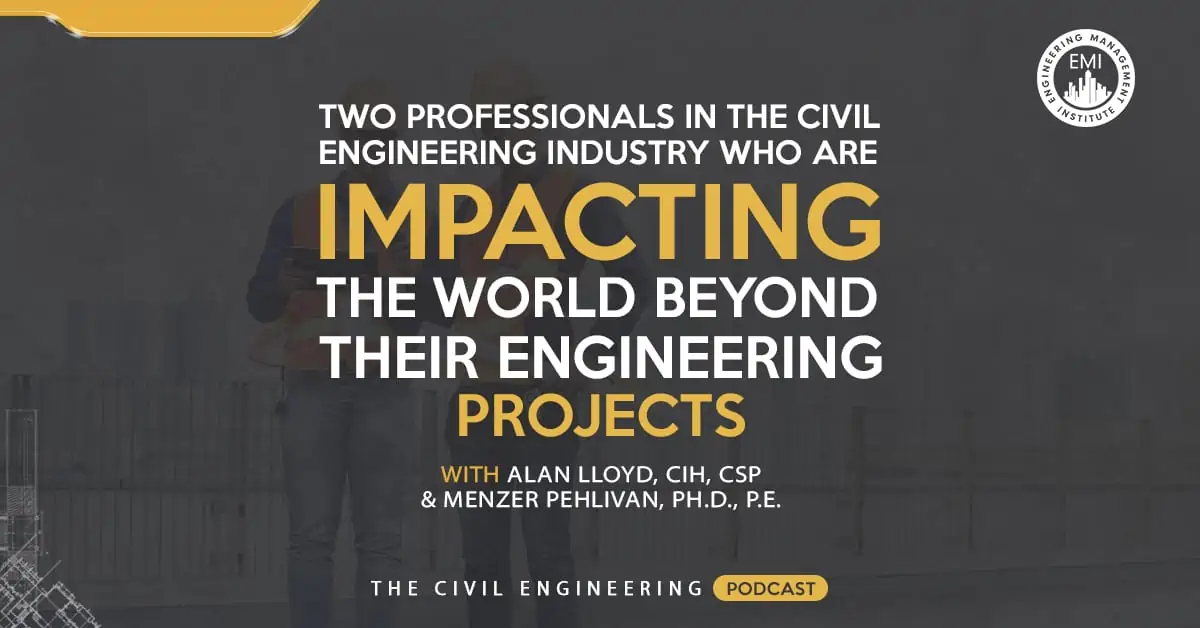 In episode 76 of The Civil Engineering Podcast, I interview two guests that work in the Civil Engineering world and have worked on very special engineering  projects that are helping our community and the world as a whole. They are Alan Lloyd, CIH, CSP, Associate Vice President and Corporate Health and Safety Officer from Pennoni, and Menzer Pehlivan, Ph.D., P.E., from CH2M who was one of the stars in the Dream Big Movie.
Engineering Quotes:




Here are some of the questions I ask our guests on impacting the world through these special engineering projects:
How did you decide to work on such a special project in a country so far from here?
What has your experience been like working on this special project with Wine to Water?
How has this project changed your outlook on life?
How did you end up deciding to be a part of Dream Big?
How did working on this movie make you feel when you started to get feedback from children?
Here are some key points discussed on impacting the world through volunteer projects:
Wine to Water is a non-profit firm that is based in Boone, North Carolina. In 2005, the founder Doc Hendley, who was a bartender at the time, started a fundraising while he was tending bar. This lead him to start the first Wine to Water fundraising effort. In 2007, after working two jobs and volunteering his time for three years, Doc officially launched Wine To Water. In 2009, Doc was named as a top ten CNN Hero for that year, and the ripples continued to grow.
One of the missions of Wine to Water is too not just come in and fix the problem, but to teach the local people how to fix their own problems to create a more sustainable culture.
Wine to Water is all about community and relationships which starts at the local chapters.
Women in engineering sometimes battle to fit in because of the public perception that engineers are men, and this is one of the main stereotypes that we need to change as a community and in all engineering projects.
This statement is a powerful statement from the Dream Big Film website, describing the movie: The project is so big, it is more than a movie—it's part of a movement aimed at bringing engineering into the forefront of our culture. Dream Big is the first giant-screen film to answer the call of the STEM (Science, Technology, Engineering, Math) initiative, which aims to inspire kids of diverse backgrounds to become the innovators who will improve the lives of people across our entire planet as we head into the 21st Century and beyond.
Since the release of the Dream Big Film in February 2017, more than 1 million people have seen the movie. ASCE has led the initiative and hopes that by the end of 2018 Dream Big will be available in every single public school.
Here are our guests in action…

More details in this episode…
About our Guests:
Alan Lloyd, CIH, CSP
Alan Lloyd, CIH, CSP, from Pennoni serves as Associate Vice President and Corporate Health and Safety Officer and Industrial Hygiene Practice Leader in the firm's Haddon Heights, NJ office. Alan has over 16 years of experience in industrial hygiene and environmental remediation, having worked on projects throughout the United States. He has been responsible for conducting asbestos building surveys, abatement oversight and air monitoring, Indoor Air Quality Investigations (including mold assessments), air permitting, noise assessments, health and safety oversight and Phase I, II and III environmental site assessments.  In addition to performing as a reliable and competent field technician, responsibilities have also included on-site project management, proposal development, maintaining client relationships, and report writing. Alan is the Chair of the Health and Safety Committee for Pennoni.
Menzer Pehlivan, Ph.D., P.E.
Menzer Pehlivan, Ph.D., P.E. grew up in Ankara, Turkey where in 1999, at age 13, she experienced the devastating 7.6 earthquake that sparked her desire to help prevent future tragedies on that scale. Despite being told by her teacher that women don't become engineers, she began preparing for a career focused on earthquake engineering. She received her Ph.D. degree from the University of Texas at Austin in 2013 with a doctoral thesis on the vital subject of assessing seismic hazards in nuclear facilities.
Menzer currently works in the Seattle office of CH2M, a global engineering firm that provides consulting, design, construction services for corporations and government. After joining CH2M, Menzer was appointed Chair of the new "Engagement and Outreach Committee" of the ASCE Geo-Institute. She was also recently named to the ASCE's 2016 list of New Faces in Civil Engineering.
For Menzer, defying stereotypes is part of who she remains as a person. The daughter of a dress designer, she loves fashion and style almost as much as engineering and does things her own way. "I'm never happy with the ordinary," she laughs. She recalls meeting one young student while filming Dream Big who could not believe her appearance. "This little girl was looking at my heels and hair and she asked, 'Are you sure you're an engineer? You're not just an actress playing an engineer?' She said, 'I didn't know engineers could look like you.' I think this is something too many people misunderstand. You can be an engineer and wear heels and dresses and be a 'girly girl.' Or you can be the opposite. Anyone can be an engineer."
Sources/References:
The Engineering Management Accelerator
Penoni
Wine to Water Fundraising
Dream Big Movie
ASCE
Alan Lloyd, CIH, CSP | Professional Profile – LinkedIn
Menzer Pehlivan, Ph.D., P.E. | Professional Profile – LinkedIn
This episode is brought to you by PPI, the leader of civil engineering FE or PE exam preparations. Use promo code CIVIL for a 20 % discount at ppi2pass.com/resources
Please leave your comments or questions in the section below on impacting the world through your engineering projects.
To your success,
Anthony Fasano, PE, LEED AP
Engineering Management Institute
Author of Engineer Your Own Success