Podcast: Play in new window | Download | Embed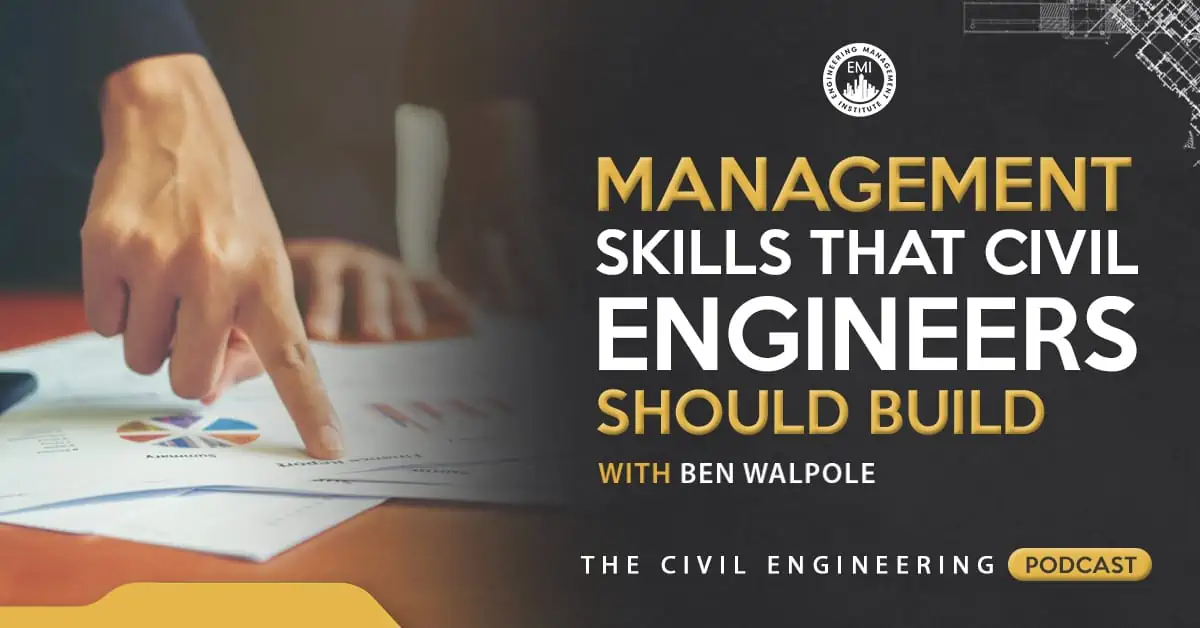 In episode 98 of The Civil Engineering Podcast, I speak with Ben Walpole, a writer and editor for the American Society of Civil Engineers (ASCE) strategic communications team. We will talk about a few very important management skills that civil engineers should build in order to increase their effectiveness as civil engineering managers.
Engineering Quotes:


Here are some important management skills you should build as a civil engineer to increase your overall success:

Finance
Understanding finance as it pertains to civil engineering projects will definitely give you an advantage as a project manager, because there are many civil engineers who aren't financially savvy.
Being a manager and not understanding the financial part of it, might cause a lot of problems in your civil engineering career.
Business
Business is obviously a very general term, but in this scenario let's again think about business as it pertains to civil engineering. The business side of civil engineering might include business development, proposal preparation, managing project budgets, staffing projections, client meetings, client presentations, etc. These are all topics that could be lumped into "business."
My advice is to brainstorm and identify the business topics that pertain to your specific job, and set out to learn about them.
Marketing

Marketing is another very general term; however, as a civil engineering manager, marketing will probably apply mostly to the idea of the image you project for your firm and how that might dictate future new business.
In today's day and age and to some extent, we are all marketers and have to think about how things are looking from an outside perspective.
Reading Books
If there's a specific skill you would like to improve and you don't have time for training, then consider an audio book. This is an easy way to use free time that you have to improve your skills.
Here are a few books that I recommend with regard to building your management skills:

The 80/20 Principle: The Secret to Achieving More with Less, by Richard Koch – This book will help you to focus on the important items as a civil engineering manager.
The E-Myth Revisited: Why Most Small Businesses Don't Work and What to Do About It, by Michael Gerber – I realize this book appears to be more focused toward businesses owners, but the truth is that it is a wonderful book that provides great advice for managing a business, department, or project.
More details in this episode…
About Ben Walpole
Ben Walpole is a writer and editor for the American Society of Civil Engineers strategic communications team. You can find his work and keep up with everything happening at ASCE at the ASCE News website –news.asce.org. And look for a new members-focused podcast, "ASCE Plot Points," this fall.
Sources/References:
Engineering Management Accelerator Workshop (Online) | 5 PDHs
ASCENews
Ask Anthony ASCE Blog
Ask Anthony: What Does It Mean to Be a Manager as a Civil Engineer?
This episode is brought to you by PPI, the leader of civil engineering FE or PE exam preparations. Use promo code TCE8 for a 20 % discount at ppi2pass.com
Books Mentioned in this Episode:
Here are some of the photos I took while visiting ASCE headquarters:
Please leave your comments or questions in the section below on improving your management skills as a civil engineer.
To your success,
Anthony Fasano, PE, LEED AP
Engineering Management Institute
Author of Engineer Your Own Success