Podcast: Play in new window | Download | Embed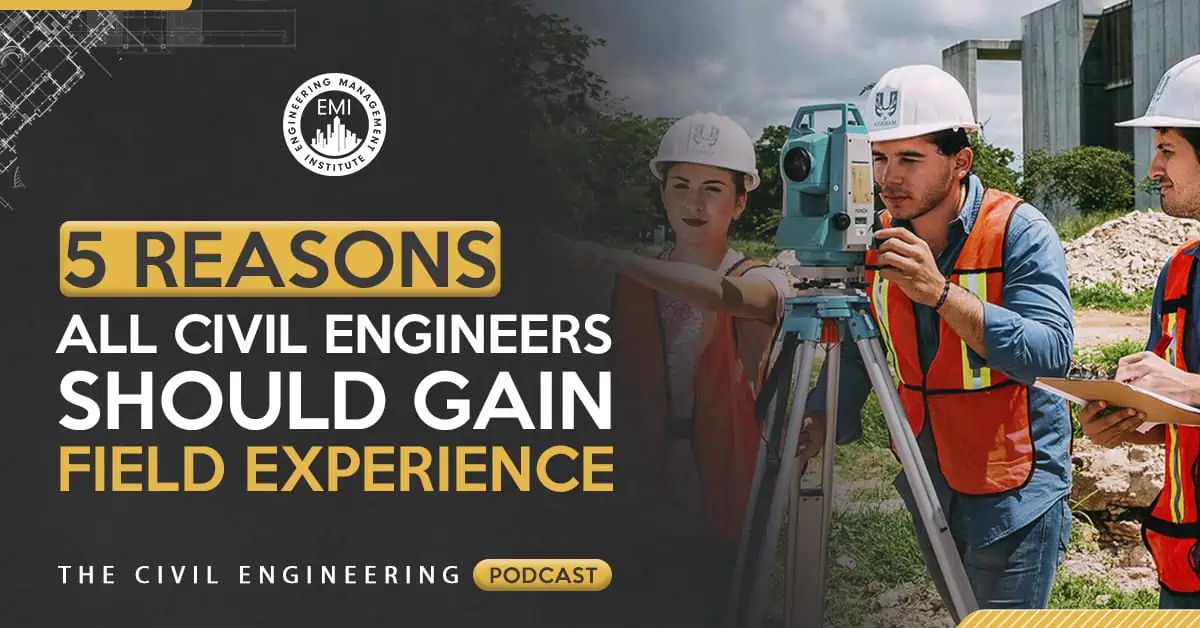 In episode 111 of The Civil Engineering Podcast, I am going to give you five reasons why ALL civil engineers should get field experience on project sites as early on as possible in their careers. The purpose of this episode is to reinforce the importance of on-site experience for civil engineering professionals.
Engineering Quotes:


Here Are the Reasons Why I Think All Civil Engineers Should Gain Field Experience
1. It Helps You to Be a Practical Engineer
I started out in high school doing land surveying (see photo above) over the summers and it really changed my career. Because of my field experience, I was able to make my designs more practical and create better details for the contractors who had to construct the projects I worked on.
2. Engineering Field Experience Allows You to Start with the End in Mind so You Don't Just Start with the Design First
A lot of civil engineers start designing projects immediately, without seeing the project sites, however the problem with this is if you didn't see the site, there may be a condition out there that you are not aware of. When you are forced to think in reverse and you've seen projects built before and then you start to do your design work, those construction issues comes to the forefront of your mind, which forces you to think with the end in mind first.
3. Engineering Field Experience Forces You to Interact with People
Civil Engineering to me is about people. We work on project teams, we work with architects, contractors, developers, real estate developers and other engineers constantly. If we are not focused on improving our people skills 100%, we are going to battle to be great civil engineers.
4. You Get to Know the Industry and Construction Lingo
Field experience helps you to learn how to talk to other civil engineering professionals effectively. It improves your overall confidence as an engineer and makes you stand out from the crowd.
5. Once You Get Promoted and Move up in Your Career, Your Chances of Gaining Field Experience Diminish Greatly
Civil engineering managers typically send younger engineers into the field to do inspections, reports etc. While you are young and you have the chance, you should grab the opportunity with both hands as this will have an incredibly positive impact on your engineering career.
More details in this episode…
Sources/References:
Engineering Management Accelerator Workshop (Online) | 5 PDHs
Engineering Management Institute Professional Membership
Engineer to Manager: On-demand
Engineering Management Institute YouTube Channel
ASCE Careers and Leadership Column
EQUATION: The Engineering Management Skills Trilogy Plus the Theory of Constraints Equals Effective Engineering Managers
This episode is brought to you by PPI, the leader of civil engineering FE or PE exam preparations. Visit ppi2pass.com to find essential licensure exam prep books, digital review, and helpful tips and advice.
Please leave your comments or questions in the section below on gaining field experience in your career.
To your success,
Anthony Fasano, PE, LEED AP
Engineering Management Institute
Author of Engineer Your Own Success