Podcast: Play in new window | Download | Embed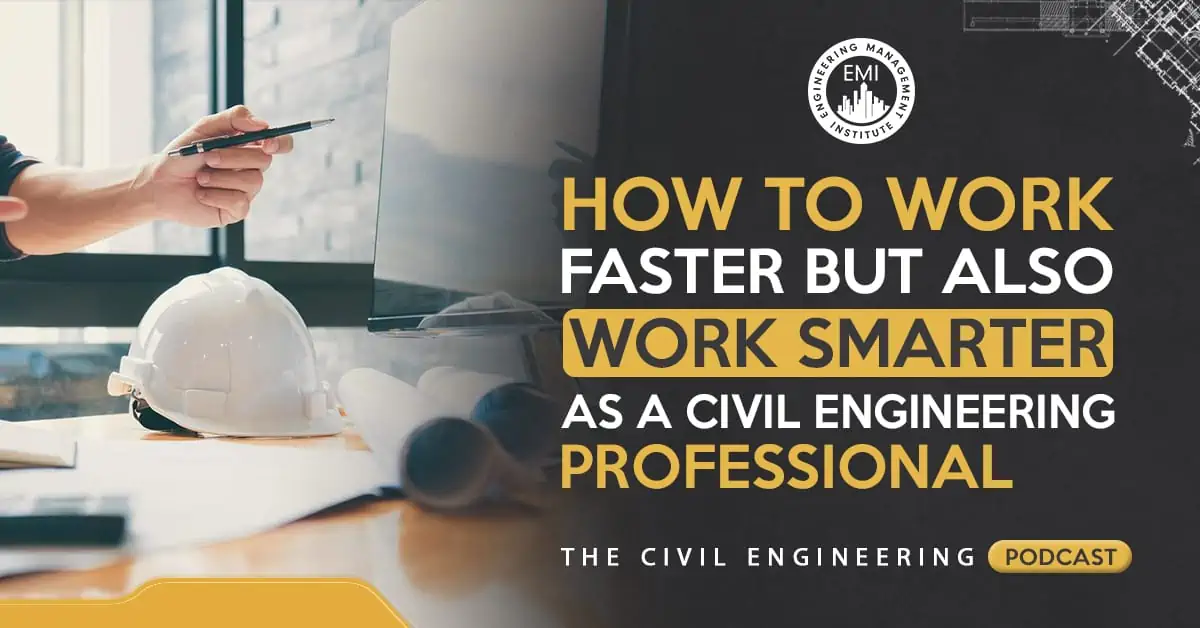 In episode 122 of The Civil Engineering Podcast, I provide some strategies for working faster but also working smarter as a civil engineering professional. In today's fast paced world, engineers need to work faster to get everything on their plates accomplished. Working fast often leads to making many mistakes which can be catastrophic in the civil engineering world, but what if you could work faster, but also smarter? If you can do this, you will be setting yourself up for major success.
Engineering Quotes:


Here Are 7 Strategies That You Can Use to Work Faster but Also Work Smarter as a Civil Engineering Professional:
1. Stay up to Date on Current Technologies and Tools
If you are using older software or other tools, it might take you longer to get your work completed. You can avoid this happening by staying up to date on industry technologies by:

Reading trade publications, magazines or even reading articles focused on engineering software in the Civil Engineering space.
Subscribing to email newsletters from large software companies that build software products for Civil Engineers.
Keeping an eye on industry-leading firms and what tools they are using.
Attending conferences and visiting exhibit booths.
Seeking training for these technologies online or from the vendors
2. Delegate Effectively
If you want your projects to stay on budget and you want to use your time wisely, you have to utilize your staff wisely. You can do this by:

Changing your mindset and getting over the fact that you can't do all the work yourself as a manager. Once you understand the importance of looking at the bigger picture tasks, you will understand that you need to let go of some things.
Breaking up the tasks you wish to assign into small achievable tasks.
Outlining expectations clearly when delegating and having your staff repeat them back to you.
Checking in regularly with your staff. WARNING: Don't micromanage them and look over their shoulders all of the time, but don't let them go off on their own for a week or two.  Figure out the balance for each person, of how much of a leash you should give them on their tasks.
Asking for feedback at the end of a task on how you communicated with your staff.
3. Use the 80/20 Rule to Focus on What Matters
The Pareto Principle also known as the 80/20 Rule states that 80 % of the success you generate comes from 20% of your actions.
You can apply this rule in any area of your life or work.
Focus on what matters and don't spend too much time on things that aren't as important.
Applying this rule to your career and life will cause your entire mindset and career to change tremendously.
4. Use Quality Assurance and Quality Controlled (QA/QC) Processes on All of Your Projects
QA/QC is the combination of quality assurance, the processes used to measure and assure the quality of the product, and quality control, which is the process of ensuring that products and services meet the client expectations.
Using QA/QC in your projects will help you to work much faster and smarter as a civil engineer without making errors.
5. Budget Time and Money for QA/QC Work on Your Projects
Saying that there is no time in the budget for a QA/QC on a project, is an unacceptable excuse. QA/QC on a civil engineering project should not be optional.
If you can build QA/QC into your project budgets, you are going to feel better about doing it and you are going to actually do it, which will help you to work faster and smarter as a civil engineer.
If you don't have QA/QC built into your budget, it's an easy excuse for people not to do it. Don't give them that excuse.
6. Always Have Someone Check Your Work
No matter how many times you have used a specific program or ran a specific calculation, you should always have someone else check your work.
No matter how good you are in what you are doing, there is no guarantee that you are going to get things right every time. It only takes one mistake in civil engineering to ruin your career.
In terms of productivity, a little extra time to double-check your work may prevent costly re-designs or construction change orders later on.
7. Use Meetings Productively
If you use meeting productively, they will help you to work faster and smarter, but if you don't, they will waste your time.
If you feel the meeting is wasting your time, you need to speak to the meeting organizer in a respectful way and recommend some changes.
Sources/References:
The Structural Engineering Podcast
TSEC 04: Mass Timber in Structural Engineering – It's Not as Boring as It Sounds
EMI YouTube Channel
ASCE Careers and Leadership Column
Richard Koch's books
Check out This Episode on YouTube
This episode is brought to you by Maser Consulting P.A., a privately owned, multi-discipline, consulting and engineering design firm with a unique balance of public and private sector experience. Established in 1984 by Richard M. Maser, PE, PP, CME, Chairman & Chief Executive Officer, the firm has an expert staff of licensed engineers, planners, surveyors, landscape architects, and environmental scientists with offices strategically located nationwide. Click here to learn more about Maser Consulting P.A. today.
If you are interested in taking our FREE CMAP Diagnostic Case Study, please email Betty at >>

[email protected]
Books Mentioned in this Episode:
Living the 80/20 Way: Work Less, Worry Less, Succeed More, Enjoy More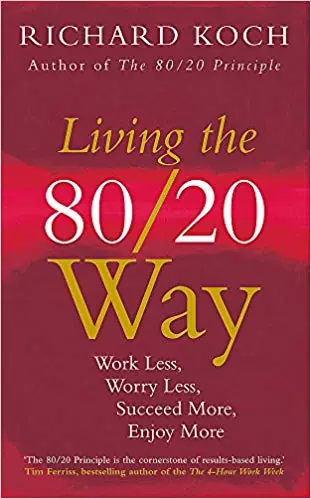 Please leave your comments or questions in the section below on how you think one can work faster but also work smarter as a civil engineering professional.
To your success,
Anthony Fasano, PE, LEED AP
Engineering Management Institute
Author of Engineer Your Own Success