Podcast: Play in new window | Download | Embed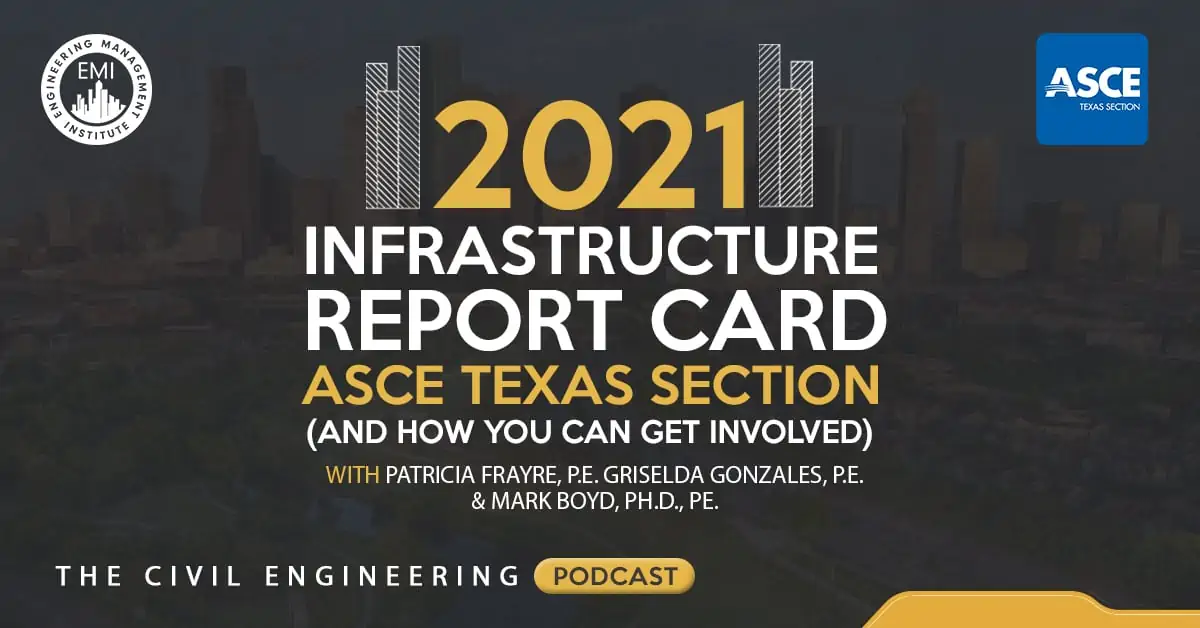 In this episode, I talk with three guests who are all heavily involved in the ASCE Texas 2021 Infrastructure Report Card. They are Patricia Frayre, P.E., founding principal of Frayre Engineering & Consulting, Griselda Gonzales, P.E., Principal Engineer at The Goodman Corporation, and Mark Boyd, Ph.D., PE, the principal engineer at LCA Environmental. They talk about the 2021 Infrastructure Report Card (IRC), understanding the current status of infrastructure, and why advocacy for the Infrastructure Report Card is so important.  They also are a great example of the relationships that you can build by volunteering and getting involved in your community.
Engineering Quotes:




Here Are Some of the Questions I Ask Our Guests:
What is the importance of understanding the current status of infrastructure, not only on a national level, but also at a state level?
What is the Infrastructure Report Card, how do you use it, and what is its importance in advocacy efforts?
Please elaborate on your involvement in parks, both national and state, and your involvement with the state IRC.
What is the makeup of the Texas IRC committee, and how does this year's committee stand out from prior IRC committee efforts in Texas?
How do you think the recent presidential election will impact the Infrastructure Report Card moving forward?
Can you explain why the committee has felt so strongly about the unique challenge in flood risk mitigation that it has insisted the subject matter be named "Flood Risk Mitigation," which is different from other state report cards, and even from Texas' prior name for the category, "Flood Control"?
Why are parks and recreation (Green Spaces) important from a quality of life standpoint?
How is Texas set apart from other states in its electricity, oil and gas, and alternative energy infrastructure?
Which categories appear to be poised to receive the best grade, and the worst grade, on the upcoming Texas report card, and why?
Here Are Some Key Points Discussed in This Episode About the ASCE 2021 Infrastructure Report Card:
It is important to understand the current status of the infrastructure because America's infrastructure is in dire need of investment and attention to remain competitive in a local, state, national, and global economy. IRC categories like our highways and transport systems, the electric grid, and the water distribution system have either reached the end of their design life, need major repair, or are on the brink of failure. Now is the time to act to renew and modernize the infrastructure. The longer it takes for us to take action, the bigger the gap becomes in the investment and funding that is required to address the infrastructure needs.
The Infrastructure Report Card assesses the capacity, condition, funding, funding need, operation, maintenance, public safety, resilience, and innovation of the infrastructure. Once the report card has been compiled and released, it is used to advocate the infrastructure to the legislators. The Report Card is also used to inform the lawmakers and public about the current conditions of the infrastructure.
There are 55 committee members in the Texas IRC committee, and it needs engineers who understand the issues of their regions, like the climates and populations. This is why the current committee members are based all over Texas. The committee for America's infrastructure is encouraging all the states to produce report cards in a more user-friendly format this year, and this is what the committee has been working on for several months.
It doesn't matter who the president is — the infrastructure of a country affects everybody. Every president needs to be concerned or aware of the state of infrastructure, and we need to continue to advocate for it. The infrastructure and its investment needs should continuously be top of mind for our politicians.
The terms "flood risk" and "flood risk mitigation" were used in a recent state flood assessment report done by the Texas Water Development Board. The Report Card Committee decided to name the section "Flood Risk Mitigation" and not "Flood Risk Control" because we need to start understanding that we cannot control Mother Nature. However, as engineers, we do know how to manage and mitigate risk. We cannot control the flooding or the rain, but we can build the infrastructure to reduce the flood risk.
Parks and recreation, or green spaces, are important from a quality of life standpoint for many reasons. The main reason is to offer individuals mental and physical escapes from everyday life, which can help combat many mental health issues. They also offer individuals venues that result in physical health benefits, and they also give the natural environment a chance to thrive.
Regarding the electricity, oil and gas, and alternative energy infrastructure, what sets Texas apart is the circumstance of Texas' energy infrastructure and what it has been able to do. It leads the energy production over all of the states and provides one-fifth of the nationally produced energy. Texas has the fifth-largest economy in the world, and is arguably the leader in energy innovation. Due to this innovation over the past 10 years, oil production has increased five-fold. For the energy grid to move to a higher grade on the report card, it needs to focus more on alternative energies such as wind farms and reducing environmental impacts.
The energy category will be given the highest grade on the report card due to the reasons that were previously given. The wastewater category will likely receive the lowest grade. The discharges of wastewater are regulated to achieve ecological balance, but unauthorized and untreated wastewater discharges and population growth are the leading causes of impairment of freshwater sources.
About Our Guests
Patricia Frayre, P.E.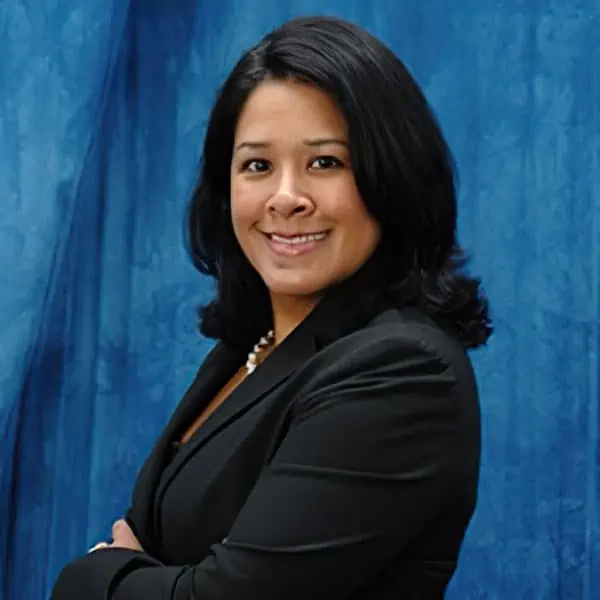 Ms. Frayre, founding principal of Frayre Engineering & Consulting, has experience in the management of private and public sector clients for site development and public works projects. Ms. Frayre has more than 25 years of experience in the general civil engineering professional services industry. Her experience includes high-profile and standard site development projects and major/minor public works infrastructure projects.
Project management experience for Ms. Frayre includes multiphase parks and green spaces construction, street reconstruction projects, new roadway construction, pedestrian realm improvements on transit corridors, shared-use pedestrian and bicycle trails, stormwater drainage improvements, and water main and wastewater collection system improvements. Ms. Frayre is also engaged in various organizations and professional societies, including:
American Society of Civil Engineers (ASCE)
Texas Society of Professional Engineers (TSPE)
Greens Bayou Corridor Coalition (GBCC)
Houston Hispanic Architects and Engineers (HHAE)
Texas Public Works Association (TPWA) Southeast Branch
Scenic Houston
World Affairs Council of Houston
Griselda Gonzales, P.E.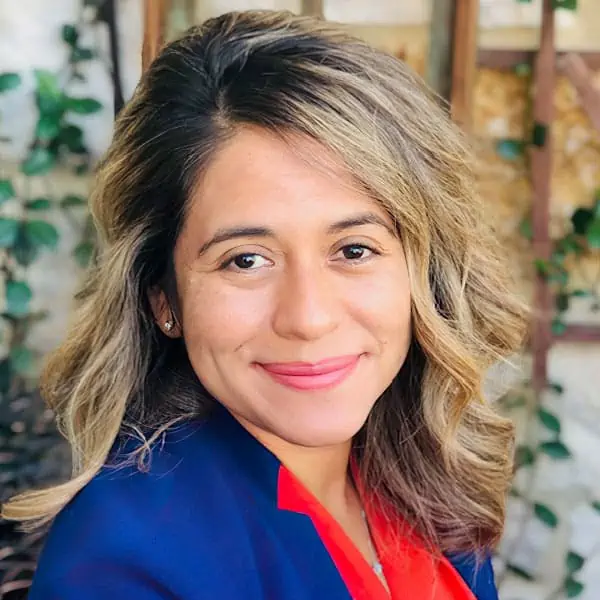 Griselda Gonzales is currently the Principal Engineer at The Goodman Corporation. She joined TGC to start and lead the engineering services for the firm. As the Principal Engineer, she is responsible for business development, marketing, engineering planning, design, construction phase activities, and the training and management of staff.
Griselda has had a broad range of experience throughout her career. She has planned, designed, and managed public and private development projects. Her experience began in designing subdivision and commercial development in San Antonio. Her experience grew to roadway reconstruction, water and wastewater, drainage and H&H studies, water quality and planning studies for regional water and wastewater needs. She currently focuses on planning and designing mobility infrastructure projects and seeking federal funding for local governments in need of infrastructure improvements. Her love and passion to continue learning and improving has kept her busy in her career.
Griselda Gonzales was born and raised in San Antonio's west and south side. She graduated from McCollum High School, then pursued an associate degree from San Antonio College to help provide an income for her family of three children. Griselda graduated with her B.S. in Civil Engineering from UTSA. She has been married for 30 years and now has four children and one grandchild.
Throughout her life and career Griselda has served her community and profession through various opportunities. In ASCE, she currently serves as the Texas Section VP of Professional Affairs. She was VP Professional Affairs Elect, Government Affairs Committee Chair, and Co-chair. She also served as Chair for the Houston Branch T&DI. Her volunteerism beyond ASCE has included supporting the Hispanic Scholarship Fund (HSF), Habitat for Humanity, the Society of Hispanic Professional Engineers of San Antonio (SHPE), Rebuild Houston, local food bank service, serving on the City of Sugar Land's Zoning Board of Adjustment, Committee Chair for the Boy Scouts of America, and serving her church.
Mark Boyd, Ph.D., PE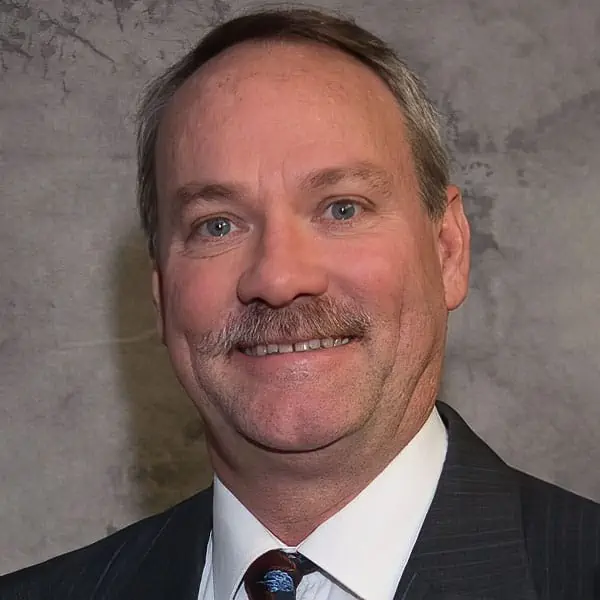 Dr. Boyd is the principal engineer at LCA Environmental and holds a doctorate in Civil and Environmental engineering. He brings more than 30 years of professional experience in civil and environmental engineering in many, many areas. He is a two-time Dallas Engineer of the Year Awardee and a prior Texas Engineer of the Year awardee. Dr. Boyd is also engaged in various organizations and professional societies, including:
American Society of Civil Engineers: Texas Section and Dallas Branch
National Society of Professional Engineers: Texas Society and Dallas Chapter
Board Member Society of Texas Environmental Professionals
The following are a few examples of Dr. Boyd's servant volunteer leadership over the years:
Collected/donated and drove truckloads of supplies to 2013 Moore, Oklahoma, tornado victims
Iris Place, Mental Health Halfway House, volunteer
Boy Scouts of America, volunteer at troop and district level, including service at soup kitchens and food drive
Led Boy Scout Troop High Adventure on Inca Trail to Machu Picchu, 2007
Dallas Regional Science Fair, Judge volunteer 2000-2003 and 2009
Grade school and college outreach to foster interest in STEM as part of ASCE and TSPE leadership programs
Volunteer to Southern Methodist University, assistance with accreditation programs
Volunteer Southern Methodist University as faculty adviser to ASCE and TSPE student chapters (multiple years)
Attendance and support at educational outreach events at college and grade school level as an ASCE volunteer
Organizer and fundraiser, 2019 ASCE Education Summit
Sources/References:
ASCE Texas Section
ASCE Texas Section Report Card
Connect with Patricia Frayre, P.E., on LinkedIn
Connect with Griselda Gonzales, P.E., on LinkedIn
Connect with Mark Boyd on LinkedIn
PE Exam Passpoint by EMI
This Episode Is Brought to You by ACI

Are you a member of The American Concrete Institute? ACI is a worldwide community of 30,000 professionals, educators, and students in more than 100 countries. It is the premier global community dedicated to the best use of concrete. ACI members push the concrete industry further, adapting to new technology, investing in their careers, and dedicated to improving concrete design, materials, and construction. You do not have to be an ACI member to work in the concrete industry, but if you want to exceed expectations in it, there is no better place to be. Whether you're a student just starting or have years under your belt, ACI membership ensures that no matter what changes the world brings, you will be prepared to thrive, and your life's work will last for generations. Right now, we are offering a $30 discount on new Individual and Young Professional Memberships — student memberships are free! Join us today at concrete.org/PODCAST30.
Please leave your comments or questions in the section below on the ASCE Texas 2021 Infrastructure Report Card.
To your success,
Anthony Fasano, PE, LEED AP
Engineering Management Institute
Author of Engineer Your Own Success