Podcast: Play in new window | Download | Embed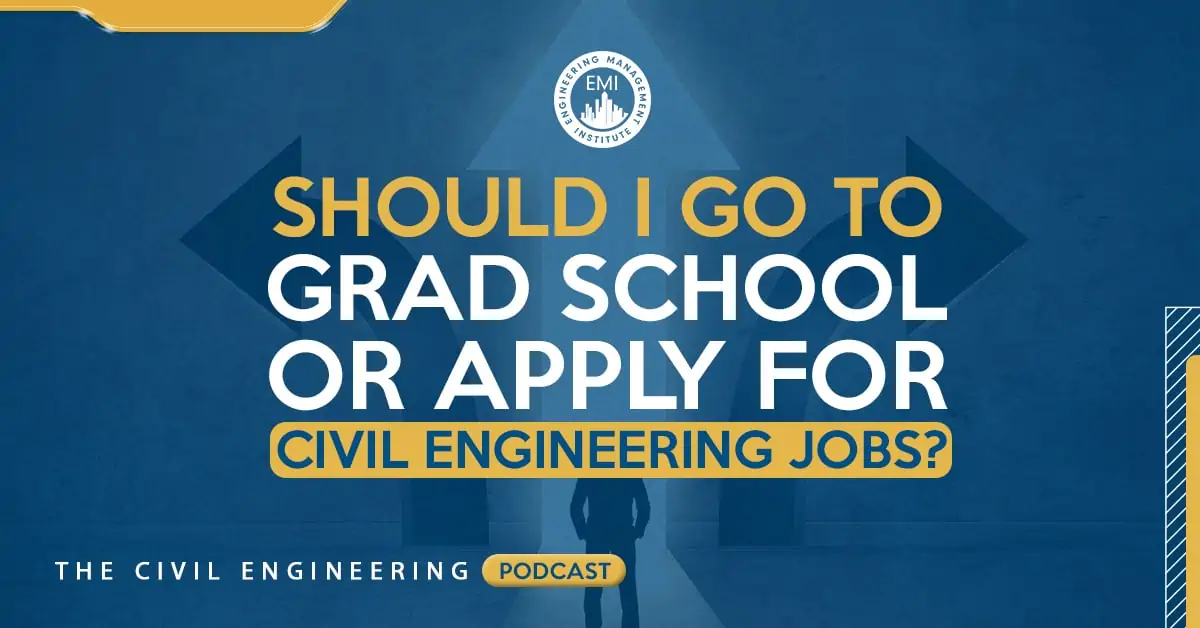 In this episode, I answer a question that I get from civil engineering students almost daily. Should they seek full-time employment immediately after completing their undergraduate studies or go to grad school and pursue a master's degree? And I promise you, whether you are a student, a project manager, an owner, or a CEO, you will take something out of this episode because I get into the decision-making processes.

Graduate school and professional engineering licensure are invaluable — but, as with any career, it is more a question of timing, and the answer to this question is different for every civil engineering graduate, depending on their situation.
In some specialty areas of civil engineering, such as structural and geotechnical, a master's degree is either required or strongly preferred for entry-level hires. It is important to research the expectations of your specialty area and the firms you are most interested in. If a master's degree is not the norm for your practice area, or if you are not sure yet what specialty you want to pursue, it is recommended that you enter the workforce instead of continuing school full time for a master's degree.
3 Reasons Why You Should Enter the Workforce Instead of Continuing Grad School Full Time for a Master's Degree:
Unless you obtained a full scholarship, you would be taking on debt to learn more advanced engineering knowledge before you even start your career. While education is an investment in your career and your future, debt can be overwhelming when taking it on at a young age.
Unless you have had multiple internships in the field, how do you know that you will like your chosen field of civil engineering? How do you know you will not want to switch fields?
You can only learn so much in school as an engineer. Most engineers talk about how much they learned "on the job." By starting to work full time as soon as possible, you will be exposed to engineering problems and projects that will force you to learn on the job. This real-life experience will be invaluable should you return to graduate school later in your career.
Here Are a Few Possible Options for Approaching Your Grad School Questions:
Graduate school immediately after graduation: This approach may be the best choice for those entering certain specialty areas or pursuing specific companies where a master's degree is an expectation for entry-level positions.
Full-time job / part-time graduate school: Consider starting a full-time job immediately after your undergraduate education and then pursue a master's degree part-time in the evenings. This approach can be highly beneficial for multiple reasons.


First: You can get that on-the-job experience immediately, but at the same time, you can chip away at your master's degree.
Second: Many engineering companies will provide financial assistance to their employees for pursuing advanced degrees that are related to their job, thereby eliminating the need to take on debt.

Full-time job / graduate school later: Consider starting a full-time job immediately after your undergraduate education and holding off for six months before you start a master's degree program. This option gives you some time to experience your new career and see how you like it.
4 Steps Decision-Making Process That You Can Use in Your Career:
Gather as much information as possible about decisions you need to make. Making decisions without this information means you are making uninformed decisions that can be detrimental to you and your career.
Brainstorm possible solutions to a problem or decision that you must make. Write down the possible outcomes of the decisions and see what the benefits and risks of each outcome are, and which decision would suit you best.
Create an action plan to move forward, listing the steps that you will need to take.
Once you have completed the above three steps, you need to evaluate the outcome of the decision you decided to make. You will be able to refine your decision-making process by doing this.
More Details in This Episode…
Books Mentioned in This Episode
10-10-10 ~ 10 Minutes-10 Months- 10 Years~ A Life-Transforming Idea by Suzy Welch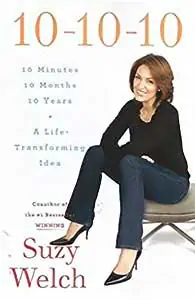 Please leave your comments or questions in the section below on whether you should go to grad school or apply for civil engineering jobs.
To your success,
Anthony Fasano, P.E., LEED AP
Engineering Management Institute
Author of Engineer Your Own Success