Podcast: Play in new window | Download | Embed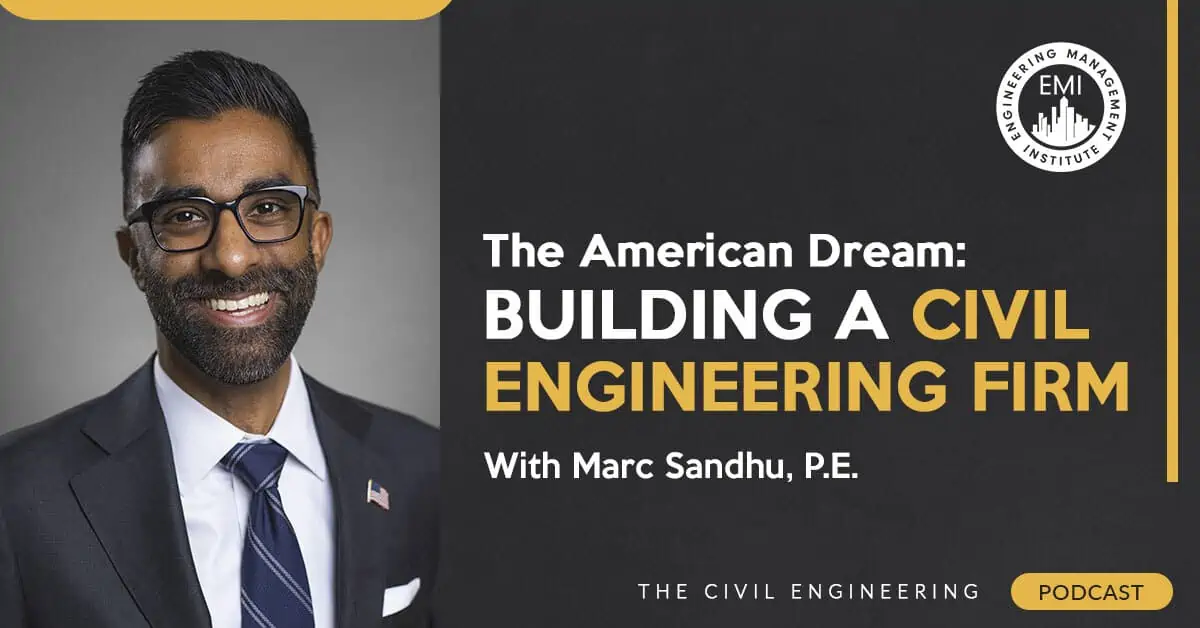 In this episode of The Civil Engineering Podcast, I talk to Marc Sandhu, P.E., President of ARS Engineers, Inc. about the recent passing of his father, the founder of ARS Engineers Inc. (ARS), and how he is continuing his father's legacy of the living the American dream. He also talks about some of the things going on in the world of civil engineering and provides some great advice on taking on leadership roles in companies, whether you are ready to, or not.
Engineering Quotes:


Here Are Some of the Questions I Ask Marc:
Please tell our listeners a bit more about yourself, and how you ended up in your current position at ARS Engineers.
Would you say you had more insight into civil engineering because your father was a civil engineer?
Talk to us more about the history of your firm, which was originally started by your late father, Ayub R Sandhu, P.E., RPLS, and how he built the firm?
What about your father helped him to overcome challenges and build the American dream?
What are some of the things you are doing to continue your father's legacy?
Can you talk to us about small/minority business ownership and the role it plays in state and federal civil engineering work?
How does the process work when companies reach out to you to be part of their project?
What is the MBE/DBE/SBE certification and how does it differ from Texas HUB certification?
What are some of the benefits of an 8a certification for federal work?
How do you deal with problems on a project?
How do you manage work-life balance?
Can you share one piece of final advice with our listeners who might consider starting their own company as your father did?
Here Are Some Key Points Discussed in This Episode About Building The American Dream: 
I've been around the civil engineering industry for a long time as my father was the founder and owner of ARS Engineers. I did my internship at ARS Engineers and after I graduated in 2008, I started working there on a full-time basis and eventually worked myself up to Vice President of ARS Engineers. My father was diagnosed with pneumonia in 2019 and could not work for many months. In July 2021, I was given the keys to the company and became President of the company. My father regretfully passed away on December 31st, 2021.
Many high school students know that civil engineering involves math and science, but don't know about the breadth of different areas within civil engineering and exactly what a civil engineer does.
Because of my extremely unique opportunity to be around civil engineering companies, attend company parties, and my internship at a civil engineering firm, I had a better idea of the different branches within the civil engineering tree and which discipline I wanted to go for.
My dad received a math and physics degree in Pakistan, and then got into the construction industry and started doing some design work. There was a hospital in Lahore in Pakistan that he helped design, and met a U.S.-based engineer through that project. That engineer helped sponsor him and brought him to the U.S., where he became a civil engineering student at Southern Methodist University. He then graduated in 1972 with a Bachelor of Science and Civil Engineering, and started at a firm now called RLG (at the time it was called Raymond L Goodson Engineers). Within 15 years, he became a partner at the firm and then started a couple of companies with two business partners and it worked out very well. It's not every small business that succeeds, but he really lived out the American dream by taking a risk. His story is unique, to say the least, and he left a great example of how to chase the American dream.
My father was able to overcome challenges because he would never give up, was always smiling, and had the determination to focus on something and achieve success.
I try to continue my father's legacy by smiling as much as possible, and by taking care of our employees by making people feel like they're valued.
The role that small/minority business ownership plays in state and federal civil engineering work is based on federal funding or non-federal funding, and on the particular municipality's needs. The percentages of the required amount for firms doing work on government jobs change from job to job and from type to type.
Finding primes who are chasing work in areas that you're competent in, and then getting in front of them and letting them know that you can sub-consult to them is the key to growing your business.
A lot of the state-funded tech DOT work that we chase has a hub requirement, and a lot of the federal early-funded tech DOT work that we chase has a DBE requirement. It takes a lot of paperwork, a lot of financial reviews, and it can be a long process to get these certifications. It's based on ownership percentage, total revenue for the year, and the personal net worth of the owner, just to name a few. However, it is really different per type.
An 8a certification is a program that you enter and graduate from. It provides you with the benefit of building relationships with the core and teaming opportunities for small businesses.
It's important to be honest with your clients, as they can see straight through the promise of everything. If there's an unexpected roadblock getting in front of your client, let them know and work with them on a resolution to make it better for all parties.
Take a real vacation at least once a year and set good boundaries to keep work at work and home at home.
More details in this episode…

About Marc Sandhu, P.E.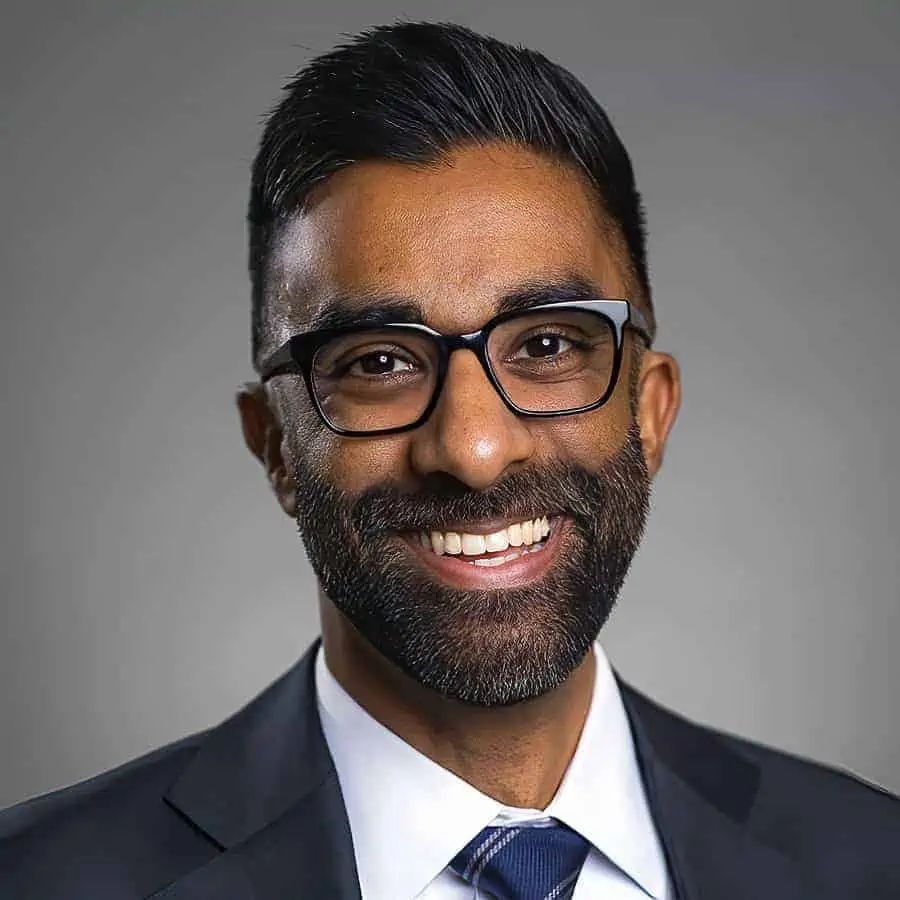 Marc serves as President of ARS Engineers, Inc., a civil engineering, land surveying, and utilities firm headquartered in Dallas, Texas. After graduating from Texas A&M University in 2009, Marc started his career at ARS and has been with the firm for over 13 years.
Before taking over as the firm's President in 2021, he honed his project management and design skills on dozens of projects throughout the State of Texas, including the TxDOT IH-35Express Managed Lanes Project, USACE Panther Island/Central City Project, and Routh Street in the Dallas Arts District.
Marc has overseen the hiring of several key staff members over the last five years, helping ARS grow its workload and compete with larger firms. However, he always works hard to maintain a "small firm" company culture focused on high-quality work, efficiency, and responsiveness.
Actively focused on the engineering community, he was awarded the TSPE Dallas Chapter Young Engineer of the Year Award in 2014 and the ASCE Dallas Branch Young Engineer of the Year Award in 2015. He has also served on the TSPE Dallas Chapter Board for over seven years, where he previously managed the Chapter's annual donation to the North Texas Food Bank, helping raise over $10,000 for those in need. He currently serves as the TSPE Dallas Chapter President-Elect and will become Chapter President in July.
Marc believes that the most important part of this profession is its people. Although engineering work is based on formulas and sound design principles, jobs are not won on those principles alone. Taking care of people both inside and outside the firm is his greatest focus while continually doing his part to ensure the health, safety, and welfare the public is always protected.
Sources/References:

ARS Engineers, Inc.
High Five Interchange Project that ARS Engineers team won the CEC Eminent Conceptor Award for.
NCTRCA
Disadvantaged Business Enterprise Program
Texas Unified Certification Program
Texas HUB certification
8(a) Business Development Program
8A Status & SBA 8a Certification Requirements
This Episode Is Brought to You by Colliers Engineering & Design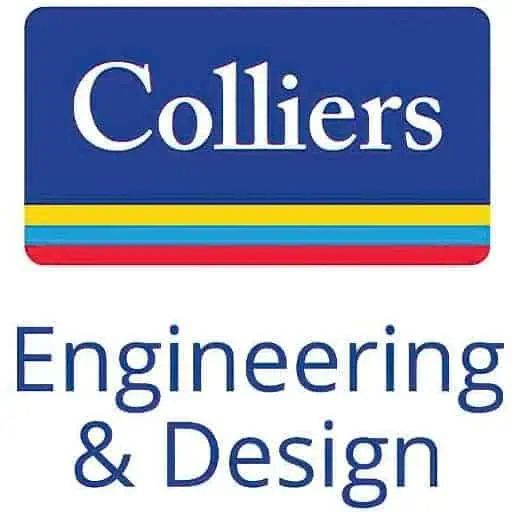 Colliers Engineering & Design is a multidiscipline engineering firm with over 1,800 employees in 63 offices nationwide — and growing fast! Colliers Engineering & Design maintains an internal culture that is nurtured through the promotion of integrity, collaboration, and socialization. Their employees enjoy hybrid work environments, continuous career advancement, health and wellness offerings, and programs and projects that have a positive impact on society. Colliers Engineering & Design stays on the cutting-edge of technology, and their entrepreneurial approach to expansion provides personal and professional development opportunities across the firm. Leadership's dedication to the well-being of their employees and their families is demonstrated throughout the wide range of benefits and programs available to them. For more information, visit the career page on their website at colliersengineering.com.
Books Mentioned in This Episode:
The Five Dysfunctions of a Team: A Leadership Fable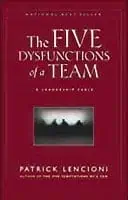 Please leave your comments or questions in the section below on the things you do to build your civil engineering firm.
To your success,
Anthony Fasano, P.E., LEED AP
Engineering Management Institute
Author of Engineer Your Own Success