Podcast: Play in new window | Download | Embed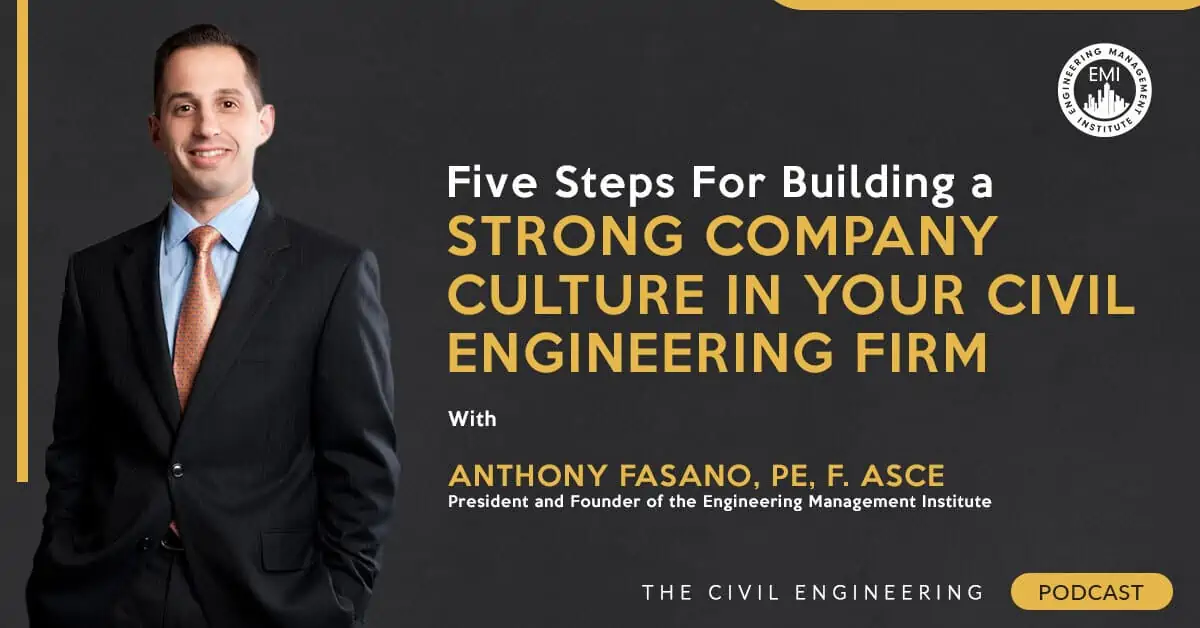 In this episode of The Civil Engineering Podcast, I discuss five points you can use to build a strong company culture in your civil engineering firm.
Engineering Quotes:




Here Are Some Key Points Discussed in This Episode About Building a Strong Company Culture in Your Civil Engineering Firm:

1. Ensure That Personal Relationships Are Built Between Leaders and Their Team Members
The corporate world today is very stressful, and many managers are managing in a very transactional way. However, it is imperative that leaders engage and connect with their team members and also consider the entire relationship of the team.
In the world that we live in today, it's teams that make things happen, not individuals, so you need to focus on the relationships with your team members.
2. Set Clear Expectations for All Employees
Whenever two parties are involved in some way, shape, or form, typically each party has expectations. And if those expectations are different from yours, it is called an expectation gap. Whenever there's an expectation gap, it leads to fear, anger, or distrust since both parties are likely going to be upset or angry because their expectations weren't met.
To avoid an expectation gap, you need to set expectations and communicate them with the other party. And so when it comes to culture building, your employees need to have clear expectations on what their roles and responsibilities are within the company.
One of the things that we like to do at EMI is to have team meetings every week in each of our different units. And the approach that we take with these team meetings is we ask three questions:

What did you accomplish last week?
What will you accomplish this week?
And what do you need from me to get that done?

By going through this process, you're setting expectations for the week ahead and you're avoiding the expectation gap.
3. Ensure That Your Employees Have a Clear Path to Growth
This one goes well with number one because you're only going to know what their path is in terms of growth if you have good relationships with them and understand their goals.
If you don't have a clear pathway for your employees, team members, or your leadership, then they might slow down. They might even consider joining a different company where that fog goes away. So it is important to show your people the path to growth and support them on that path.
4. Ask Important Questions
"Important" should be what you feel is important to your team and to the growth of your company.
You don't want someone else asking your team these important questions, and you don't want to find out the answer to these questions when it's too late.
If you're building the right relationship with them, ensuring they have a clear career path and supporting them on it, it's going to be easier to go to them and ask the questions:

What could we do better for you here?
What would ensure that you stay here for the long term?

Your people mean everything to your company's growth, and you need to keep them with you for the long term if you want to grow sustainably.
5. Lead by Example
Nothing destroys a culture faster than a leader doing the opposite of what he or she is asking their team to do.
People are watching you as a leader. They're watching everything that you do, whether you like it or not, and whether you realize it or not. So you need to lead by example.
More Details in This Episode…

Sources/References:
The Present and Future of Work in the AEC Industry
Company Culture & How It Can Be Worth $150 Million
Books Mentioned in this Episode:
Humble Leadership: The Power of Relationships, Openness, and Trust (The Humble Leadership Series)
The Culture Solution: A Practical Guide to Building a Dynamic Culture so People Love Coming to Work and Accomplishing Great Things Together
Please leave your comments or questions in the section below on how building a strong company culture has helped your firm to succeed.
To your success,
Anthony Fasano, P.E., LEED AP
Engineering Management Institute
Author of Engineer Your Own Success