Podcast: Play in new window | Download | Embed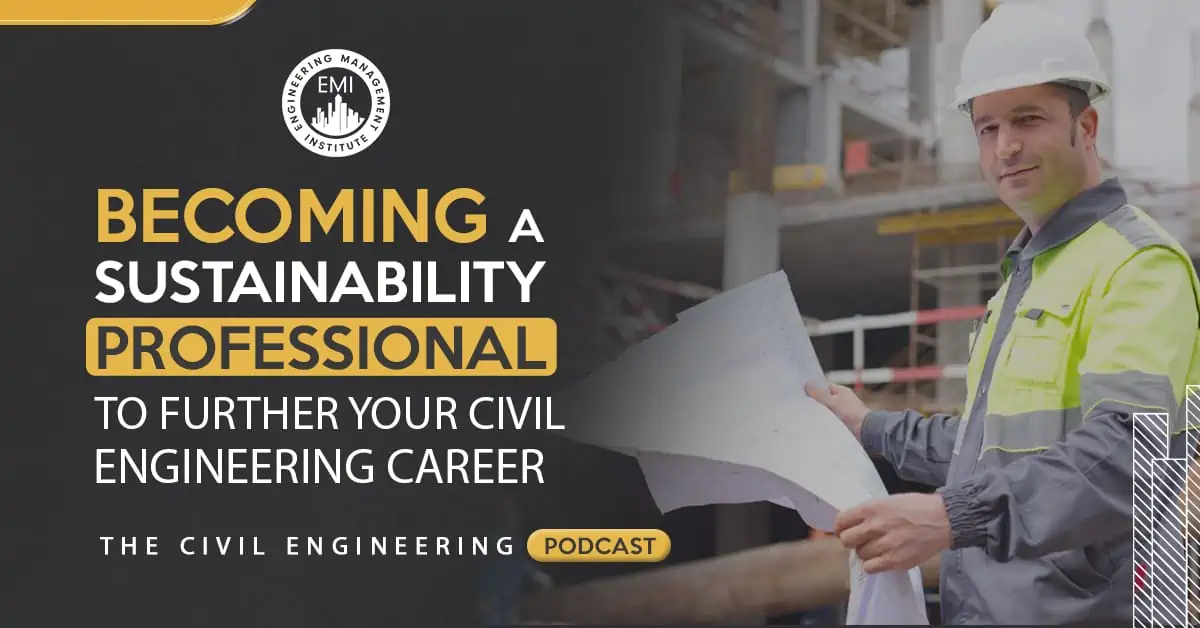 In episode 028 of The Civil Engineering Podcast, Christion Knutson, PE interviews Denise Nelson,PE – Vice President for Public Education at the Institute for Sustainable Infrastructure and she discusses what the Envision Sustainability Professional certification is and how it compares and supplements the LEED certification.
Here are some of the questions Knutson asks Nelson:
What is the Envision rating system and the Envision Sustainability Professional certification?
Why should civil engineers care about it?
What is the triple bottom line concept?
How does Envision help gauge performance of sustainable infrastructure?
What's the difference between Envision and LEED and what does each one of them bring to the table?
What can Envision offer you as a Stakeholder?
Is Envision more than just engineering?
How did Envision come into existence?
And many more…
Quotes to think about:




Here are some of the key points from this episode:
The Envision rating system and the Envision Sustainability Professional certification provide guidance for sustainable infrastructure.
Envision encourages people to look at the triple bottom line which goes beyond the cost of the infrastructure in order to look at the impacts of society and the environment.
The triple bottom line concept came out decades ago and the idea behind it is to look at different types of indicators.
Envision can help you compare the object you would work on to the decision of what to use with that.
Envision helps you document the decisions you are making during the design and construction phases so that in the future you can ask yourself, "Is this infrastructure performing the way it was intended to perform?"
LEED is specifically geared towards buildings that are inhabited by people.
Envision is more genuine and more flexible and can be used for many different types of infrastructure. Envision has a lot of the same concepts of LEED, but the way it is written, the questions asked and the way it is applied to projects is more general and more flexible for infrastructure projects.
The main benefits of envision are accountability and best practices.
Infrastructure owners get documentation and references that show that best practices were used and that conscious decisions were made to ensure that all the opportunities that could be addressed in the schedule or the budget were included. They can share this information with the city planner, the mayor, the governor, the citizens or even the tax payers to demonstrate good governance.
Envision provides you with a checklist to help you make an assessment of elements that has been addressed in a project.
Envision was originally designed by engineers, but it has gone far beyond the reach of engineers as Envision is now working with planners, architects governors, and policy makers, regulatory bodies and financial institutions.
Envision is attempting to go beyond just evaluating one's project and getting a score, to using the guidance in Envision to plan entire communities.
Envision rating system helps to take infrastructure and put it into a multi-discipline, multi-perspective realm.
Envision Membership is a membership with ISI which is designed for organizations.
Individuals don't need to be part of a membership in order to earn the credentials or use the tools.
You can use all of this information without training, but if you do, make sure you are using it properly and you have that credential to put on your business card, you can go to the training option on our website.
About Denise Nelson
Denise is the Vice President for Public Education at the Institute for Sustainable Infrastructure. Her responsibilities include education and training for both public and private sector organizations and overall coordination of messaging and promotions related to Envision, the guidance and rating system for sustainable infrastructure that creates public confidence in the process of civil infrastructure development.
She received her Bachelors of Science degree in Civil Engineering from Virginia Tech and her Masters of Science degree in Environmental Engineering from the University of Cincinnati. She is a licensed professional engineer with over 14 years of experience in water utilities and sustainable infrastructure.
Connect with Denise via LinkedIn
Sources/References:
The Engineering Career Summit
Denise's Twitter Account
Envision Twitter Account
Institute for Sustainable Infrastructure Website
Institute for Sustainable Infrastructure LinkedIn
American Society of Civil Engineers
Example of civil engineering Company using Envision
Zofnass Program
LEED
This episode is brought to you by PPI, the leader of civil engineering FE or PE exam preparations. Use promo code CIVIL for 20% discount at PPI2Pass.com/coach.
We would love to hear any questions you might have or stories you might share about your own organizational infrastructure.
Please leave your comments, feedback or questions in the section below.
To your success,
Anthony Fasano, PE, LEED AP
Engineering Management Institute
Author of Engineer Your Own Success