Podcast: Play in new window | Download | Embed
Click play above to learn about BIM.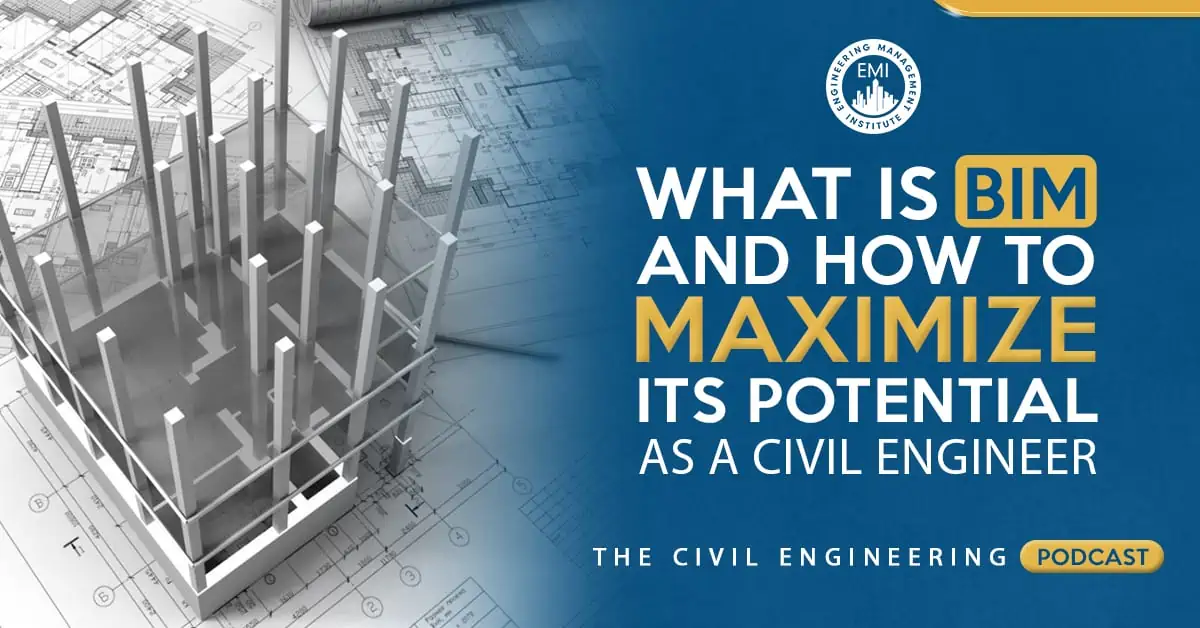 BIM stands for Building Information Modeling.  In episode 029 of The Civil Engineering Podcast, my co-host Christian Knutson, PE interviews Ronan Collins who is an experienced Building Information Modeling Project Manager specializing in the production of detailed and accurate BIM models for the purpose of design and construction coordination.
Here are some of the questions Chris asks Ronan about BIM (Building Information Modeling):
What are the key benefits BIM brings to a project?
Is it a design software?  An integrated project management software?
What are the benefits a civil engineer – and the end stakeholder – receives from employing BIM?
Where do you see BIM taking the civil engineering profession in 10 years?
What are the investment costs associated with starting BIM capability in a firm?  Is this scalable, or a one-time cost?  What is the typical time frame for ROI?
What are three things I, as a company owner, want to be aware of when selecting the BIM software my firm will use?  Is there an industry standard?
Is there a "best practice" for the type of facility to apply Building Information Modeling to?
Quotes to think about:



Here are some key points discussed in this episode about BIM (Building Information Modeling):
BIM (Building Information Modeling) is how detailed 3D Digital models that get built.
BIM covers more than just geometry. It also covers spatial relationships, light analysis, geographic information, and quantities and properties of building components.
BIM is not only a construction tool, it's a planning tool, designing tool and a life cycle management tool.
The more engineers that use and become competent in Building Information Modeling, the better.
Explorations are underway to pair computer network users' personal, private and public authentication choices, geographic mapping systems and evolving cloud computing security architecture models, together, to offer customers of geospatial securitization services intuitive new ways to organize their personal, private and public applications and storage
Ask yourself these questions before you start implementing Building Information Modeling:

How do you train all the different levels of your organization to be able to engage in the BIM process?
What is your company Standard and Strategy for developing BIM?
How can I build up my technical skills?
The key advice for outsourcing is you have to be on top of everything and maintain very good communication between you and the outsourcing team. You have to do it in a controlled way and treat the people that are doing this for you with respect.
To get started in BIM, we highly recommend that engineers start to learn to use the freely available model viewers. Here are some recommended tools:
http://www.solibri.com/products/solibri-model-viewer/
http://www.autodesk.com/products/navisworks/autodesk-navisworks-freedom
https://www.bentley.com/en/products/product-line/modeling-and-visualization-software/bentley-view
http://www.graphisoft.com/bimx/
About Ronan Collins:

Ronan manages a team of experienced construction professionals, engineers, 3D CAD modelling and virtual construction specialists. He is responsible for planning and implementing the BIM projects in direct collaboration with the client, consultants and contractors.
As a Structural Engineer, he completed the design and supervision of several commercial, infrastructure and educational projects. His experience includes civil, structural and geotechnical engineering design. As a resident engineer, responsible for the quality supervision of projects, he has assisted contractors with developing construction method statements and temporary works designs
His experience at InteliBuild includes the management of the production of BIM models for architecture, structure and electrical & mechanical (E&M) or (MEP) and the facilitation of the implementation of BIM processes.
You can learn more from Ronan at Twitter, LinkedIn or his Company Website.
Sources/References:
The Engineering Career Summit
Company Website
Linked In
Hkibim
Twitter
Lynda.com
CADlearning.com
The B1M 
This episode is brought to you by PPI, the leader of civil engineering FE or PE exam preparations. Use promo code CIVIL for 20% discount at PPI2Pass.com/coach.
We would love to hear any questions you might have or stories you might share about your experiences with BIM.
Please leave your comments, feedback or questions in the section below.
To your success,
Anthony Fasano, PE, LEED AP
Engineering Management Institute
Author of Engineer Your Own Success