Podcast: Play in new window | Download | Embed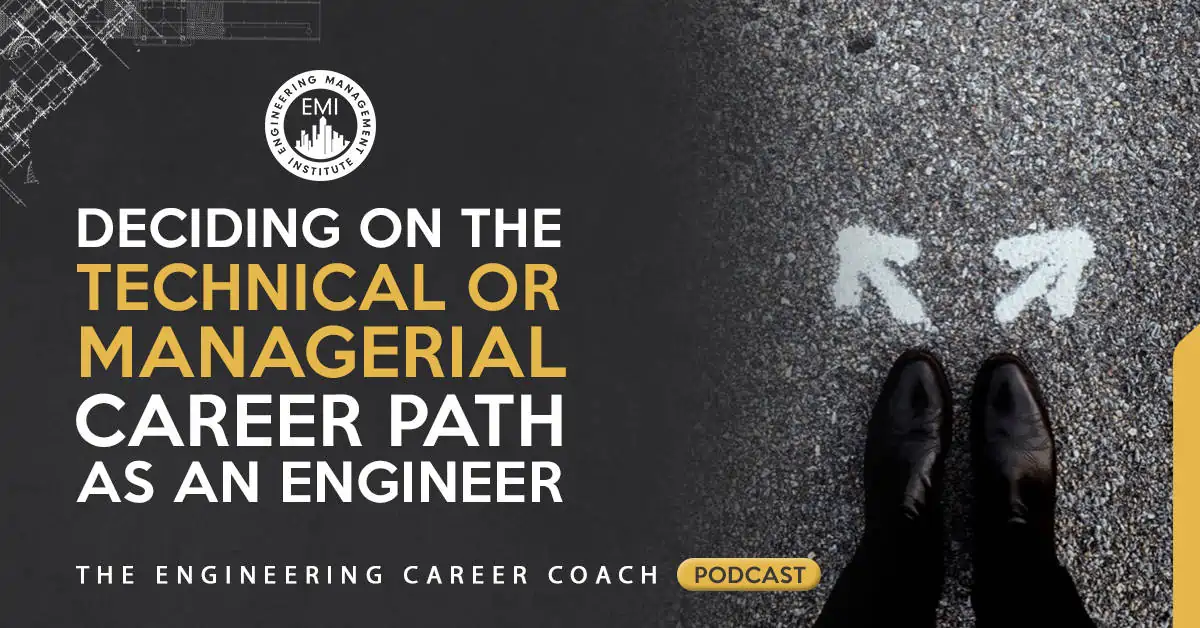 In this session of The Engineering Career Coach Podcast, I am going to provide some tips to an engineer on how to decide whether to stay on the technical track in his career path or to make a move toward management when the time is right. Even though he is early in his career, he is concerned that if he wants to eventually transition into management, he must start preparing now—and he is right. This is a challenge that too many engineers face.
"Your career is like a garden. It can hold an assortment of life's energy that yields a bounty for you. You do not need to grow just one thing in your garden. You do not need to do just one thing in your career." – Jennifer Ritchie Payette
The career-changing tip at the end of the show will help you decide which path in your engineering career is best for you.
Our guest for Session 11 is Kevin, a 23-year-old systems engineer.
Listen to this session and learn:
How to decide what path to take in your engineering career: technical, management, or both.
Ways to find other engineers to talk to about your career-path decisions.
How a mentor can help you navigate your career path.
One question that you can ask yourself to help guide you down your career path.
How easy it can be to decide between technical or management (or both) – my guest did it by answering the one question referenced above.
Ways to decide what master's degree is right for you.
How to find the perfect mentor for you.
Resources and links mentioned in this session include:
Institute for Engineering Career Development
Free Gift for Engineers
Transformational Weekend for Engineers
The 5 Laws That Determine All of Life's Outcomes
Annual Review Podcast
Ask the Hoover Dam Bypass Project Manager a Question 
Click Here for Session #11 Transcription
Please help out the show!
Lastly, please, if you haven't done so already, I would really appreciate if you took a minute to leave a quick rating and honest review of the podcast on iTunes by clicking on the link below. We have had 11 sessions to date, and while I have heard a lot of good things about the show, leaving those remarks on iTunes will help more engineers find the show and get inspired.
Click here to leave an honest review of the podcast on iTunes.
Thank you for listening, and I hope you enjoyed this session! Please let me know what you think in the comments section below.
To your success,
Anthony Fasano, PE, LEED AP
Engineering Management Institute
Author of Engineer Your Own Success