Podcast: Play in new window | Download | Embed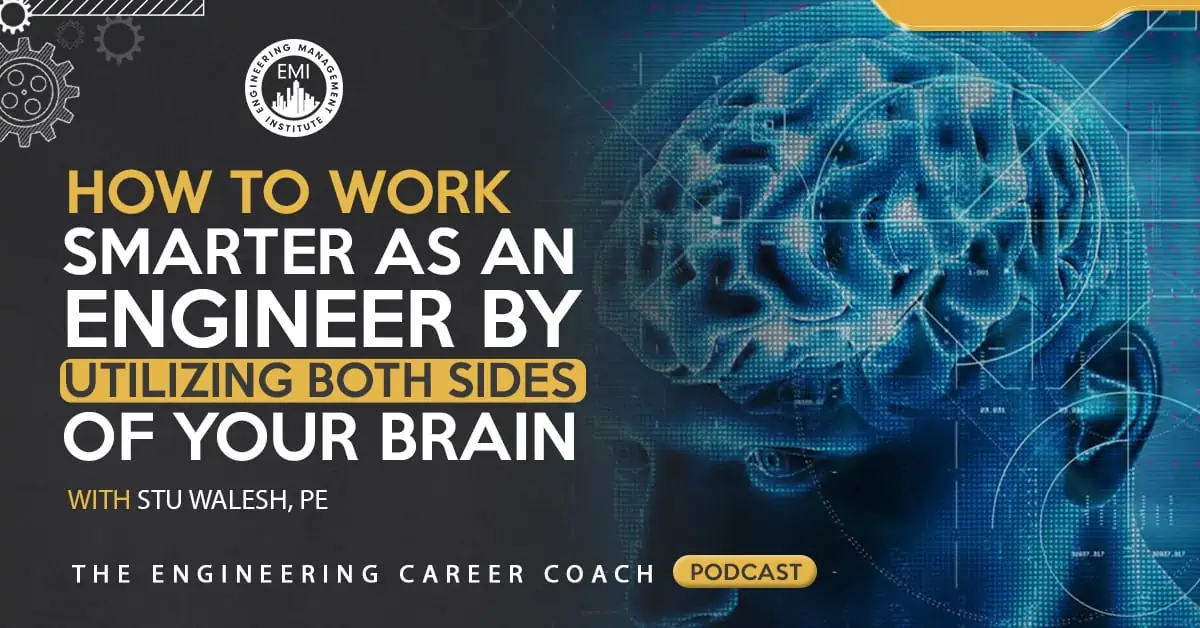 In this session of The Engineering Career Coach Podcast, I interview Stu Walesh, PE, an independent consultant who provides management, engineering, and education/training services to private, public, academic, and volunteer organizations. Our discussion is focused on how engineers can utilize the right sides of their brains to become better rounded. The content comes from a book Stu is currently writing entitled Creativity and Innovation for Engineers, which will be published by Pearson Prentice Hall.
Most engineers lean heavily on the left (or analytical) side of the brain. During this session, Stu explains why it is important to also utilize the right (or creative) side of the brain and gives tips for doing so.
"Think left and think right and think low and think high. Oh, the thinks you can think up if only you try!" – Dr. Seuss
The career-changing tip at the end of the show will discuss four "C"s to help you make change and create new habits: competence, communication, conscience, and creativity.
Listen to this session and learn:
How engineers can use neuroscience to work smarter
Ways to be more effective as an engineer, NOT just more efficient
How to be innovative as an engineer and how this can help you add value to what you do
How to be efficient, effective, and innovative all at the same time
Specific tools that you can use to work smarter, including one called "borrowing brilliance," which allows you to evaluate what you are doing and how to improve it
How to use mind mapping to engage both hemispheres of the brain
How to replace bad habits with good ones
Resources and links mentioned in this session include:
Free Resources for Engineers
Institute for Engineering Career Development
Helping You Engineer Your Future
Mind-Mapping Tool 
Books Mentioned
Drawing on the Right Side of the Brain, by Betty Edwards
The 80/20 Principle: The Secret to Achieving More with Less, by Richard Koch
A Whole New Mind: Why Right-Brainers Will Rule the Future, by Daniel Pink
Borrowing Brilliance: The Six Steps to Business Innovation by Building on the Ideas of Others, by David Kord Murray
How Do You Utilize the Right Side of the Brain?
I would love to hear from you as to how you utilize the creative side of your brain. How are you innovative?
Please leave your comments in the section below.
To your success,
Anthony Fasano, PE, LEED AP
Engineering Management Institute
Author of Engineer Your Own Success