Podcast: Play in new window | Download | Embed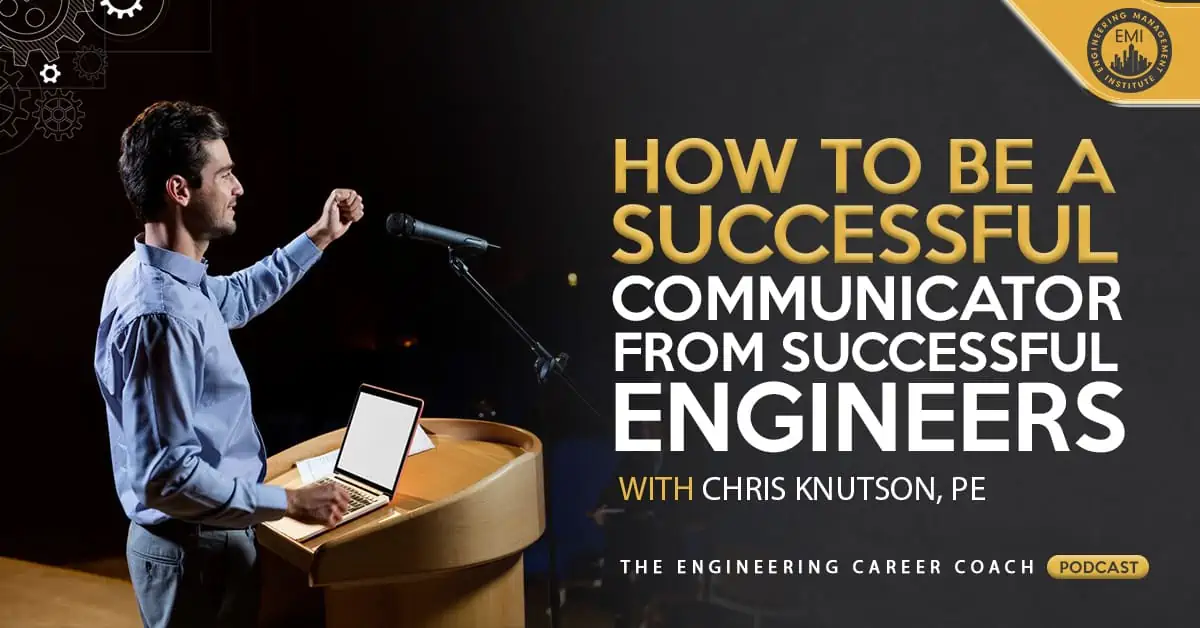 Image by wavebreakmedia_micro on Freepik
In this episode, my co-host Chris Knutson, PE leads one of the panels from our past Engineering Career Summit on project management and communication and how you can be a successful communicator with your engineering project team.
Here Some of the Key Points Discussed About How to Be a Successful Communicator From Successful Engineers:
How is communications important in project management?
Setting the right expectations for the project team is essential: clarity of purpose, the scope, roles and responsibilities.

The best way to have reliable projects is to aggregate risks.

Get to the actual point.

Listening is a key factor in gaining clarity and understanding about your engineering projects.

Empower each team member to have ownership of their own task and to work in a collaborative space with each other.
When do you use the different types of communication mediums (i.e. written, verbal, email, etc.) and does it vary by stakeholders and geography?
Hierarchy of effective communications medium:

Face-to-face

Video teleconferencing (you can see the other person's face)

Audio teleconferencing

Everything else…email, text messaging, IM, etc.

Body language is very important in communication to ensure other engineers understand their tasks.

Email is not an effective way of communication as it can get interpreted in many different ways and can cause a lot of damage.

Each piece of communication is contextual: you have to evaluate what the message is that you're sending, to whom, and what you're attempting to accomplish.

Get to the BLUF: Bottom Line Up Front or use the IFA (Issue-Fact-Action) Method
What is the best way to organize (my personal deliverables) when working on multiple engineering projects at once?
Your organizational structure will change as your company changes.

You can't multitask, so you need to organize your time as well as your paperwork to focus on a single project at a time.

Organize your calendar for each project and the other "stuff" (e.g. meetings, email, etc.)

A good way to get back to important and urgent tasks is to chart your work as IMPORTANT and NECESSARY.

Schedule your email sessions…FOCUS your time on project work.

Schedule "margin" into your calendar — this is time you can use to get stuff done.

Schedule each night, the 3 most important things you'll do the next day.

Understand how you organize (I'm a "stacker"…I'm a "filer"…I'm a "??????") and figure out how to be the best that type of organizer.
How do you provide support for an engineering project team member who has "personal" issues affecting his/her work?
Care but don't carry it – acknowledge the issues, listen to them, but don't let it affect you, the rest of the team, or the project's success.

Show empathy but make it clear that the project must get done.

Emotions are contagious — as a project leader you have to ensure that everyone doesn't get infected by one person's problems.
What is one tactic that you can implement immediately to increase your effectiveness in communications with your project team?
Each time you attend a meeting, when you leave, write down one action you will take or one note of importance from that meeting.

When you assign a task, make certain the other person understands when it's due, why, and what the ramifications are of the task not getting done on time.

Gain consensus from your project team on the accepted communications mediums, styles and expectations.

Make sure you have an agenda for every meeting or don't go.

Ask your engineering team how you're doing — look for feedback in your communications.

Find unity of purpose in your project team.

Turn off email "pop-ups" or notifications – don't let someone else's "urgent" or "important" become yours.

More tips in this episode…
In the Take Action Today segment of the show, I give you one advice you can implement today on communication.
"To effectively communicate we must realise that we are all different in the way we perceive the world and use this understanding as a guide to our communication with others" – Tony Robbins
Resources and links mentioned in this session include:
Engineering Career Summit
My Upcoming TEDx Talk: How Engineers Will Save the World and How You Can Help Them
This episode is brought to you by PPI. If you are thinking of taking the FE or SE Exam, I recommend you check out PPI, because they are the leader in engineer exam prep and they are offering a special 20 % discount to listeners of this podcast. Use promo code COACH at PPI2Pass.com  
What action can you take to increase your effectiveness in communication with your engineering team?
Please leave your comments, feedback or questions in the section below.
To your success,
Anthony Fasano, PE, LEED AP
Engineering Management Institute
Author of Engineer Your Own Success