Podcast: Play in new window | Download | Embed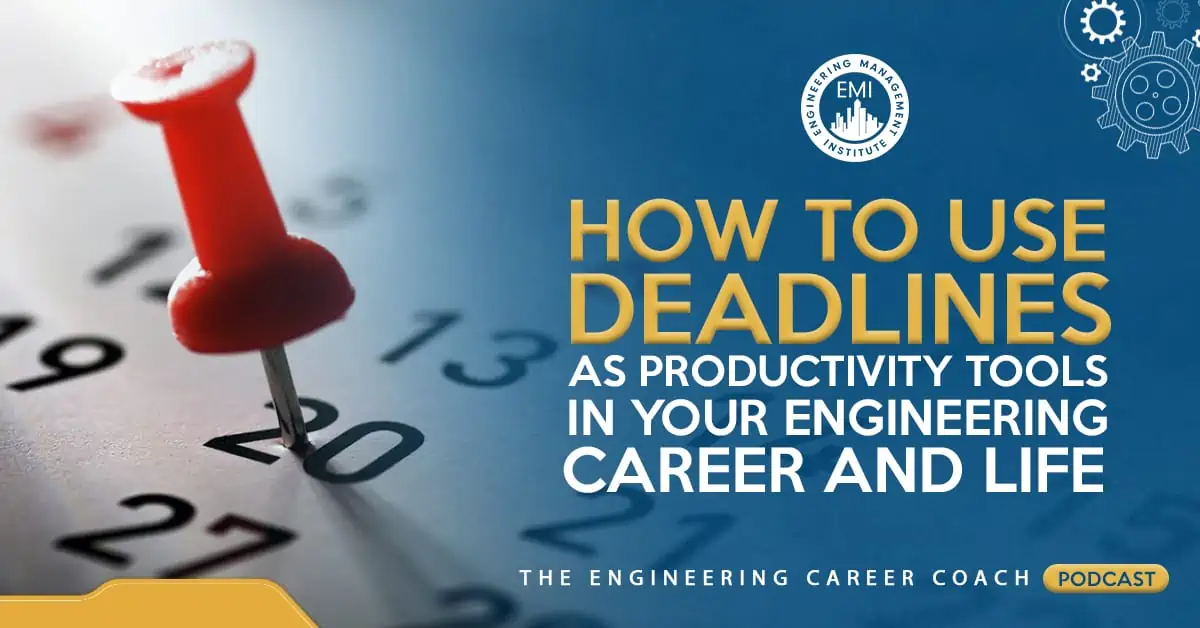 In this episode, I talk about the importance of deadlines in your engineering career and life, and how you can use deadlines as productivity tools. This episode was inspired by a chapter of the book called The Business of Engineering: A New Mindset for the Engineer of the Future by Matthew K. Loos, P.E. that we are running a Kickstarter campaign for at the moment.
Engineering Quotes:

Here Are 4 Guidelines for Using Deadlines Effectively as Productivity Tools in Your Engineering Career and Life:
1. Set a Clear and Defined Deadlines
For some reason when it comes to our professional development, we don't set clear deadlines.
Often engineers don't hold their own development at the same value as they do with their everyday project work.
Look at the things that are important to you and determine what the 80/20 (aka Pareto) drivers are in your career and life. Do you have deadlines around them? If they are important to you, you should have a clear and defined deadline.
2. Instill a Sense of Urgency
Sometimes we just don't take ourselves seriously, and we let our deadlines slide very easily.
When you attach urgency to your deadlines, things will happen.
You can do this as an engineer by making commitments to your clients and getting things done on time.
3. Create a Plan of Action
The definition of a plan is a method for achieving an end. You can't meet your deadlines if you don't have a clear plan of action.
Engineers that are highly successful all have action plans.
Create small measurable milestones that will signal that you are on the right path.
4. Utilize a Reward System
Rewards can be a way to inspire and motivate yourself to get something done.
Make things fun, push yourself a little bit to get things done and give yourself a reward.
In some ways, a reward system can help you to keep your focus and momentum.
From The Business of Engineering, A New Mindset for the Engineer of the Future by Matthew K. Loos, P.E — " When we give ourselves more than enough time to complete a task, we begin to stress about it as other commitments pile up. What if we decided to shorten our deadlines and actually focus on a project or task? Instead of letting the longer timelines hang over our heads, we tackle them head–on and focus solely on that one task. I believe you would encounter far fewer mistakes in the process and your stress level would plummet. You would not be jumping around from project to project and creating a sense of "busyness." So, next time your boss says you have three weeks to complete a project, tell them you will have it to them in one. Like the actor disarming the bomb with the countdown timer ticking to zero, I believe you can find the right solution in less time than you thought possible. "
More in this episode…
In the Take Action Today segment of the show, I will provide you an actionable piece of advice that you can use for setting effective deadlines.
Resources and links mentioned in this session include:
Kickstarter campaign
How to Innovate as an Engineer to Rapidly Advance Your Career
Engineering Management Accelerator Workshop (Online) | 5 PDHs
Engineering Management Institute Professional Membership
YouTube Channel 
This episode is brought to you by PPI, the leader of FE, SE or PE exam preparations. PPI is enrolling students for their prep courses with a $500 early bird discount if you enrol before May 23rd.  You can also save 15% when you use code EMI15 at checkout. The 15% promo code is applicable on print books and digital subscriptions. Please note that the code is not valid on courses or bundles of products as these already have a 15-30% discount built in. Visit ppi2pass.com/prep-course to find the best prep courses offered at the lowest price of the year.
Why Is It Important to Set Deadlines in Your Career?
We would love to hear any questions you might have or stories you might share on using deadlines as productivity tools in your career and life.
Please leave your comments, feedback or questions in the section below.
To your success,
Anthony Fasano, PE, LEED AP
Engineering Management Institute
Author of Engineer Your Own Success