Podcast: Play in new window | Download | Embed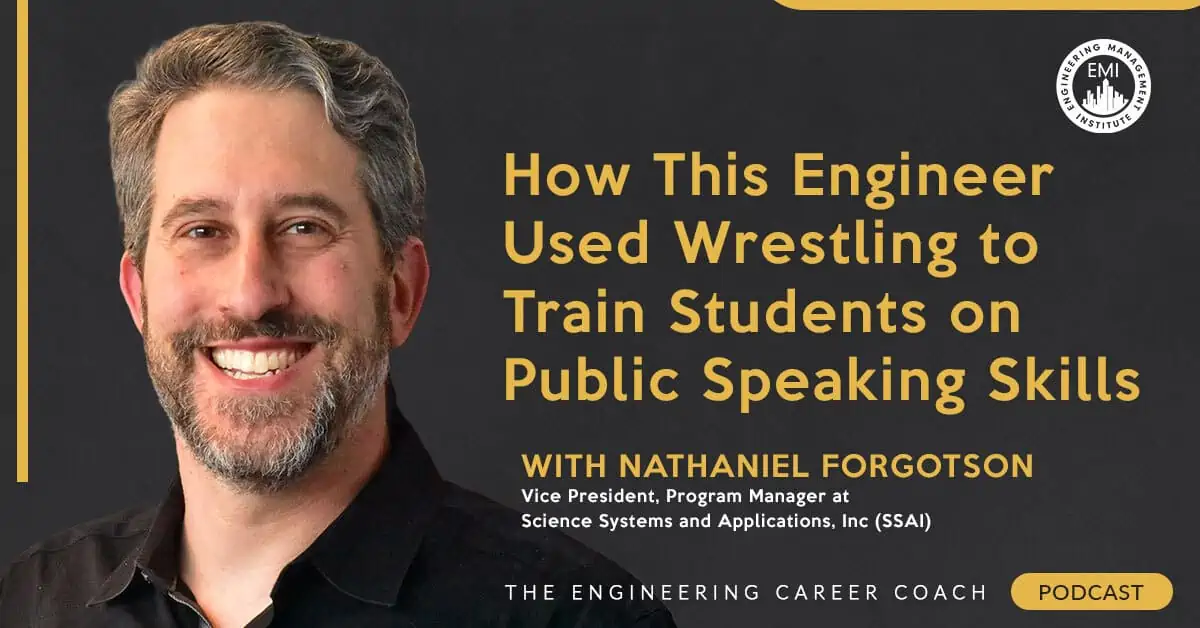 In this episode, we talk to Nathaniel (Nat) Forgotson, Vice President, and Program Manager at Science Systems and Applications, Inc about effective public communication skills for engineers, and how he used wrestling to train students on public speaking skills.
Engineering Quotes:


Here Are Some of the Key Points Discussed About Public Speaking Skills:
Getting an MBA will let everyone know that you want to follow a management career path.
Having a hobby like being a wrestling manager in your free time will help you to build your public speaking skills and to talk in front of many people. Teaching people what you have learned will also be very fulfilling.
Having a work–life balance is critical and having hobbies to do in your free time will help you to destress and get your mind off your day job. It can also help with networking because you will meet other people.
People will prejudge you if you come across as nervous and not confident because they will think that there is something wrong with what you are presenting to them. Being confident tells your audience that they can trust you and what you are presenting to them. Believe in yourself and convey it physically and verbally.
If you have a fear of public speaking, there are some things you can do to look more comfortable to your audience. Standing with one foot in front of the other will stop you from swaying side to side. Practice speaking in front of a mirror to improve your physicality. Having short pauses of silence is a good thing because they help to emphasize the points you are making and gives your audience a chance to digest what you are saying.
Learning to do public speaking well is a matter of getting comfortable with feeling uncomfortable. If you have something to present, go in front of the mirror and present it to yourself silently. Watch your face and hands as you do the speech in silence and take note of how you are physically presenting your speech. It will help you to utilize not only your words but your physicality as well.
There is a gap between late and early career engineers and the gap must be filled between the young engineers and the folks who are ready to retire. What was primarily government funded is now finding venture capital investment. It makes it more difficult for companies to hang on to people in support of civil space programs. Large companies must continue with things they are good at that do not have immediate commercial potential.
More in This Episode…
In the Take Action Today segment of the show, Nat talks about how you can decide what people remember about you in any situation throughout your career.
About the Guest, Nat Forgotson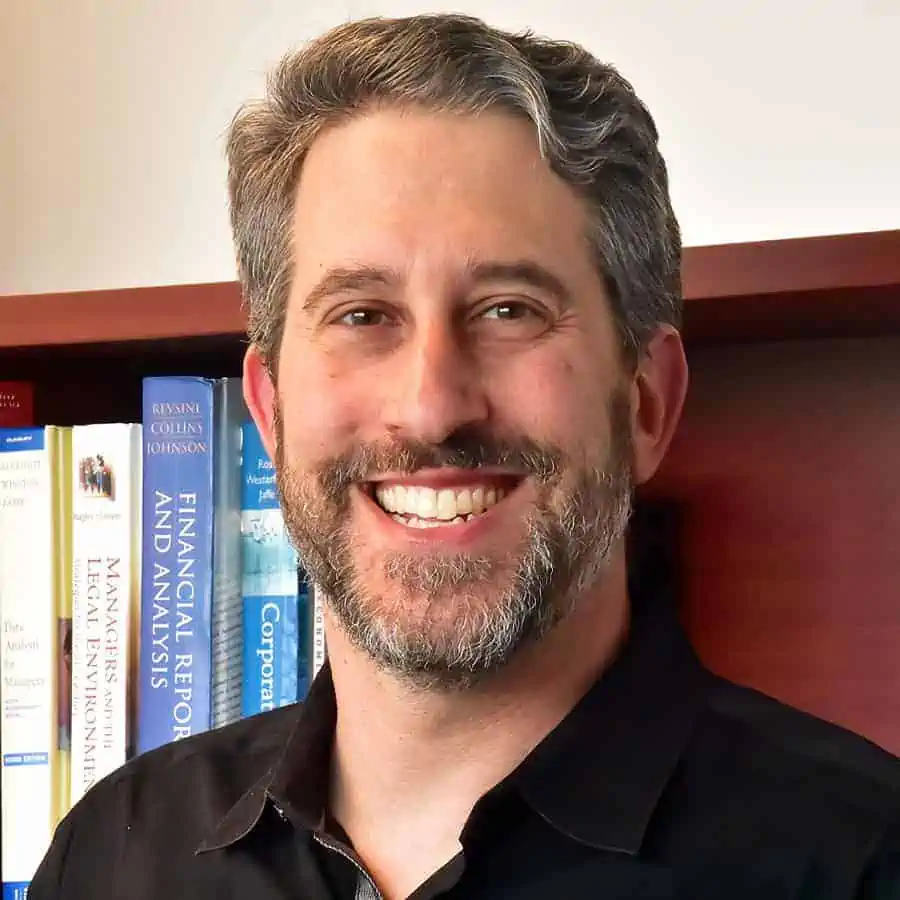 Nat Forgotson has spent his career working on technology projects that look inward at the Earth and outward at our neighbors in the solar system and the Universe beyond.
He is currently a Vice President at Science Systems and Applications, Inc (SSAI) where he manages the Electrical Systems Engineering Services III contract that supports the NASA Goddard Space Flight Center. His team played a critical role in the design, manufacture, and launch of five spacecraft in the last year including the LUCY mission to explore Jupiter's Trojan asteroids and the James Webb Space Telescope. Throughout his career, he has managed the development of hardware for more than twenty satellites and scientific instruments.
In parallel to his engineering career, he has moonlighted in the professional wrestling industry for twenty-five years – first as a performer and now as a public speaking coach and backstage producer. He received his BSEE from The Johns Hopkins University, his MSEE from North-eastern University, and his MBA from the University of Maryland and lives in Howard County, MD.
When asked about how he ended up in his current career, Nat said, "My current job is a culmination of many years of trying to answer the question that helped me decide on specialization within engineering. When my first child was on the way, I wanted to have an answer that made me proud when he asked, 'Daddy, what's your job?' The answer then and now is that daddy helps build spaceships. I knew I had chosen the right path when I took my children to their first launch party and counted along with them as the rocket took off with OSIRIS-Rex as it began its seven-year round-trip voyage to an asteroid called Bennu."
Resources and Links Mentioned in This Session Include:
Science Systems and Applications, Inc. (SSAI)
NASA
James Webb Space Telescope
Connect with Nathaniel Forgotson on LinkedIn
This Episode is Brought to You By:

SSAI (Science Systems and Applications)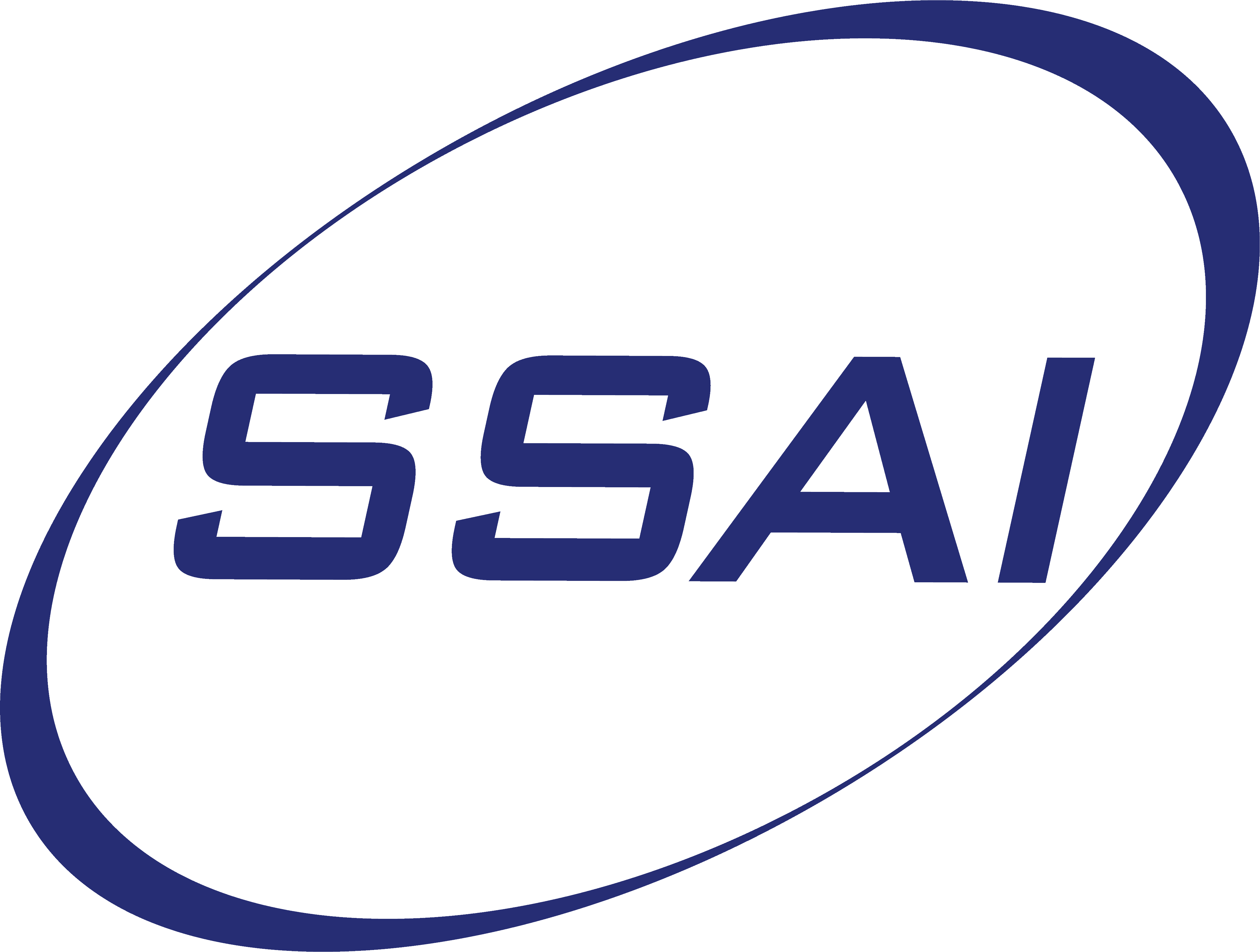 Are you an engineer looking for an exciting career in the aerospace industry? Do you want to work on satellites and spacecraft that will monitor the health of the Earth, explore our neighbors in the solar system, and study the composition of the universe? SSAI is a leading provider of scientific, engineering, and IT support for customers seeking new frontiers in science and technology. With a culture built upon a genuine passion for research and innovative solutions, we support pioneers in science and engineering (including NASA and NOAA), helping to explore important questions to improve the quality of life for all of us. Search for engineering opportunities at SSAI's Careers Page and learn more about our mission at www.ssaihq.com.
Washington State University

Washington State University's Engineering and Technology Management master's degree program is a perfect balance of technical and managerial education that helps prepare practicing engineers for managing projects, people, and organizational systems. As one former student noted, "The knowledge that I gained from the ETM Program helped me become a more competent, confident engineer and manager. The program greatly impacted my career and has been a key element in my continued success." Learn more about the engineering management profession at etm.wsu.edu or [email protected]. Take charge of your career and reach out today.
We would love to hear any questions you might have or stories you might share on public speaking skills for engineers.
Please leave your comments, feedback, or questions in the section below.
To your success,
Anthony Fasano, P.E., LEED AP
Engineering Management Institute
Author of Engineer Your Own Success