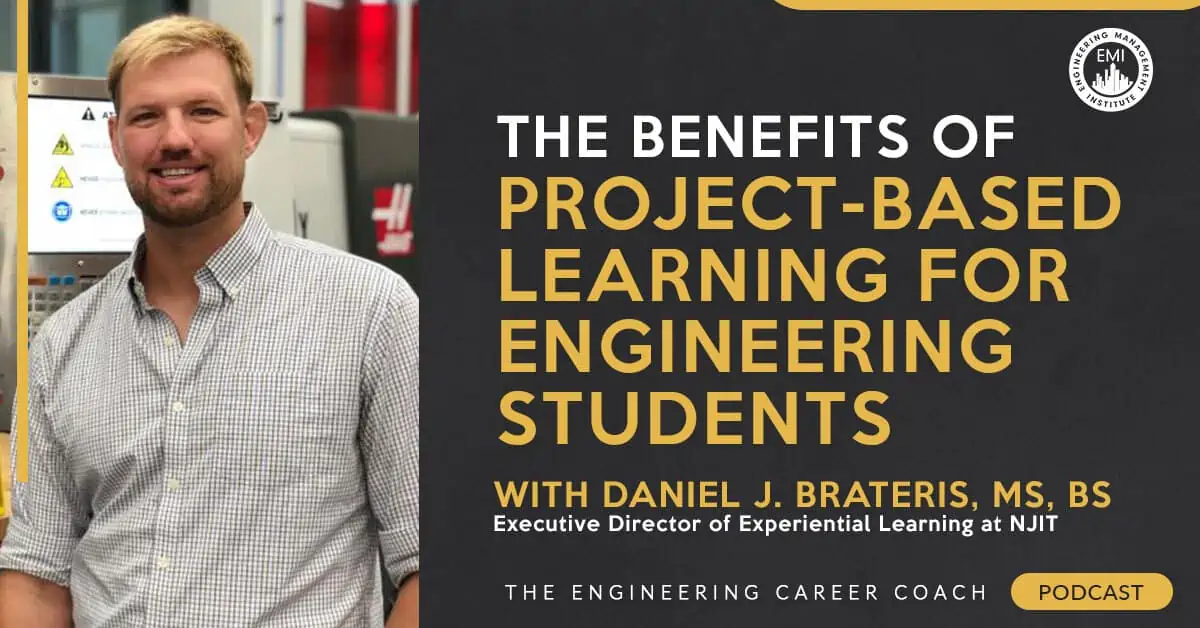 In this episode, we talk to Daniel J. Brateris, MS, BS, an electrical engineer and engineering educator, about how project-based learning for engineering students can help build relationships, plan career paths, impress employers, and build additional skill sets.
Engineering Quotes:
Here Are Some of the Key Points Discussed About Project-Based Learning:
Project-based learning (PBL) is a way that we try to structure what people will learn by creating a project that we know will lead them down a path of learning those topics. 

Project-based learning can help students to improve their communication skills and time management skills, and will also teach them to document what they are doing. 

The process of helping instructors learn new ways to teach and restructure their curriculum so that it can still be accredited and fit into their schedules is a very big challenge. 

We incorporated a central facility called the Makerspace that is well staffed with full-time engineers and some of our best and brightest students. This space provides a guide for the faculty and the instructors where we teach them how to integrate certain engineering concepts into building a project. 

When starting on the path of project-based learning, it is important to keep it small and simple. Remember that your first concept might not work out the way you planned. Take your idea and test it, work with what you have, and make sure it works for you. The goal is not to start by shooting for the moon, but to just start. 

If you leave an engineering education having an engineering degree and a set of skills in project management, fabrication, and prototyping, you are a whole world apart from someone who just sat in a classroom. 
More in This Episode…
In the Take Action Today segment of the show, Daniel provides some great advice on how engineering students can make the most out of their first job.
About the Guest, Daniel J. Brateris, MS, BS
Daniel Brateris is an electrical engineer and engineering educator currently serving as Executive Director of Experiential Learning at the Newark College of Engineering and the Program Coordinator for Electrical and Computer Engineering Technology at the New Jersey Institute of Technology (NJIT). Brateris' areas of interest include embedded product design, design for manufacturing, engineering entrepreneurship, engineering education, and the impact of hands-on, experience-based learning.
Brateris was educated at Rowan University (B.S. 2009, Electrical and Computer Engineering; M.S. 2012, Electrical Engineering). Before NJIT, he founded Atlanticus Innovations a consulting firm specializing in the design of LED lighting, wireless communication systems, mobile hardware, software applications, and design for manufacturing.
About the Host, Jeff Perry, MBA
Jeff Perry is a leadership/career coach for engineers, building mindsets, leadership, and career intentions to unlock hidden potential and remove self-imposed roadblocks for career and life. For years, he has had the pleasure of supporting engineers and software pros, from new grads to director level. Having been on the front lines in the technical world, he has been able to map out the necessary skills for becoming a quality leader in the field.
You can connect with Jeff on LinkedIn at https://www.linkedin.com/in/jeffcperry/ or visit his website, https://morethan-engineering.com. Jeff also has a new, FREE, on-demand training course for engineers who are job searching or in job transitions. You can see it at https://engineeringcareeraccelerator.com.
Resources and Links Mentioned in This Session Include:
NJIT Makerspace
NJIT Newark College of Engineering
Connect with Daniel J. Brateris on LinkedIn
Email Daniel Brateris
We would love to hear any questions you might have or stories you might share on project-based learning.
Please leave your comments, feedback, or questions in the section below.
To your success,
Jeff Perry, MBA
Host of The Engineering Career Coach Podcast