Podcast: Play in new window | Download | Embed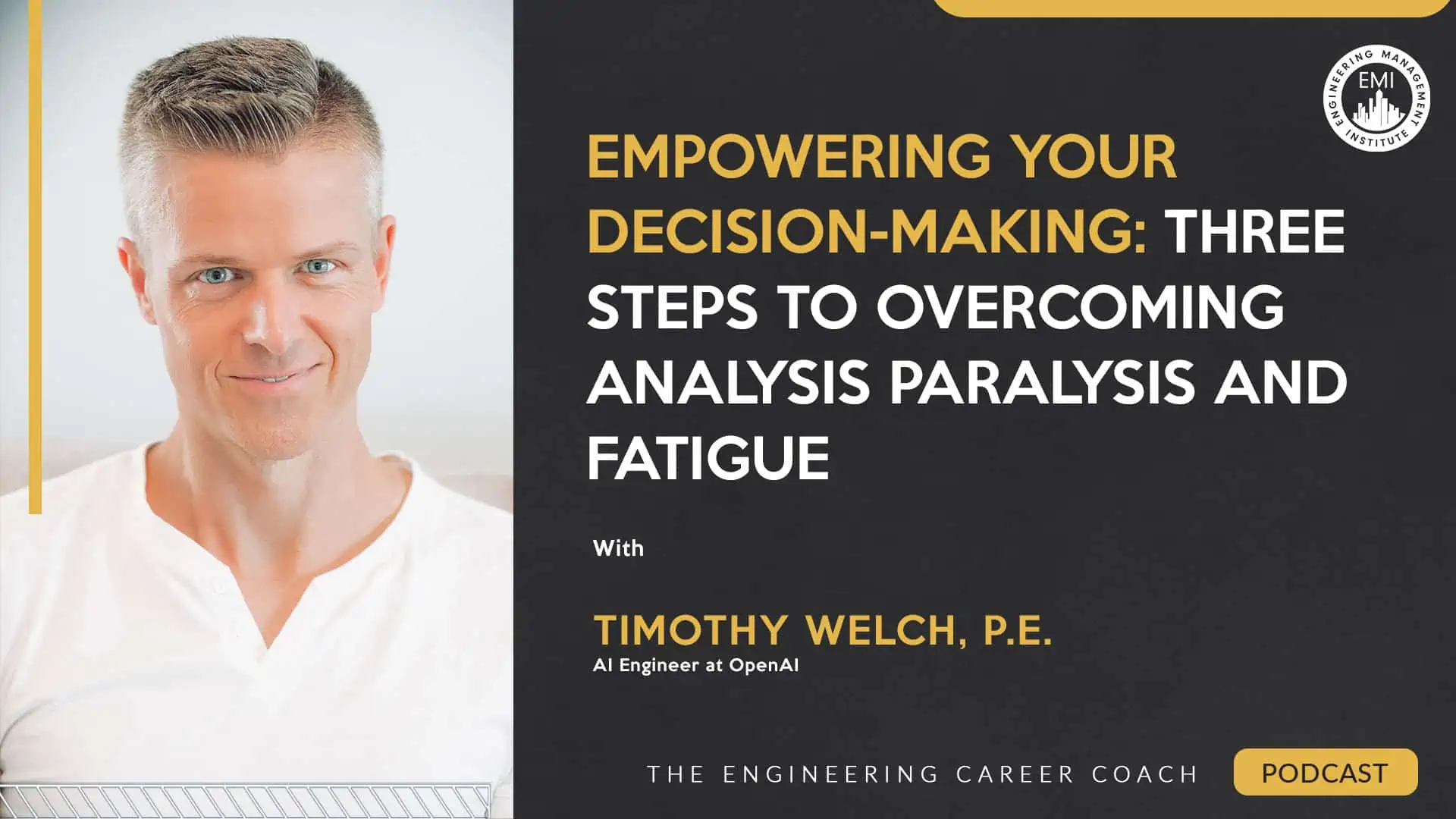 In this episode, we talk with Timothy Welch, a seasoned engineer and leader with more than 15 years of experience across diverse industries, such as startups, telecommunications, and healthcare about the intricacies of decision-making. We delve into crucial topics like steering through life-altering choices without succumbing to analysis paralysis, achieving equilibrium between reason and emotion, steering clear of decision fatigue and potential business setbacks, and recognizing the pivotal role emotions play in the decision-making process.
***You can view the video version of this episode here.***
Engineering Quotes:


Here Are Some of the Key Points Discussed About Empowering Your Decision-Making: 
People can get stuck in decision-making in two different ways: either when there's only one option and they become fixated on it, or when there are too many options and they become overwhelmed with analysis paralysis.
To overcome decision fatigue and analysis paralysis, follow three steps: staying gentle with yourself, seeking perspective, and getting curious. Staying gentle is important to avoid becoming frustrated or overwhelmed. Seeking perspective, especially from outside sources, can provide valuable insight when you feel stuck with only one option. Lastly, getting curious about other perspectives can open up new options and possibilities.
When seeking perspective, it's important to reach out to coworkers and individuals who are outside of your usual circle or bubble. For engineers, it can be helpful to talk to UX/UI people, who use a different part of their brain and can provide a more far-off perspective. By expanding our network and seeking out diverse perspectives, we can gain valuable insights that help us overcome decision-making challenges.
It's not always possible to have all the information when making a decision, and striving for 100% information can lead to diminishing returns and be very time-consuming. The 70% rule, as Jeff Bezos called it, suggests that once you have gathered around 70% of the necessary information, it's time to decide and take action. This approach allows for a faster pace in a fast-paced environment like the tech industry, and can lead to better alignment with the company.
Embracing uncertainty and getting out of your comfort zone is essential for developing resilience and confidence in decision-making. This can be achieved by taking small risks and challenging oneself, such as extending workout routines or taking cold showers, to gradually building up a tolerance for uncertainty and discomfort.
Consistency, embracing uncertainty, and finding uncomfortable places are key strategies for developing the skill of making decisions in an ever-changing environment. By establishing a consistent process and embracing uncertainty, individuals can build the confidence and resiliency needed to make better decisions. Seeking out uncomfortable experiences can help individuals grow and develop the skills needed to thrive in uncertain situations.
Gaining perspective and reframing negative thoughts can help us overcome feelings of grief and loss and enable us to move forward with a positive mindset. It's important to recognize our accomplishments and the impact we have made, even if the result may not be what we expected or hoped for. By reframing our thoughts and focusing on the positive aspects of our experiences, we can develop a resilient attitude and continue to strive toward our goals.
Timothy provides two examples of decision-making processes. The first one involves choosing between two CI/CD deployment options, where intuition played a role in the final decision. The second example highlights a personal decision to quit a job and become a life coach. Timothy used the 70% methodology but procrastinated due to fear, ultimately wasting four months, which shows that he could have made the decision earlier.
More in This Episode…
In the Take Action Today segment of the show, Timothy talks about how to get your thoughts out of your head and use them to move toward making your decision.
About the Guest, Timothy Welch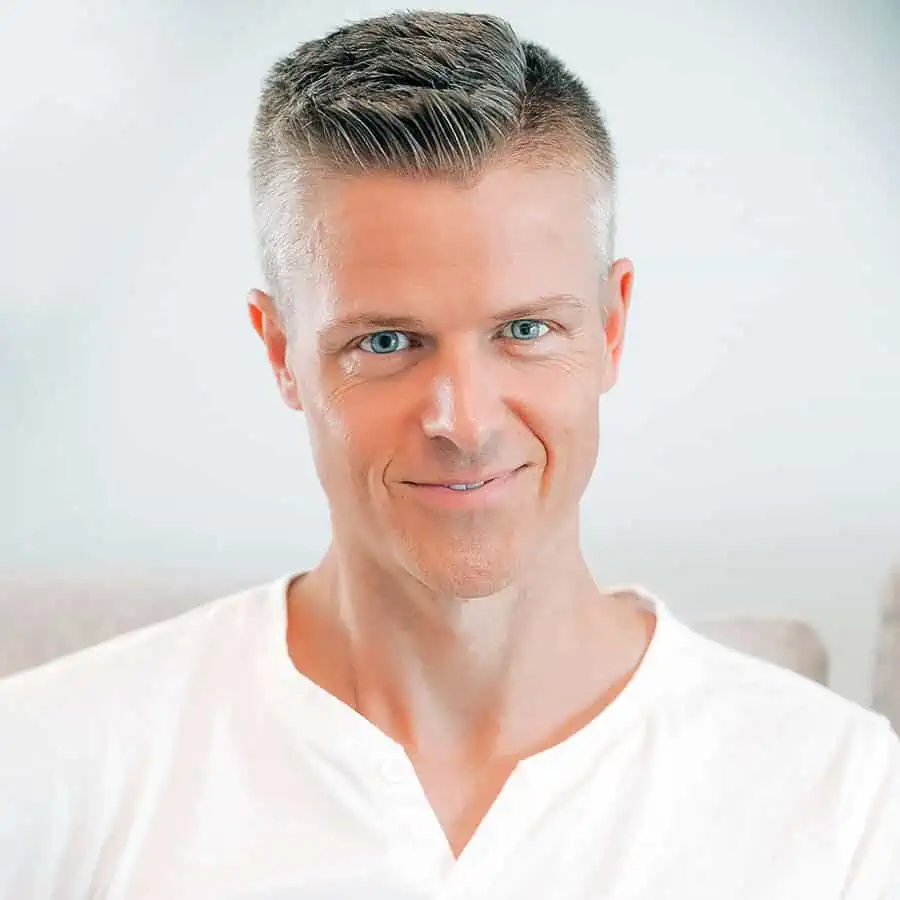 Timothy Welch is an experienced engineer and leader with over 15 years of experience in various industries, including startups, telecommunications, and healthcare. He has held various technical roles, including Senior Systems Engineer, Senior Cloud Engineer, and most recently Director of Cloud Infrastructure, where he has been responsible for leading and managing complex engineering teams and projects.
In addition to his engineering background, he is also a certified life coach, providing coaching services to individuals and organizations seeking to achieve their personal and professional goals. Timothy specializes in helping his clients develop a growth mindset, build their emotional intelligence, and overcome personal and professional challenges.
Overall, he has a unique combination of technical expertise and coaching skills, making him a valuable asset to organizations seeking to develop high-performing teams and individuals seeking to reach their full potential while living their most authentic selves.
About the Host, Jeff Perry, MBA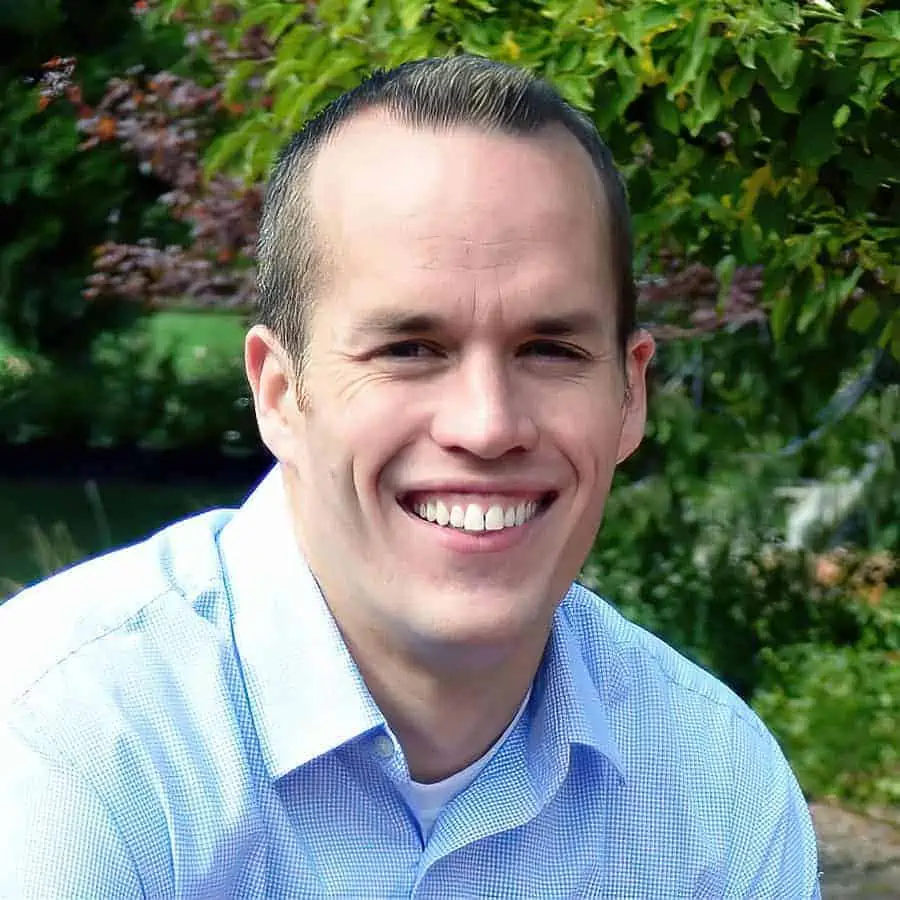 Jeff Perry is a leadership/career coach for engineers, building mindsets, leadership, and career intentions to unlock hidden potential and remove self-imposed roadblocks for career and life. For years, he has had the pleasure of supporting engineers and software pros, from new grads to director level. Having been on the front lines in the technical world, he has been able to map out the necessary skills for becoming a quality leader in the field.
You can connect with Jeff on LinkedIn at https://www.linkedin.com/in/jeffcperry/ or visit his website, https://morethan-engineering.com. Jeff also has a new, FREE, on-demand training course for engineers who are job searching or in job transitions. You can see it at https://engineeringcareeraccelerator.com.
Resources and Links Mentioned in This Session Include:
I am Unshakable
Connect with Timothy Welch on LinkedIn
This Episode Is Brought to You by SFPE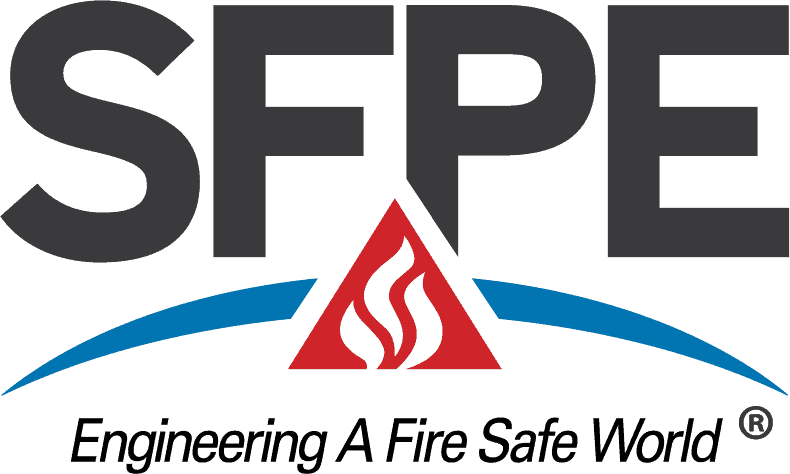 Working to engineer a fire-safe world since 1950, the Society of Fire Protection Engineers is the world's leading professional society for fire protection and fire safety engineering. Comprised of more than 5,100 members (and growing), SFPE publishes technical resources and hosts live/on-demand education programs to provide engineers with the knowledge to protect people, structures, and communities from fire. Plus, to help engineers prepare for each year's Principles and Practice of Engineering PE Fire Protection Exam, SFPE has developed an 18-week review course that focuses on the fundamentals of fire protection engineering while preparing candidates to think critically, adapt to the exam, and be successful Professional Engineers. Learn more at sfpe.org/2023peexamreview.
We would love to hear any questions you might have or stories you might share about your decision-making process and how you overcome analysis paralysis and fatigue.
Please leave your comments, feedback, or questions in the section below.
To your success,
Jeff Perry, MBA
Host of The Engineering Career Coach Podcast