Podcast: Play in new window | Download | Embed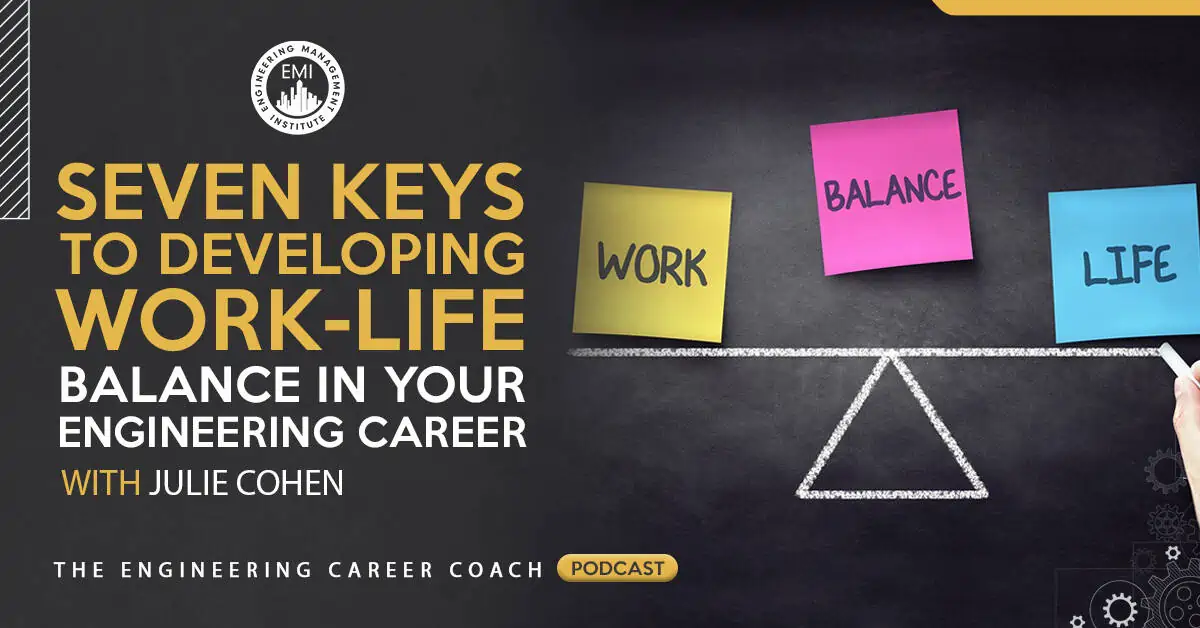 In this session of The Engineering Career Coach Podcast, I discuss work-life balance, a topic that I am very passionate about. My guest is Julie Cohen, author of Your Work, Your Life …Your Way and an expert on this topic.
"Thinking about work as a day job has made a big difference in the way I approach what I do. It also helped me not to confuse who I am with what I do." – Bob Goff, Love Does: Discover a Secretly Incredible Life in an Ordinary World
The Take Action Today segment of the show will help you start to develop work-life balance, both personally and professionally.
On today's show, I interview Julie Cohen, PCC. In 15 years as a career and leadership coach, Julie has worked with hundreds of clients to clarify and achieve their professional and personal goals. Almost all of her coaching clients wanted to enhance their work-life balance, whether they wanted a promotion, better communication skills, more meaning and satisfaction from their work, or improved leadership capabilities. This led Julie to develop the 7 Keys to Work-Life Balance: a program that gives participants tools to identify, clarify and rectify the work-life balance challenges they may be facing. Her book, Your Work, Your Life …Your Way: 7 Keys to Work-Life Balance, provides readers with a process to evaluate their current balance and make real and sustainable changes for greater work and life satisfaction.
Listen to this session and learn:
Cohen's seven keys to work-life balance:
Develop Your Priorities – Develop your personal and professional priorities and break them down into six-month cycles.
Create Boundaries – This is key to protecting your priorities. Look at where you have struggled to create boundaries. Create SMART (Specific-Measureable-Attainable-Realistic-Timely) boundaries.
Efficiently Manage Your Day – Look for leaks or actions that pull you away from your priorities, i.e., multitasking, social media, etc. Create a plug or use time boxing, which is carving out very specific time for specific tasks.
Design Reasonable Expectations – Look for unreasonable expectations and communicate about them so everyone is on the same page.
Reprioritize Your Values – Know what your core values are and change or reprioritize them as necessary to achieve work-life balance.
Navigate an Unbalanced Organizational Corporate Culture – Acknowledge that our organizations do not always align with or support our work-life preferences.
Engage in Self-Care – Take four steps: (1) make it a priority to care for yourself; (2) believe that doing so is valuable; (3) make sure it really is self-care for you; (4) surround yourself with supportive people.
Resources and links mentioned in this session include:
Purdue University Engineering Professional Education
Freedom App
Free Ad Blockers
7 Keys to Work-Life Balance Program
7 Keys to Work-Life Balance Book
The Engineering Career Coach Podcast #26 – A Five-Step Process for Overcoming Your Addiction to E-mail
Do you struggle with work-life balance?
I would love to hear any questions you might have or stories you might share on how you have achieved work-life balance or how these seven keys might help you to do so.
Please leave your comments or questions in the section below.
To your success,
Anthony Fasano, PE, LEED AP
Engineering Management Institute
Author of Engineer Your Own Success