Podcast: Play in new window | Download | Embed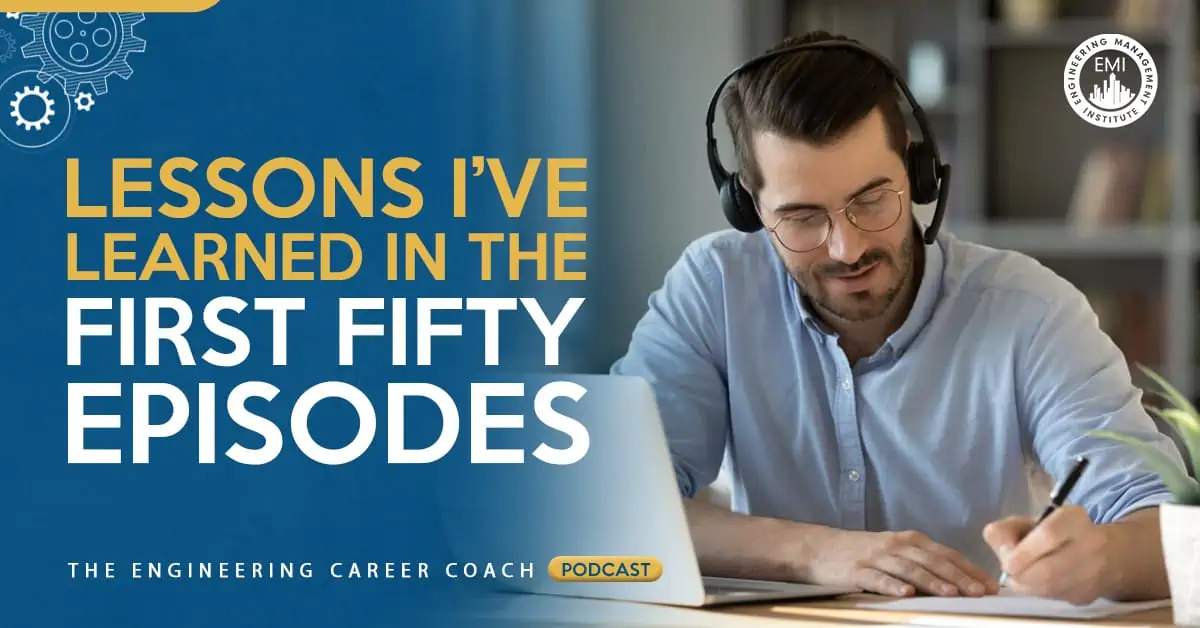 In this session of The Engineering Career Coach Podcast, my good friend Christian Knutson, PE, PMP, ENV SP, is going to interview me about the lessons that I've learned over the first fifty episodes of the podcast.
Chris Knutson has over two decades as a civil engineer field grade officer in the United States Air Force. He has developed his soft skills as a successful engineer and has exhibited that in the various projects and programs that he executed in the Air Force. Knutson has also been able to help engineers grow personally and professionally through his blog at EngineerLeader.com.
"Live as if you are to die tomorrow. Learn as if you were to live forever." – Mahatma Gandhi
Listen to this session and apply the lessons that I've learned during the first fifty episodes which include the following:
You can always improve, mo matter what stage of your career that you are in.
Three important skills that I've learned throughout these fifty episodes:
Communication – Be as clear as possible in your communication efforts.
Decision-Making – Know the importance of having some kind of dashboard personally and professionally to guide you in your decision making process.
Relationships – Identify your key relationships and invest in them.
Know when to delegate and always be consistent and reliable.
The way you respond to what happens to you is critical to how far you go in your career and life.
Understand how you can provide the utmost value to other people like your employer or your clients.
Set clear career and personal goals. There is no excuse for not moving towards your goals today. Every decision you make should tie back to your goals.
Listen to this session for more details on the lessons I've learned, what the next fifty episodes will hold, and a little introduction to my new podcast which I will launch soon.
Resources and links mentioned in this session include:
Action Plan Template 1
Action Plan Template 2
Engineer Your Goals Course
Engineering Career Success Summit 
The Engineer Leader Website
Books mentioned in this session include:
Decisive: How to Make Better Choices in Life and Work
The Five Laws That Determine Life's Outcome
Other helpful books include:
The 80/20 Principle: The Secret to Achieving More with Less
Start with Why: How Great Leaders Inspire Everyone to Take Action
Life Purpose Boot Camp: The 8-Week Breakthrough Plan for Creating a Meaningful Life
What have you learned today from The Engineering Career Coach Podcast?
I would love to hear any questions you might have or stories you might share on how The Engineering Career Coach Podcast has helped you in your career and life.
Please leave your comments or questions in the section below.
To your success,
Anthony Fasano, PE, LEED AP
Engineering Management Institute
Author of Engineer Your Own Success