Podcast: Play in new window | Download | Embed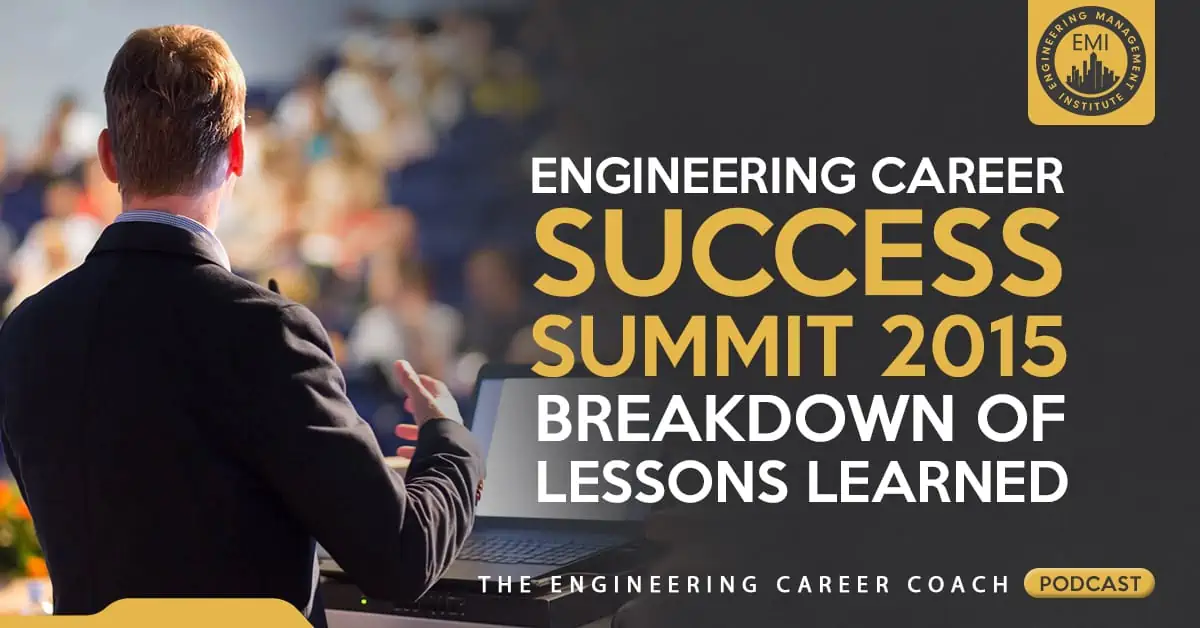 In this session of The Engineering Career Coach Podcast, my co-host Chris Knutson and I are break down the lessons we have learned from our recent event, the Engineering Career Success Summit (ECSS). We also interviewed Skye Coleman to give you an attendee's perspective and his key take-aways from the event.
"All the time and effort put into networking can be all for naught if there is no follow-through. The same goes for sales. And leadership. And … well, everything." ― Beth Ramsay
In the Take Action Today segment of the show, we are going to give you some actionable tips that you can immediately implement based on the lessons we learned at the ECSS.
Listen to this session and learn some of the lessons we learned from our annual Engineering Career Success Summit event including:
Book recommendations from our speakers and panelists (books are listed below)
Communication is king; e-mail is a monologue and two monologues don't make a dialogue
Be a Seller-Doer.

Integrity is key.
Take care of your clients.
Be confident and be yourself.
It's about the client NOT you.
Four-step work cycle: at the end of the day, you find it, you do it, you bill it, you collect it

Constantly improve yourself.
Ask what worked and what if?
Ask what things should we stop doing, start doing and continue doing?
Ask how are we doing right now and what can we do to make our performance a 10?
Engineers are horrible at multi-tasking.
Remove all distractions like turning off your Outlook pop-ups.
Focus on seeing what you actually look like when you are doing it.
Be focused and get feedback.
As a leader, clarity is important as greatness can often be described in one sentence.
Successful people leverage their environment. Example: a round table is much better than a square table for interaction (no one takes sides).
Understand who your audience is.  This will allow you to communicate a powerful message.
Humans typically want to associate with people that they like.
Ownership does not equal leadership.
Networking with motivated people will drive you to be better and continually improve yourself. 
Books mentioned in this session include:
Win More Work: How to Write Winning A/E/C Proposals
How to Win Friends and Influence People
Resources and links mentioned in this session include:
Engineering Career Success Summit
Institute for Engineering Career Development community
Complete ECSS 2015 session summary notes and bonus audio recording (coming soon)
Sponsor for this session:
PPI2Pass Review Courses for FE and PE Exams
What is one lesson from this episode that you think you can implement in your career and life immediately?
We would love to hear any questions you might have or stories you might share about how adopting these lessons have helped you in your engineering career.
Please leave your comments, feedback or questions in the section below.
To your success,
Anthony Fasano, PE, LEED AP
Engineering Management Institute
Author of Engineer Your Own Success